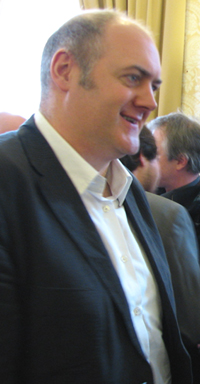 Dara O'Briain – The Gentleman Comic
I love stand-up comedy. I've got dozens of DVDs, videos, albums and cassettes, covering five decades of laughs.I have my favourites, of course, and there are some I regard as a kind of comedy royalty - see Jack Dee and Lee Evans. I did think Russell Kane was going to be the next big thing but his star seems to have faded a little. It's a shame, really, because he did show a lot of promise.By the way, I give my opinions as someone who must have watched literally hundreds of stand-up performances. I don't claim to be any kind of aficionado; just someone who has seen the best and the worst and everything in between.I did think Jimmy Carr was destined for legendary status, but when I spotted a couple of stooges in his stand-up DVDs it kind of took the shine off it a little. It turned out his razor-sharp, off-the-cuff remarks were not as spontaneous as it first appeared. I'm still a fan, though. He's funny, and that little edge to his comedy can be very entertaining.But there's another pretender to the crown that I'd like to share with you, and that's Dara O'Briain.I would imagine this large Irishman would cut quite an imposing figure in person, but his comedy style is quite unassuming, occasionally self-deprecating, and almost always breath-takingly funny. He engages the audience, but unlike the confrontational and belittling style of comics like Frankie Boyle and the aforementioned Jimmy Carr, his gentle coaxing of the audience and laughing with them rather than at them makes for an overall more pleasant experience. The entire atmosphere of the room seems more relaxed, and the audience are more willing to engage with Dara rather than dreading him picking on them. That's not to say that he doesn't occasionally share a bit of banter with them, but it's more jocular and good-humoured.Dara is a self-confessed nerd; a science geek, and it shows, because he's as sharp as a tack. When he chats to the audience he appears in total control, and he takes whatever he gives them and turns it into comedy gold. I'm not naive enough to believe he doesn't have some stock jokes to fall back on, but there does seem to be a lot of genuine spontaneity to his comedy.His routine on video games is one of his finest moments, and his story about attending parenting classes with his wife is rib-achingly funny.But he does it all with genuine class and charisma, displaying the kind of confidence that I imagine comes from being as big as he is. When I started writing this I told myself I didn't want to fall into the "gentle giant" trap, but that is the way Dara appears, because he relaxes you, and you feel like he's just that nice guy down the street who stops and has a chat with you, and you come away feeling much better for it.Dara has mastered the psychology of stand-up so that he can stand on a stage in front of thousands of people and make each one of them feel like he's talking to them personally, bringing an intimacy to the entire occasion. He makes a big room feel small, which is a gift that only the best possess.
To date, he has released 4 DVDs, and I would heartily recommend all of them.His latest, Craic Dealer Live 2012 is available from Amazon for £9.99. Buy it - and his others - or miss out on some real belly laughs.