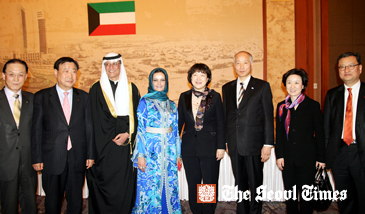 Kuwaiti Ambassador to South Korea Muteb Al Mutoteh (3rd from left) and his wife Mrs. Mutoteh (to his right) pose with ex-Industrial Minister Lee Hee-Beom (to his left), and with President Hwang Sun-Hye of Sookmyung Women's University. At far left is Chairman Choi Sin-Il of the Environment News.
Kuwaiti Ambassador to South Korea Muteb Al Mutoteh hosted a reception on Feb. 28, 2013 at Lotte Hotel in Seoul to celebrate its 52nd National Day and the 22nd anniversary of liberation of the state of Kuwait.Hundreds of both local Korean and international guests of prominent profile from all walks of life were invited to the reception. Among the guests were scores of top foreign envoys accredited to Seoul.South Korea and Kuwait have had long-standing and truly fraternal relations since the formal diplomatic establishment on June 11, 1972.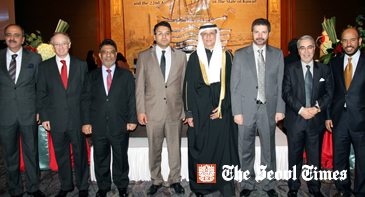 Kuwaiti Ambassador Muteb Al Mutoteh (4th from right) poses with other foreign ambassadors at his national day reception.
Earlier in 1972, South Korea opened a trade representative in Kuwait.It was on July 17, 1979 that South Korean opened its embassy in Kuwait. Kuwait established its embassy in Seoul on Oct. 5, 1992.An aviation agreement was signed between Kuwait and South Korea in 1981.In 1983, a series of agreements were signed to promote trade and sports exchanges.In 1987 the two nations agreed to promote information technology.In 1991 at the time of Gulf War, South Korea sent medical and transportation delegations contributing to the reconstruction of the Middle East country.The Seoul government donated to Kuwait 500 million US dollars in cash, sent 200 military medical personnel, and 150 other military personnel. In 1970s Kuwait served as a huge market for South Korean construction companies. The oil-rich nation attracted scores of construction corporations and other related businesses from South Korea.In 1991 South Korea imported 294 million US dollars worth of goods including oil from Kuwait. In the year South Korea stopped short of exporting 1.3 million US dollars worth of goods to Kuwait.As of now, such South Korean business giants as Hyundai Construction, SK Construction, Daelim Engineering, and Samsung Construction are operating in Kuwait.South Korea suffers from serious trade imbalance with Kuwait.In 2007 Kuwait exported to South Korea 10 billion US dollars worth of mostly oil whereas South Korea exported to Kuwait 1.3 billion US dollars worth of goods including automobiles and electronic goods.To South Korea Kuwait is the third largest oil supplier only after Saudi Arabia and the UAE. Kuwait currently accounts for some 10 percent of the entire oil import.As of 2011 a total of 16 South Korean companies are in operation in Kuwait. They include Hyundai Construction, GS Construction, Daewoo Consturction, Daelim Group, Doosan Heavy Industries, Hyundai Heavy Industries, Samsung C&T, Samsung SDS, STX, and Human & Technologies Corp.In case of North Korea Pyeongyang government established its trade representative in Kuwait in November of 1970 on the strength of the growing number of North Korean workers to be sent to the Middle Eastern country.But, it was in April of 2001 that both Kuwait and North Korea established official diplomatic relations.In July of 2003 North Korea opened its permanent embassy in Kuwait. In 2008 North Korea's Air Koryo launched its flight service to Kwait.In its course thousands of North Korean construction workers
were sent to Kuwait.
For details or inquiries please contact the Kuwait Embassy in Seoul at 02-749-3688/9.