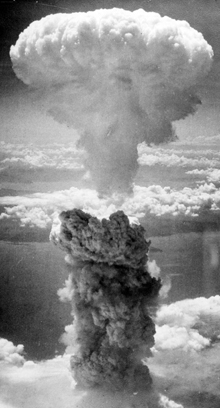 Mushroom cloud over Nagasaki — A total of 45,000 Japanese, mostly civilians, were killed immediately and 75,000 more were dead later on August 9, 1945 when the United States dropped "Fat Man," the plutonium atom bomb, over Nagasaki. The nuclear bomb had an explosive yield of 21,000 tons of TNT. Three days earlier the US dropped a nuclear bomb over Hiroshima.

What could nuclear threats by North Korean have in common with stem cells and global warming? The answer may be "far more" than most Americans have the psychological independence to face.
In January of 2011, The Seoul Times published an article entitled "US Withholds Radiation Hope from S. Korea." Two months later, a tsunami smashed into Fukushima, plunging Japan into a nuclear nightmare as she faced an immediate threat of high-dose radiation exposure without a shred of medical hope. In 2012, the Japanese ambassador to the United States asked Prof. Norman Ende, M.D., the architect of the "radiation hope" offered by The Seoul Times, to translate his medical blueprint into Japanese.
Ende's book, "An Emergency Plan That Could Save Thousands Based on Hiroshima and Nagasaki," outlines medical protocols that a former surgeon general of the U.S. Air Force, Lt. Gen. P.K. Carlton (ret) M.D., calls "the only hope for saving those who might be saved." Carlton's words carry special weight as he once served as NORAD's senior medical adviser for treating mass radiation casualties due to nuclear war. As reported by The Seoul Times, a U.S. State Department liaison tried to dissuade General Carlton from contacting Seoul to share Ende's plan.
Throughout the administrations of G.W. Bush and Barack Obama, U.S. agencies have ignored Ende's plan while claiming to be 'looking' for the very solutions it offers, leaving three hundred million Americans without any hope should the unthinkable occur. Likewise, despite nuclear threats as posed by state-sponsored terrorism, America's aging nuclear energy infrastructure, or the nuclear aims of Iran and North Korea, Americans remain in denial of their danger or apathetic to inexcusable bureaucratic policies that place their lives at risk. As North Korea continues to rattle its nuclear saber, perhaps South Koreans will face the realities that threaten us all.
Worldview Division to Safeguard Profits
Between 2002 and 2006, I contributed to the daily discussions of America's conservative biotech policy advisers, including key members of the President's Council of Bioethics, congressional and White House staff, religious and worldview lobbyists, and several scientists. I also twice served as a surrogate stem cells spokesperson for the GW Bush White House. Two discoveries forced me to end my biotech activism in November of 2006:
I realized the G.W. Bush Administration merely appeared to oppose embryonic stem cell research and human cloning while sanctioned and nurtured the development of both. The purpose of this charade was to appease rank-and-file Christian voters while promoting the economic goals of Pharma, BIO, and their financial backers.
I also learned that GOP politicians and American conservative organizations—some of whom I'd assisted directly through my stem cells activism—intended to distort and discredit the science of climate change (for more on this, research the "Cornwall Alliance"). This strategy, which was funded by oil corporations and billionaires heavily vested in oil, coal, and gas, mimics the stem cells charade in that both involved the spinning of factual issues into matters of worldview debate to polarize the public and thus block social initiatives that threatened lucrative markets in energy and medicine respectively. Moreover, both deceptions were enacted without regard for morality, truth, human suffering, or the futures of humanity or Earth.
More recently, I've discovered that U.S. politicians knowingly place American lives at high risk of suffering cancer, liver disease, and life-long neurological damage in exchange for corporate profits through hydraulic fracking. Why, therefore, would the U.S. government care about saving Korean lives when it so blatantly exploits and betrays Americans?
This is exactly why a U.S. government liaison tried to discourage a top U.S. military expert from sharing Ende's plan for treating radiation casualties with his medical peers in Seoul.Human Psychology for Social Control
The crux of Ende's protocol involves administering three units of umbilical cord blood intravenously to victims of high-dose radiation. Such transplants would only be matched for blood type (not HLA genetic markers), which would negate the major roadblock to treating mass radiation casualties for Hematopoietic Syndrome (radiation sickness), i.e., the impossibility of finding, transporting, and administering thousands of HLA-matched bone marrow transplants on short notice under emergency conditions.
Concerning global profits gleaned from Lymphoma, Leukemia, Sickle Cell Anemia, Franconia's Anemia, or any condition that requires bone marrow replacement [reconstitution], Ende's plan represents a major threat. His peer-reviewed research and multiple reports of cord blood's medical use both strongly suggest his methods could indeed allow patients to no longer require months of expensive medical care while awaiting HLA-matched transplants. An even greater threat to Pharma, BIO, and Big Medicine concerns cord blood's reportedly positive effects on other conditions [like Diabetes and Multiple Sclerosis] when used to treat patients with Lymphoma or Leukemia. Research by Ende and others reveals that cord blood might improve the symptoms of patients with ALS, Alzheimer's, Acute Stroke, Acute Spinal Cord Injury, Heart Attack, Diabetes I & II, Multiple Sclerosis, and Radiation Sickness. If cord blood can improve these conditions in humans, it might also point to their cures. Is it any wonder therefore why a U.S. official would oppose South Korea testing Ende's methods and thus possibly opening the door to their widespread medical use?
U.S. corporations, politicians, and worldview organizations have colluded for years to safeguard the financial aims of special interests whose wealth derives from fossil fuels and human suffering. Concerning stem cells and climate change, they've spun these issues effectively into matters of worldview debate. (For more, see "Climate of Doubt" by Frontline.) Regarding matters less likely to spark social division, like breakthroughs in electrical power generation by Canadian Thane Heins or South Korea using cord blood for medical self-defense, those who control us resort to denials, distortions, suppression, or silence.
To Free Our Minds and Futures
Years ago, I quoted an American scientist in The Seoul Times regarding the manipulation of information by U.S. agencies that direct or regulate Science: "It's all about control of information and appearance of knowledge, isn't it?" said Laurance Johnston, Ph.D., former Director of Scientific Review for the NIH Institute of Child Welfare and Human Development. "One can either work to disseminate knowledge, or work to control it."
I agree with Dr. Johnston completely. Regardless whether one considers the stem cells charade, anthropogenic global warming, hydraulic fracking, or offering South Korea medical hope against a nuclear attack, the stakes concern vast financial markets—markets guarded ruthlessly through the control of information and its effect on human psychology.
According to peer-reviewed research at Emory University, humans embrace biased interpretations of life rather than face factual realities that challenge our egos, ambitions, convenience, or beliefs. In America, this psychological trait serves as an effective tool for controlling our minds and lives. Other nations, like those who face imminent catastrophes through climate change or nuclear threats, don't have the luxury of ignoring realities they'd rather not face or playing worldview games with truth.
It's my hope that Americans will soon awake to discover that they love life, integrity, and their children far more than transient comforts at any cost or allowing others to exploit their egos as a means of protecting profits. I pray this occurs because as singer Loreena McKennit says so beautifully in song:
"Our love must make us strong. The truth will set us free."
James P. Kelly is author of "The Sibyl Reborn," an epic action/adventure that reveals the psychological ploys that threaten our lives and futures. In the coming months, he plans to expand the premise of this article [and his novel] into four non-fiction books with each revealing specific examples of how social division in America is inflamed and exploited to promote financial special interests at the ruinous costs of all mankind.