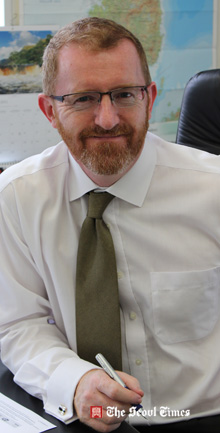 Dr. Eamonn McKee, Irish ambassador to Seoul
April 8, 2013
Dear Editor (Joseph),
I am sure you have been closely following the international media coverage of events on the peninsula of late and no doubt responding to concerns from relatives. The coverage has been intense, certainly more intense than at any time since I arrived here in 2009.From the Embassy's perspective, the safety of our citizens abroad is of paramount importance and I can assure you that the Embassy has been in daily contact with Headquarters and the other EU missions here to ensure that we are all as informed as possible and that we agree a common assessment.The consensus among us is that the security situation does not require us to change our travel advice regarding South Korea i.e. that is safe to come here, and by implication to be here.However, in terms of North Korea, and in light of the DPRK authorities' warning to foreign missions in Pyongyang last Friday that they cannot guarantee their safety, we are advising against all non-essential travel there, at least for the moment. From our perspective here in the Embassy, and as agreed with Headquarters, this is a precautionary move, particularly in light of the fact that we do not have an Embassy there to render direct assistance to Irish citizens should it be required. There has been a surge of registrations by members of the Irish community here with the Embassy and we are very happy to report that our database now includes most of the Irish community.If you know of anyone that has not registered, please encourage them to do so here: http://bit.ly/16Htk0y. The Embassy will use this database to contact Irish nationals in the event of any emergency.Some guidelines on preparing for an emergency situation are available here: http://bit.ly/16Hndrf. For the time being, we at the Embassy will continue to engage with our colleagues here in Seoul and at Headquarters to monitor and assess the situation so that we are best placed to offer advice and answer your questions.Best wishes,
Eamonn McKee
Ambassador
Any inquiries about the ambassador's story can be made through his secretary's Email.
Heejeong.Kim@dfa.ie