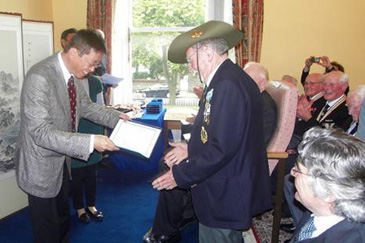 South Korean ambassador to Island Kim Chang-Yeop presents Korean War service medals and certificates to Mr. John Hawkins, Irish veteran of the Korean War (1950-53) in a ceremony held at his embassy in Dublin on June 25, 2011. On the occasion of the 60 anniversary of the outbreak of the Korean War the Korean envoy invited a group of Irish veterans to his embassy to thank them for their sacrifice to South Korea. Those who were presented with the Korean War Service Medal and Certificate included Andrew Coleman on behalf of his father John Coleman, Elizabeth Farrell on behalf of his father Michael McSherry, Deborah Hutchinson on behalf of her father Brendan Hutchinson, Michael Keogh Snr on behalf of his brother Daniel Joseph Keogh, Bernard Mulhall­ on behalf of his brother Christopher Mulhall, Donal O' Connell on behalf of his uncle Alphonsus O'Connell, Aubrey John Bunyan, John Joseph Clarke, Canon Thomas Robert Jennings, Michael Kehoe, Michael C. Kelly, Thomas William O'Keefe, John Oliver Powell, Kevin Wood, and John Hawkins. Over 160 Irish soldiers died in the Korean War to defend the freedom. Most of the Irish soldiers belonged to the 1st Battalion Royal Ulster Rifles or to the 8th Hussar Royal Irish Cavalry. Ireland is among the 21 countries which sent their troops to help South Korea.
April 18, 2013 Dear Joseph!Our Korean War veterans are making their final preparations for their long journey here next week. Old soldiers and elderly gentlemen, they are still game, joking that after seeing all the media coverage of the peninsula recently they should pack their boots just in case they are needed again to defend South Korea.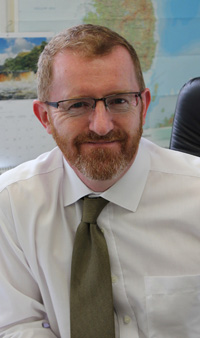 Dr. Eamonn McKee,
Ambassador of Ireland
We are really looking forward to meeting them. The Commonwealth Revisit programme will keep them busy with ceremonies and visits to battle sites and the UN Cemetery in Busan. There are a number of Irish components which you might find interesting.Veterans will travel on Tuesday to Jeokseong for the memorial to the Glosters who were annihilated at the Battle of the Imjin River in April 1951. The Royal Ulster Rifles' dogged resistance, along with other elements of the 29th British Brigade, blunted the Chinese onslaught, allowed UN forces to withdraw in order, helped stymie the most concerted attempt of the War to defeat UN forces.I am co-hosting a welcoming reception at the British Ambassador's Residence that evening. On Wednesday we will all attend the Commonwealth Memorial Ceremony in the morning and then travel in the afternoon to the site of the Battle of Happy Valley (January 1951).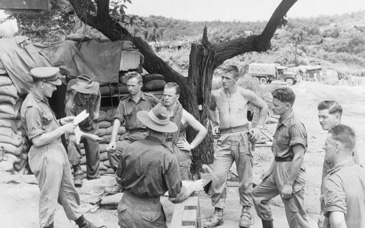 Ceasefire, July 27 July 1953 — Major T H Wilson (left) of the 2nd Battalion Royal Australian Regiment (of Ireland) reads ceasefire instructions to Headquarters personnel near the Battalion Command Post in Korea.
After the ANZAC Dawn Service on Thursday morning, we will dedicate the Irish Memorial at the War Memorial of Korea. Guests will include relatives of the veterans, representatives of the Columban Order, Commonwealth Ambassadors and Defence Attachés and the Korean Minister for Patriot and Veterans Affairs, Mr Park Sung-choon. The Canadian Minister for Veterans Affairs, Mr Steven Blaney, will also attend: he feels a deep affinity with his Irish heritage and we are very happy to have him attend our dedication.That evening, the Minister Park will host a thank-you banquet at the Lotte Hotel for all the Commonwealth Veterans. On Friday, our veterans will be part of the Commonwealth Veteran's trip to Busan.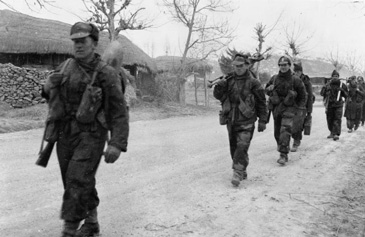 1st Battalion Royal Ulster Rifles, Korea 1951 — Men of the 1st Battalion Royal Ulster Rifles marching through a Korean village, 1951. The Royal Ulster Rifles were to become heavily engaged during the defence along the River Imjin during the Chinese spring offensive in April 1951.
On Saturday, they will visit the DMZ and conclude the day with a Reception at our Residence. Meanwhile, our Korean sculptor is busy completing the memorial itself which we designed as a simply hexagon plinth topped with an image of the island of Ireland and with inscriptions on its facets. The Irish dedication ceremony will be an intensely personal one for the attending veterans.They came through some of the most intense combat of the twentieth century and saw many of their comrades fall. Sixty years may seem like a long time but life passes quickly and memories stay fresh.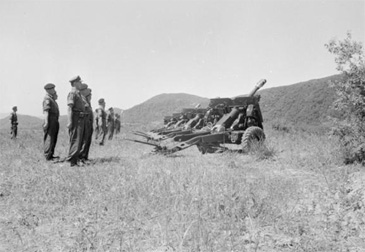 The Korean War (1950-53) — Men of the 45th Field Regiment, Royal Artillery serving with the 29th British Brigade manhandle a 25 pounder field gun into position in Korea.
The memorial is just stone and words but it will help recover and preserve the contribution that these veterans and all those who died in the war made to Korea and to the success of the only war fought under the UN flag.
Best wishes,
Mark B. McConnell
Korean Lament
There's blood on the hills of Korea, it's the blood of the brave and the true, where the nations they battled together, 'neath banners of white and pale blue, as they marched over the fields of Korea to the hills where the enemy lay, they remembered the Brigadier's orders, those hills must be taken today.And forward they went into battle, with faces unsmiling, and stern, for they knew as they charged up that hillside there were many would never return.Some thought of their wives and their mothers and some of their sweethearts so fair and some as they plodded and stumbled were softly saying this prayer, 'There's blood on the hills in Korea, it's the blood of the freedom we love, may our names live in glory forever, and our souls rest in heaven above.'And boys, when you go back to Belfast, when this War is over and done, just think of the ones left behind you out in the Korean sun.Mark B. McConnell
RQMS (W.O.1)
| | |
| --- | --- |
| | Desperate for Freedom: US photographer Max Desfor's description of the Korean War (1950-53) illustrates how tragic the fratricidal Korean War. His Dec. 4, 1950 file photo titled "Flight of Refugees Across Wrecked Bridge in Korea" shows vividly N. Korean refugees from the N. Korean capital of Pyongyang and other parts of N. Korea crawl perilously over shattered girders of the war-torn city's bridge as they flee south across the Daedong River to escape advancing Chinese Communist troops. The 3-year war left nearly 2 million soldiers and civilians killed from both sides and left 10 million Koreans dispersed family members in both Koreas. photo courtesy of AP/Nax Desfor This photo won Desfor a Pulitzer Prize in 1951. |
Aubrey Bunyan
Aubrey Bunyan was born in Dublin in 1931, the son of a soldier. He enlisted in 1950 and was first posted to Germany as a member of the Royal Irish Fusiliers. On hearing that the Royal Ulster Rifles had lost a lot of men in January 1951 at the Battle of "Happy Valley" and required reinforcements, Aubrey volunteered to go to Korea. He served with the Ulster Rifles between April and October 1951. After Korea he served in the SAS in Malaya. Returning home, he married Joan and had two children Derek and Lorraine. He worked with forty-two years in the Guinness Brewery.
Robin Charley
| | |
| --- | --- |
| | Col. Robin Charley: Born in Dunmurry in 1924, he was educated at Elm Park, Co Armagh, Cheltenham College, and The Queen's University of Belfast. After enlisting the Royal Ulster Rifles in 1943, he served in Europe and in Korea during the Korean War (1950-53). |
Robin was a General's ADC when he heard the Rifles were heading to Korea so he volunteered to go. In so doing he dropped a rank to Lieutenant and took a pay cut. He remembers arriving at Pusan and being met by an American band that was playing various marching tunes.His battalion moved north to near Seoul and later they crossed the 38th parallel observing a sign that read – 'You are now passing the 38th parallel courtesy of 1 RUR'. At this stage he didn't encounter any enemy just masses of refugees heading south. On one occasion Robin 'borrowed' a trailer with supplies for 100 men from a US supply dump, signing the invoice 'Mickey Mouse'.Regarding the enemy Robin recalls that the calibre of the North Koreans was 'quite ropey' but that 'it was a shock when confronted by thousands of Chinese Volunteers.' Once following heavy fighting an order was given to withdraw. During the withdrawal, which took place at night, Robin remembers stepping aside on a narrow path to allow Korean porters to pass but later realised they were in fact Chinese Volunteers. Surrounded by Chinese and in the middle of a fight Robin reflected that he felt 'outside himself, almost as an observer and not worried at all even though it was the most desperate place to be in. It was extraordinary.'
Canon Thomas Robert Jennings
Canon Jennings served as Territorial Army Chaplain, Inniskilling Fusiliers, 5th Battalion 1949-1951,
serving with the Welsh Regiment during the Korean War. He also served with the Parachute Regiment,
having completed parachute training. He participated in the Suez Canal operation 1953 with 33rd
Parachute Field Regiment at Brigade HQ. He also saw service in British Guyana, Germany, Hong Kong,
Northern Ireland and England. He has published numerous works on the history, folklore and walks of Wicklow.
Michael Kelly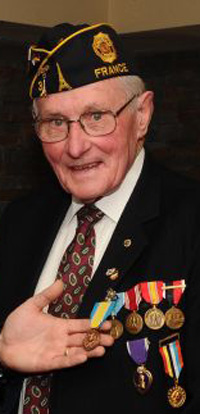 The 85-year-old Michael Kelly risked his own life to rescue two wounded Irish-American colleagues at the height of the Korean War. He was presented with a Korean War Service Medial by the Korean government
Michael was drafted in the United States on the 8th December 1950. He trained in Forth Ord Army Base
in Monterey, California for fourteen weeks. After training he was moved to Camp Stone in San Francisco where he were then processed to be moved on to Korea via Japan. In March 1951 he was taken to Pier 8 and loaded onto a ship called the SS Brackenridge and from here his journey began. On route to Japan he briefly stopped at Guan to pick up some Navel personnel.The next stop was Yokohama, Japan where he was taken by train to Tokyo. Here Michael turned in his kit and was issued new gear and then taken to a firing range for practise. The next few days were spent on base waiting on transfer to Korea. Then he we loaded on a ship to Incheon, Korea where the battle was raging. Early one morning an officer came and picked the strongest men to take on the role of Medics on the front Lines. Michael was chosen and as a Medic was promoted to Sergeant. He was sent for training on the front lines and educated on the care of the wounded, maimed and dying. He said "the likes of sights, you couldn't imagine. I saw many long battles, the worst of which was The Battle of Baldy Hill. This battle raged from October 1st 1951 to 11 October. This was unimaginable.
Korea was my home until 1952 where we were relieved by The California and Oklahoma National Guards."
He was then flown by an old B59 to Tokyo for a few days for R and R but says it was here that the truth hit him and he began to realise what he had just been through. He and many others were then hospitalised and treated for physical and psychological fatigue. Michael was then taken to Hokkaido Island to wait on passage back to America. He returned home soon after to Ireland for three months to spend time with his family before heading back again to start his life in America.
Peter McGeown
Trooper Peter McGeown from Markethill, Co Armagh served with the 5th Tanks and the 17th/21st Lancers.
His uncle had served with the Royal Irish Fusiliers in the First World War and his brother with the Royal Artillery in the Second so Peter followed the family tradition and joined up as a full-time soldier serving for twenty four years. He arrived in Korea at a time when hostilities had ended and the Armistice had been signed in July of 1953. He said "we were lucky things were quieter but there were still a few skirmishes."
Peter's Regiment were part of the 1st Commonwealth Division, formed after the Battle of the Imjin River.
Their role was to patrol and man the 38th Parallel which often saw heavy skirmishing, raids and bombardments until the armistice brought hostilities to an end.
Arriving in Korea in the winter Peter says "the weather was very cold and harsh. Our clothing had improved since the guys had been there at first and we were issued with long johns and string vests.
Our boots were first rate and the Americans' were actually jealous of our boots and tried to get their hands on them when they could." Peter says the boots were known to the soldiers as CWW, "Cold Wet Weather". They had plastic insoles that kept their socks dry which was extremely important.
He says the land was very barren and there were very few locals about as they had all left the region. "As we were part of the 1st Commonwealth Division supplies were good and rations contained New Zealand butter and Canadian peanut butter."Peter remembers that they had a swimming pool at the foot of Gloster Hill made by the engineers who had also made them a Church out of a tent, which was used by all dominations. He remembers a very sad incident that on occurred one Sunday. He and his friend Trooper G Weldon had attended mass together at 1100hrs. Peter says "I thought I was a good Catholic but my friend was better.
He did everything a good Catholic is supposed to. My friend was an only child and only son: a lovely lad. He was the pay clerk. Well by 1500hrs he was dead; he had walked on a mine and had been blown up. We had to be careful there were mines everywhere. I remember when we embarked from Southampton
my friend's parents went and spoke to our Sergeant Major and asked him to look after their son as he was their only child. I always felt sorry for Sgt Major Eaton as he went and visited the parents after the War to say sorry that he didn't perform his duty of looking after Private Weldon."
Albert Morrow
Albert joined the 1st Battalion The Royal Ulster Rifles in January 1947 having been an army cadet in Bangor first. He always wanted to join the army. On joining he went to St Patrick's Barracks in Ballymena then Omagh: "training was tough, you had to be fit but it was a good life and a good family Regiment". From Omagh, Albert was posted back to Ballymena as the driver to the Commanding Officer.
Every Thursday night they had a weapons check and this night the Company Sergeant Major came round and told Albert he was now going to Korea; he confesses that he didn't know much about what was going on in Korea.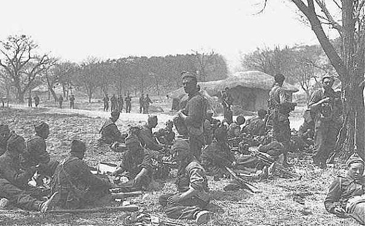 This undated file photo shows that Irish soldiers of the 1st Battalion Royal Ulster Rifles rest after a withdrawal in South Korea during the Korean War (1950-53).
Albert departed on 30th Sept 1950 and embarked on the Empire Pride. The journey was rough and Albert was sick for the whole voyage. He arrived in Pusan five weeks later to an American military band playing St Louis Blues as the Regiment disembarked. Albert says the Americans were very well equipped compared to the Commonwealth troops.They had better vehicles, supplies and equipment. Albert was to see action at the Battle of Happy Valley and Imjin as an ambulance driver. It was a tough job with many casualties to deal with and sometimes they weren't able to get to them. He also helped many Chinese. Albert says he is looking forward to going back to Korea to see how it has changed since 1951.
Eamonn McKee
Ambassador of Ireland
Inquiries can be made through ambassador's secretary's Email. Heejeong.Kim@dfa.ie