Special Contribution to The Seoul Times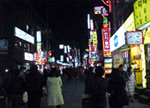 The following article is contributed to The Seoul Times by a foreign resident who claimed to have witnessed a vicious attack on foreign customers at a bar "Helios" in Itaewon recently. He refused to identify his name for his safety—editor's note.Last Friday night(Sept. 12, 2003) Helios Bar near Hamilton Hotel in Itaewon witnessed shocking scenes of brutality as a group of Westerners were set upon by irate security staff. A group of between 20 to 30 Westerners were asked to leave the premises at 3 a.m. but continued to finish their drinks and sing until 3:15 a.m. In this time the bar staff became increasingly annoyed until the bar owner "Mr. Jo Shin" produced a baseball bat from behind the counter and proceeded to tap the table and chairs with the presumed intent of making his point.When the Westerners got outside they were set upon by six security staff who were called in from the surrounding Itaewon area. What followed was in the words of one witness unthinkable. The security team were armed with telescopic bats, tear gas canisters, a CO2 pellet gun and at least one shield.Two Westerners needed stitching, one was shot with the pellet gun and many were the victims of tear gas, and beatings, leaving them needing hospital treatments. What has inflamed this situation even more has been the reported lack of police support for the group with one reported incident of a Korean police officer by the name "Suh Sung Won" laughing at a Korean girl who was covered in blood who was trying to give a report of the incident.
None of the victims names were taken and witnesses said the police did little or nothing to stop the attack.The following article is an witness account of the incident and the individual refused to identify his name for security reason.Last night I witnessed the unthinkable. I would like to document the following events. I showed up at Helios to meet my girlfriend. The bar was rather busy and seemed to be doing quite well. At about 3 a.m. the music stopped. We were sitting at a table near the exit. About a minute after the music stopped, a waitress said we had to leave. I replied "I just bought this drink two minutes ago and will leave as soon as I am done it". My girlfriend commented on it being rather abrupt service. "If you want people to leave, don't sell them drinks two minutes earlier." All that aside, we decided to just drink up and go. I am Canadian and I teach English in Seoul. I saw that there was a group of about 30 Irish men and women who went to Helios together. They were also asked to leave the bar. I did not see any confrontation and watched them start moving closer to the door. About that time the Korean-American bar manager brought out a bat and started tapping it on the bar and against the chairs to stress the point he was serious. Some of the Irish asked that they could sing just one more song which was automatically followed by another and yet a third song.
If one approximates five minutes per song, things started to turn ugly about 3:15 a.m.As they were slamming back their drinks and getting ready to leave they were singing the popular "Fairytale in New York" song by the Pogues. They were very happy and friendly and my girlfriend and I enjoyed listening to them sing. According to the Irish, they knew they were wearing out their welcome by the third song and were planning to make it their last. Some of them were already urging the rest to leave the restaurant. It was at this point the bouncer started shoving some of the lads and they shoved back. There was no exchanging of blows but just shoving in the restaurant and then more of the same down the stairs out on to the street.It was at that time the Korean bouncer phoned his "security company," a roving band of thugs who are contracted by the restaurant, a near-by night club and a string of sleazy hole-in-the-wall establishments collectively known as "Hooker Hill." The night before these bad thugs had a pretty bad run in with some Russians and perhaps that event made them all the more ready to draw blood.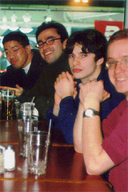 They hadn't even finished singing that song and five or six Korean bouncers started circling the group. I was starting to feel uneasy. Then I watched as one of the Korean bouncers, possibly the supervisor, began instructing the other Korean men to go somewhere. They diligently went back behind the bar and came out with bats and clubs. The above paragraph gives the impression the violence took place in the restaurant. It did not. The beatings took place outside on the sidewalk.I could not believe my eyes. Were they doing what I thought? They completely surrounded the group of Irish and started pushing them out. They knocked over chairs and physically pushed them towards the door. I have worked in bars and I have never ever seen anything like this. I was in absolute shock. Helios served 30 or more Irish people many, many drinks throughout the course of the night. They probably took in over a thousand dollars from that group alone. Then five minutes after they serve the last round of alcohol to the group, they come over with bats and clubs and physically begin throwing them out. This would be enough to start a major brawl in many bars, but I was impressed by the behaviour of the Irish group. They actually did not start fighting. Several of the group were very angry but were being held back by fellow Irish men. The Irish were taking their own people out of the bar, but that still wasn't enough. The Koreans started hitting them with the clubs. I was sick to my stomach. I was disgusted. Helios places advertisements in English magazines and newspapers. They claim to cater to foreigners. That is not the case. They want foreigners money but that is all. The minute they get your money, you had better get out quickly or you will regret it. This is where things started to get really, really ugly. I had not witnessed this kind of violence carried out by bar staff anywhere. As a group of six or seven bouncers, they proceeded to follow the Irish out onto the street. Once they got the Irish onto the street, utter mayhem broke loose. I am still in shock. Literally. I cannot believe this happened. The bouncers started hitting the Irish with clubs, spraying the area with pepper spray and shooting the Irish with a canister gun of some sort.About 20 of us hit the ground when we heard the first wave of gun fire. One of the Irish was shot in the head. We first thought it was a real bullet and he was going to die. I don't know what they shot him with but blood was racing down his head, neck and body. It was later known to be a CO2 pellet gun.I was frozen for a second. I would not believe it. There were people scattered everywhere and running away. I am proud of my girlfriend. She quickly ran to the aid of the man who had been shot. With the help of his friend, she tore off his shirt and wrapped it around his head tightly to minimize the bleeding. We were trying to get security to help get an ambulance. They did not care. "NOT ONE BIT!" It was the most disgraceful lack of concern for human life I have ever seen. They shot the patron in the head and they looked at us like annoying insects as we screamed for help and an ambulance. They were completely unfazed and demanded we leave. We managed to carry the poor lad to a taxi and send him to the hospital with a friend of his. I do not know the poor guy or what happened. I hope that he is still alive. My girlfriend was crying and crying. Her hands and legs were covered in blood. She was screaming at the bouncers "WHY? WHY?" The cops soon arrived on the scene. My girlfriend had so much blood on her that they thought she had been shot. She was now completely hysterical. The cops asked her what happened and she replied "the bouncers from Helios attacked that group of Irish with pepper spray, bats and guns". As she started to describe this, one of the bouncers came running over and said she was lying. I had been quiet until this point, but I could not believe the gall of this bouncer. I shouted "look at the blood on her! Where the F—- did that come from." As she held up her hands one of the Korean police officers laughed. Apparently it is not just Helios that does not give a damn about foreigners. I am not a fighter. I don't even like to argue. At this point I took it upon myself to get the name of this concerned officer. His badge name is Suh, Sung Won. If you are a foreigner and get hurt in Seoul, you will certainly not get any help from him. The Itaewon police have a general reputation as being ineffectual and essentially useless in controlling this kind of situation.I started asking if there were any others who saw what happened. I started taking email addresses from people. There were so many people lining up to give me their email addresses. People were outraged. Not just the Irish, but bystanders who watched malicious assaults occurring on the streets of Itaewon. Two black gentlemen stepped forward and told me they saw everything and were appalled. A Russian girl came forward and gave me her email address as did a Moroccan and two other Canadians. There were at least 10 more people coming over to give me their email addresses. At this point, the officer in charge of the investigation became most concerned about me. He screamed "GET AWAY". His only concern was that I would share this tale with the rest of the world. He is right. I am doing that. I am a journalist. I report on events like this. In the eyes of the head officer, I was the most dangerous person there. Why? Because I might tell people about this. You will notice that my name is not mentioned anywhere in this article. I am very concerned about retribution. I do not want these goons from Helios hunting me down. They will blame me for writing negative things about Helios. They will not be concerned about physically attacking foreigners. This happened. Ask around and you will hear about it. It was a disgrace. I ask only one thing of you. Please read this and pass it on to another foreigner. I am sending copies to the newspapers, but I wonder if it will actually receive any press in Korea. HELIOS IS NOT FOREIGNER FRIENDLY
The following night the Helios management met with Seoul Gaels officers and apologized for the incident, admitting they had over reacted - something they refused to do during the first evening when the police arrived.They also offered to pay the medical expenses that totals roughly a half million won since about four of the lads needed to have their scalps stitched.Needless to say, the loss of good will resulting from this incident is considerable. This account without my annotations has spread like wild fire over the Internet among the foreign community in Seoul.While it is tempting to chalk this incident up to another example of Korean xenophobic racism, a cooler analysis may be that this incident could have been avoided if the restaurant had not employed street thugs to provide "security services." It is an open secret that organized crime runs much of Itaewon and that is a direct reflection on the local police looking the other way or worse. So if one is willing to look beyond the stupidity demonstrated by Helios employees, the overall genesis of the incident can be traced to the Itaewon police.