A Surgeon's Notes on an Imperfect Science
Author: Dr. Atul Gawande
Publisher: Picador
Price: 18,420
This is a superb collection of essays by Dr. Atul Gawande, Assistant Professor of Surgery at Harvard Medical School. This engrossing book is extremely well-written with vivid and enthralling prose more usual to a best-selling thriller than a non-fiction book about medical matters.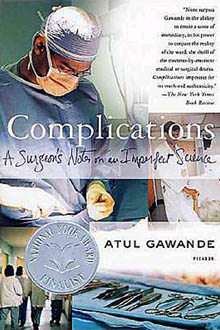 Using personal anecdotes and real life examples Dr. Gawande introduces us to the many contradictions and struggles of modern day medicine. The fact that modern medical techniques are based fundamentally on human trial and error — that medical procedures are acquired skills which require real-time practice. In order for a surgeon to be able to complete successful brain surgery he has to 'practice' brain surgery on someone. Doctors learn on the job, every doctor has made a mistake and that medicine is not anywhere near being an exact science. Gawande writes engagingly about individual cases that nevertheless illustrate the spectrum of medical reality. The value of a medical 'hunch' in the case of a woman with a flesh-eating disease, a program for Doctors with serious behavioral problems, the story of the man who couldn't stop eating, and the indisputable fact that sometimes good doctors go bad.This is an excellent read and, certainly for those of us hooked on medical dramas and Thrillers, it offers an invigorating change from fiction.