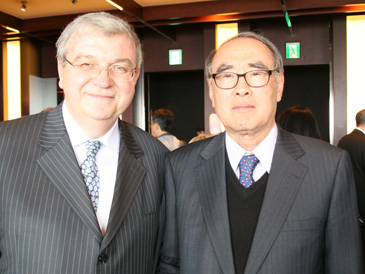 Israeli Amb. Tuvia Israeli (left) poses with ex-Primier Lee Hong-Koo at the reception he hosted at a Seoul hotel on April 25, 2013.
Israeli Ambassador to Seoul Tuvia Israeli hosted a reception for the 65th anniversary of Israel's Independence Day at the Grand Hyatt Hotel in Seoul on April 25 (Thursday), 2013.Israel's Independence Day marks the declaration of the establishment of the state of Israel on May 14, 1948 — the day on which the British Mandate over Palestine expired.A number of hi-profile both local Korean and international guests including top foreign envoys serving in Seoul were invited to the event held at noon of the day for Israel's most important national holiday.Among the local Korean guests was Mr. Park Chan-Woo, vice minister of South Korea's Ministry of Security and Public Administration and the former Prime Minister Lee Hong-Koo.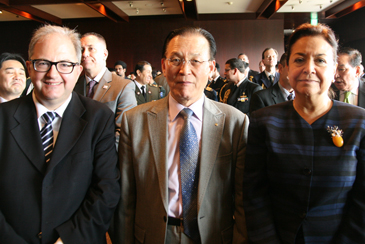 Mexican Amb. Martha Ortiz De Rosas (right) poses with Bulgarian Amb. Petar Andonov (left). At center is Elder Choi Shin-Il of Manmin Church in Seoul at the Israel's 65th Independence Day event.
Uzbek Ambassador Vitali Fen, dean of the Diplomatic Corps of Korea, was also among the scores of the top foreign envoys. Honorary Consul of Israel Bae Jung-Hwa and Dr. Kwon O-Kwang, chairman of Korea -Israel Friendship Association, were also among the guests.Vice Minister Park delivered a congratulatory speech at the reception following a welcoming speech made by Ambassador Israeli. Ex-Premiere Lee made a toast during the reception.In his speech, the ambassador sent out a congratulatory message to all Israelis in Korea. Also, he remarked on bilateral ties between South Korea and Israel. He underlined the similarities between the two countries in various fields — ancient and modern history, the need to fight and sacrifice for independence, miraculous recovery and development while overcoming shortcomings of similar nature, reviving and maintaining ancient tradition and language.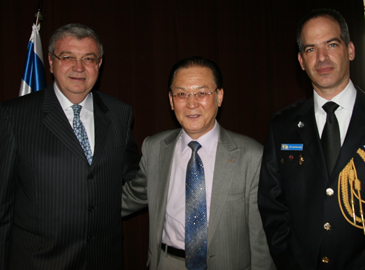 Israeli Amb. Tuvia Israeli (left) poses with Elder Choi Shin-Il of Manmin Church at the reception he hosted at a Seoul hotel on April 25, 2013.
Not only in Israel but all over the world, the Declaration Day of Israeli Independence was commemorated by similar celebrations. Some 2 million Israelis celebrated in Israel, attending ceremonies and going on hikes in honor of the occasion.South Korea and Israel first established diplomatic relations on April 10, 1962. Ties between the two countries were weakened for several years as South Korea concentrated on building relationships with other Arab nations to secure an oil supply and take advantage of the emerging construction market. During the 1980s, however, Israel and South Korea showed a renewed interest in building stronger diplomatic relations. A stable diplomatic relationship has been maintained ever since.On August 23, 2010 Korea Venture Investment Corp., a state-backed fund management company, signed a memorandum of understanding with Israel's Vertex Venture Capital to raise US$150 million. The fund will be used to finance joint ventures or the merger and acquisition of small and mid-size venture firms in the two countries. On May 5, 2011, South Korean Ambassador Ma Young-Sam encouraged Israeli and Korean cooperation on renewable energy resource development, stressing the similarities between the countries in terms of both fossil fuel dependency and a desire to innovate, according to the Jerusalem Post.Speaking at a conference on East Asian energy security, Mr. Ma emphasized the importance of Israel's role in the future energy market as well as cooperation between Israel and other countries like Korea for an energy-efficient future. "You do have ideas and technologies, but you do not have a mass production capability," said Mr. Ma to the predominantly Israeli audience. "Who has it? We have it. My government is very committed to renewable energy policy. Is cooperation possible? Yes."
Ambassador's Speech
Honorable Park Chan-Woo, 1st Vice Minister of Security and Pubic Administration
Honorable Lee Hong-koo, former Prime Minister
His Excellency Vitali Fen, Dean of the Diplomatic Corps of Korea
Mr. Bae Jung-hwa, Honorary Consul of Israel
Dr. Kwon O-kwang, Chairman of Korea -Israel Friendship Association
Excellencies,On May 14, 1948, on the day in which the British Mandate over the Land of Israel expired, the Jewish People's Council gathered at the Tel Aviv Museum, and approved the proclamation of the establishment of the State of Israel.David Ben-Guryon/ the founder of the state proclaimed: …"BY VIRTUE OF OUR NATURAL AND HISTORIC RIGHT AND ON THE STRENGTH OF THE RESOLUTION OF THE UNITED NATIONS GENERAL ASSEMBLY, HEREBY DECLARE THE ESTABLISHMENT OF A JEWISH STATE IN ERETZ-ISRAEL, TO BE KNOWN AS THE STATE OF ISRAEL".
65 years of independence is indeed a point in time to stop and look back with pride. And no less more important - to look forward with confidence and hopeWithout land, water and natural resources, we built an outstanding economy and an excellent scientific and technological community,
We take pride in all this today, when the State of Israel marks 65 years of independence. It is the Jewish brain and the willingness to undertake challenging tasks and to work hard; it is persistence and patience and daring. And even chutzpah.
The best book, so far, to tell the story of the pivotal role of innovation in Israel economy is "start-up Nation" written by Dan Senor & Saul Singer. The book was translated to Korean language By Prof. Yoon Jong-Lok whom was recently became Vice Minister in the Ministry of Science ICT and Future Planning. I'm delighted to tell you that on the happy occasion of the 65 anniversary of the state of Israel, our Honorary Consul Mr. Bae Jung Hwa and his wife Mrs. Kim Hee-woo our beloved friend and founder of the Israel Culture Center in Seoul, generously contributed 150 copies of the Korean version of the book and you are invited to take a copy upon leaving this event.
The concluding remark in the book "Start-up nation" is: "Israel is one of the world's foremost idea factories, and provides clues for the meta-ideas of the future.Making innovation happen is a collaborative process on many levels, from the team, to the company, to the country, to the world. While many countries have mastered the process at the level of large companies, few have done so at the riskiest and most dynamic level of the process, the innovation based start-up. Accordingly, while Israel has much to learn from the world, the world has much to learn of Israel".
On this festive occasion, I would like to congratulate her Honorable Park Geun -hye, President of the Republic of Korea and the new government that has began its vigorous activity. Our Embassy welcomes the fact that the new Korean government places great emphasis on entrepreneurship and innovation as an engine for economic growth. We believe that based on the excellent relations between Israel and Korea, we can add an important element of bilateral relations. We are willing to share our experience in innovation and entrepreneurship. We will encourage and welcome cooperation and partnership in fields such as R&D in technology, life sciences, renewable energy IT and much more, towards a better future of our two countries and the entire world.Excellencies, Ladies and GentlemenIt is the last time for me to host you for the National Day of the State of Israel, this summer I will conclude my function in Seoul and will be going back to Jerusalem the capital of Israel. While still too early to summarize I want to thank all of you, I hope to have a chance to say goodbye to many of you in person, for a wonderful enriching four years, a period that caused me much personal and professional satisfaction.I hope that I was able to contribute, even a little for the good relations between Israel and Korea. Now I believe that I learned more about the great similarity between us: historical background, shared values, priorities and challenges that we are facing. I personally see almost infinite potential for closer links between our two nations and between the two governments. Thank you for your participation in the joy of our 65th Independence day - I wish President Park and the Republic of Korea as well as to the people of Israel and its government; peace security and prosperity.
Thank you
Congratulatory Speech by Vice Minister Park Chan-Woo of South Koreal's Ministry of Security and Public Administration
Honorable Ambassador Tuvia Israeli,
Distinguished guests,
Ladies and gentlemen,
It is my great pleasure and honor to join all of you here to commemorate the Independence Day of the State of Israel.
On behalf of the people and the Government of the Republic of Korea, I extend my heartfelt congratulations to the people of Israel on the sixty-fifth anniversary of your Independence Day.
Renowned for its holy sites and Talmud, Israel is also known to Koreans as the powerhouse for advanced science and technology.
Over the last six decades, what Israel has achieved is truly inspirational. In the middle of ongoing hardships, Israel has successfully achieved national development. Since the establishment of diplomatic ties between Israel and Korea in 1962, the two countries have promoted close cooperation in the fields of economy, culture, and science and technology.
To celebrate 50 years of our ties last year, various cultural events took place in both Korea and Israel. I believe this has contributed to enhance mutual understanding of respective cultures and strengthen our friendship.
In recent years, bilateral trade in advanced technology including ICT and renewable energy have shown continuous increase.
In this regard, I firmly believe that the technology capacity and creativity of both countries will not only help expand our partnership, but also lead us to a brighter future.
Israel is often called the "Start-up Nation", achieving economic miracle with its world-class talent and creative minds. Korea is highly interested in Israel's experience.
In this context, I believe that by adopting technology and creativity as core values, "Creative Economy" will play a pivotal role for the advancement of our societies.
I sincerely hope that our friendship continues to flourish based on mutual respect and trust that we have fostered over the past half century.
In closing, I extend my best wishes to Ambassador 이스라엘리 and everyone here today good health and happiness.
Thank you.