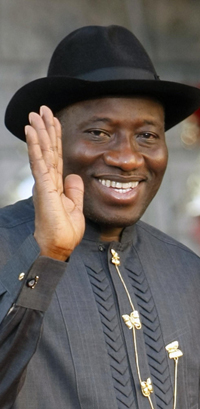 Nigerian President Goodluck Jonathan
Cape Town – Nigeria and South Africa will have a key role to play in bringing to realisation an African Renaissance, Nigerian President Goodluck Jonathan said on May 7, 2013.
In an address to the National Assembly, Jonathan detailed how the Nigerian people had stood by South Africa and supported the struggle against apartheid.
He said the two countries were in a unique position to lead all of Africa to a continent free of inequality, poverty, disease and conflicts.
"South Africa and Nigeria, with our robust economies and large markets, are well placed to accelerate the emergence of this Renaissance [in] Africa," he said, adding that Nigeria's growth rate was expected to reach 7.2% this year, making it one of the fastest growing economies in the world.
Jonathan said he saw an Africa on the rise, a continent that was resilient and confident about its capacity to handle its challenges.
"All we need is to mobilise the required political will and to be relentless in our quest to achieve our collective dream," he stressed.
In doing so, he called on African parliaments to insist on the respect for the rule of law and holding governments to account.
He lauded the relationship that South Africa's three arms – the government, Parliament and the judiciary – played and added that the country was an example worthy of emulation by other countries, where the separation of powers remained a challenge.
He said since the release of former President Nelson Mandela from prison 23 years ago, the country had made steady progress.
"A new generation has emerged that is fired by a sense of unalloyed patriotism and common destiny," he said.
He said Nigeria had stood by South Africa during its struggle against apartheid, pointing to the setting up of the Southern African Relief Fund, which drew funds from deductions made on the salaries of every Nigerian worker.
He said while Nigeria provided scholarships for students from South Africa, Nigerian musicians recorded albums in support of the anti-apartheid struggle, while poets wrote literature denouncing apartheid.
"Your struggle was our struggle, your pain was our pain, and today, your freedom is our freedom," he said.Nigeria and South Africa signed nine agreements and memoranda of understanding.
The above article is from The Diplomatic Society.
http://www.thediplomaticsociety.co.za/