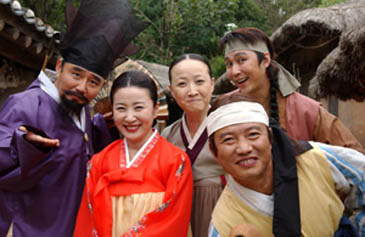 Once upon a time there lived two brothers called Nolbu and Heungbu. The older brother Nolbu, was rich but poor-hearted while the younger sibling Heungbu, was dirt poor but good-natured. Heungbu endured all the hardships from life and mistreatment from his older brother Nolbu and eventually met with a happy ending.The popular story dubbed Heungbu-jeon or Heungbu Story (sometimes called Nolbu-jeon) teaches people how the desirable brotherhood should be by showing how a kind heart gets rewarded while a bad one gets punished.This classic Korean story keeps being passed down by word of mouth from generation to generation. The story has been played and enjoyed by ordinary folks in the form of Madang-geuk (Madang Play). Madang literally means a small playground.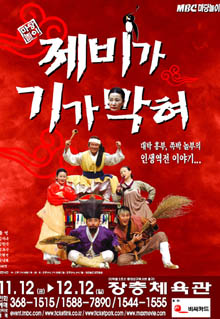 Madang-geuk is a traditional drama played on a huge mattress in a spacious garden in front of a house or building, which is normally watched by villagers who also interact with the players. The play is accompanied with dance and song and other performances. The satirical drama often aims to criticize those in power and wealth.MBC or Munhwa Broadcasting Corporation, one of South Korea's Big Three network TVs, will stage a special Madang-geuk (Madang Play) on Heungbu-jeon at Jangchung Gymnasium in Jangchung-dong, Jung-gu Nov. 12 to Dec. 12, 2004.Entitled "The Nonsensical Swallow," the two-hour-long Madang-geuk on Heungbu is a well-organized facetious story with a tightly knit plot, using exciting dances and songs, and colorful costume, said the organizers of the event MBC.Organizers claim, MBC's Madang-geuk will attract young audiences as well as older ones with the participation of a glittering cast: big name TV actors and actress, well-known comedians, famous musical actors.Noted TV actress Kim Ja-Ock, is cast as Nolbu's ill-mannered wife. Kim Han-Guk, a famous comedian will play the role of Maengdol, whose role will add flavor to the drama. Jung Ho-Geun and Kim Sung-Gi will play Nolbu and Heungbu, respectfully. Nolbu is the Western version of a Korean Scrooge.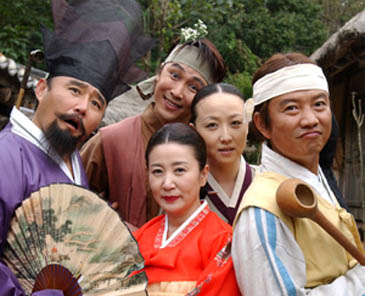 "The Nonsensical Swallow" is composed of four acts: Act One — Persecution, Act Two — Fortune, Act Three — Hardship, and Act Four — Closing.
Act One:
Hard pressed by extreme hunger, Heungbu's family visit his mean and greedy older brother "Nolbu" and beg for a little food but they were shouted at and kicked out Nolbu's palatial house empty handed. Meanwhile, Nolbu's wife tries to allure her macho servant Madang. When caught at the scene she claims that Madang attempted to rape her. Nolbu broke the legs of Madang (a role of swallow in the original story) and threw him away.
Act Two:
Heunbu's wife takes good care of him at their poor home. Madang gives Heungbu two lottery tickets (two gourds are brought by a swallow in the original story) that hit the jackpot. Madang plays a role of a swallow, which brought a seed of gourd to Heungbu in appreciation for curing the swallow's broken legs. When Heungbu opens one gourd (ticket in this play) fortune comes out it. Out of the second gourd a beautiful woman comes out (ticket) and becomes his concubine.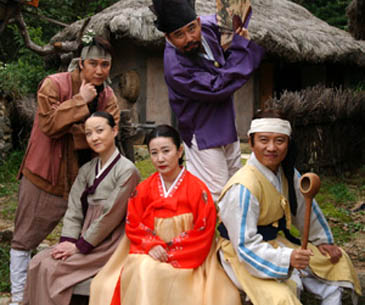 Act Three:
Now rich and arrogant, Heung starts to mistreat his wife and his greedy older brother. Nolbu seeks the same fortune in the same way as his younger brother. Nolbu deliberately broke all the legs of his servants (swallow in the original story). When Nolbu opened a gourd (ticket) a police chief pops out and took Nolbu's fortune. Meanwhile, Heungbu's concubine meets eye-to-eye with Madang and eloped with all of Heungbu's fortune (lottery tickets).
Act Four:
Repentant of their blindness for material wealth, the two brothers Heungbu and Nolbu regain their lost brotherhood. Heungbu's concubine who betrayed Heungbu turns out to be a gold digger."The Nonsensical Swallow" is the 24th annual play of Madang-geuk on Heungbu Story staged by MBC. Based on the classic story of Heungbu, this play is reorganized in a comic way to warn against people's worshipping for mammonism.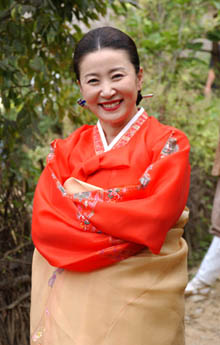 Oh Tae-Ho, who also directed a stage performance of the 2002 World Cup, and a concert of the Viennese Philharmonic Orchestra in South Korea, will direct "The Nonsensical Swallow." The story was written by Yoon Jung-Gun and the choreography will be done by Prof. Kim Hyang-Geun, chief choreographer of the National Theater's National Dance Company. She serves as faculty member of Changwon University.Tickets for admission are 35,000 won for Noble Man's seats and 25,000 won for Lay Person's seats. For further details call (02) 368-1515, 1588-7890, 1544-1555.