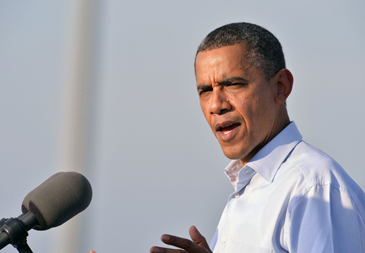 US President Barrak Obama
On June 7-8, 2013 US President Barrak Obama will meet Chinese President Xi Jinping for an "official working visit" at the Sunnylands estate in Rancho Mirage, California. This is the first meeting between the two presidents following President Obama's inauguration to his second term in January and Xi's formal ascent to the Chinese presidency in March. The informal setting offers a relaxed atmosphere where, absent the heavy protocol baggage associated with formal summitry, the two men can focus on developing personal rapport and can exchange views on the many strategic challenges facing the bilateral relationship. The meeting also provides an early litmus test of both sides' stated commitment to forging ties that prioritize cooperation while honestly acknowledging and deftly managing the competitive aspects of the relationship.
Q1: Why is the meeting happening now?
A1:
On its face, the meeting is taking place now because it just makes sense for the leaders of the world's two most influential nations to sit down with each other to discuss the overall trajectory of the relationship going forward. Still, it is clear that there was some initial reticence, especially on the U.S. side, to agreeing to such a meeting ahead of other opportunities this fall for the two presidents to meet.The Chinese seemed to respond to this hesitancy in two ways. First, they demonstrated some unexpected, if modest, flexibility on sensitive issues—North Korea and cybersecurity top the list—that are high on the U.S. agenda in the bilateral relationship. Almost simultaneously, the new Chinese leadership team embarked on an adroit initial round of diplomacy, such as Xi's visit to Russia and Premier Li Keqiang's travel to India and Europe, that signaled China's intent to begin operating more like a traditional great power. The combination of these approaches, along with subtle pressure on the U.S. administration from influential domestic constituencies, appears to have moved the dial sufficiently to create this opportunity.
Q2: What will be on the agenda?
A2:
Despite the meeting's focus on personal rapport building, the two presidents will each have agenda items they will seek to weave into the discussion. For the United States, President Obama will be looking to advance his administration's efforts to probe the contours of the Xi leadership's apparent willingness to inflict greater pain on North Korea. Asking Xi for a readout of the recent visit to Beijing of Choe Ryong-hae, the third-ranking official in the North Korean regime, would seem a natural way to broach this discussion. Similarly, the U.S. side will seek assurances that the newly-agreed bilateral working discussions on cybersecurity will produce meaningful progress on Washington's top concern—the rampant theft of U.S. intellectual property and its implications for the United States' long-term economic competitiveness.For his part, President Xi will want to address his government's concerns about perceived obstacles to Chinese direct investment in the United States. The recent proposed purchase of a large-scale U.S. pork producer by a Chinese counterpart is a positive step, but Beijing is likely to express irritation that even such a seemingly straightforward transaction will be subject to the U.S. review process that generally focuses on acquisitions in more sensitive sectors. Xi can also be expected to reiterate Beijing's well-worn concerns about the U.S. rebalance to Asia, which some in China view as a thinly-veiled U.S. effort to frustrate China's rise. On the positive side, the Chinese Commerce Ministry's recent announcement that Beijing is studying the possibility of joining the U.S.-led Trans-Pacific Partnership (TPP) negotiations may signal greater Chinese willingness to discuss bringing its state-led economy more into line with the high-standard requirements of the TPP.
Q3: What are the two sides seeking to achieve?
A3:
Both sides want to convince their respective publics, as well as the larger international community, that they are broadly committed to working together to minimize bilateral friction and to tackle the important challenges facing the global community in the twenty-first century. But the meeting's loose format and open-ended agenda also present potential pitfalls that could hinder achieving that goal.As the less established leader, President Xi probably is taking the greater political risk. He has moved to consolidate power much more quickly than many observers expected, but he still must use the meeting to demonstrate that he can be an effective steward of China's most important bilateral relationship. At this early stage in his tenure, this largely entails mounting a robust defense of China's "principled positions" on many of the issues likely to be discussed, which could undermine the meeting's emphasis on unscripted dialogue. President Obama also must balance pushing to achieve sufficient substantive progress to justify offering Xi the enhanced prestige of such a sustained personal interaction against the worry that Xi will come away with the impression that he was "ambushed" by the President, wasting this golden opportunity to build mutual trust.
Q4: Will it work?
A4:
It's difficult to tell. If it is going to work, both sides will have to show some flexibility. President Obama must be willing to more directly signal U.S. acknowledgment of China's arrival as a great power and with that, a role in shaping new global rules and norms. Xi will have to demonstrate that he wants more from the meeting than just a photo op, and that he is prepared to engage in a meaningful dialogue about China's ambitions—both in the region and globally—and is committed to pursuing a truly cooperative relationship with Washington to realize those objectives.
Christopher K. Johnson is a senior adviser and holds the Freeman Chair in China Studies at the Center for Strategic and International Studies in Washington, D.C.
Critical Questions
is produced by the Center for Strategic and International Studies (CSIS), a private, tax-exempt institution focusing on international public policy issues. Its research is nonpartisan and nonproprietary. CSIS does not take specific policy positions. Accordingly, all views, positions, and conclusions expressed in this publication should be understood to be solely those of the author(s).The Center For Strategic & International Studies (CSIS) short analysis series "Critical Questions" can be found below. Prepared by CSIS experts, Critical Questions are a quick and easy read designed to go to the heart of the matter on today's "of the moment" issues.
For more information about Critical Questions or CSIS policy experts, please contact Andrew Schwartz, aschwartz@csis.org, (202) 775-3242 or Colm Quinn, cquinn@csis.org, (202) 775-3140, and be sure to follow @CSIS on twitter