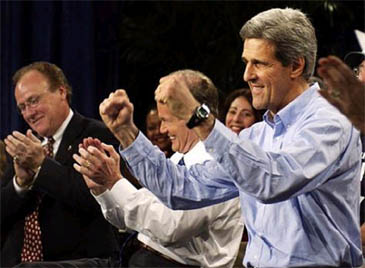 Sen. John Kerry with his supporters during presidential campaign
John Kerry constantly squabbled with his difficult and hypochondriac wife, ran a campaign team riven by internal feuding, and repeatedly begged the Republican senator John McCain to become his running-mate, according to a riveting inside account of his doomed presidential bid.The Massachusetts senator was so obsessed with getting advice from a multitude of rival advisers that one aide confiscated his mobile telephone. His wife, Teresa Heinz Kerry, became such a moody distraction that in the closing weeks of the campaign another aide instructed her to stop whispering advice in his ear and back off. At the same time, according to Newsweek, the relentlessly disciplined Bush White House, which only once descended into near panic after the President's disastrous first debate performance, became so aghast and delighted at Mr. Kerry's ability to shoot himself in the foot that they almost felt sorry for him. One of the untold stories of the presidential campaign was the erratic behaviour of the candidate's wife, the Heinz heiress Mr. Kerry married in 1995, according to Newsweek. She drove her Secret Service detail mad with her chronic lateness, constantly demanded attention, including her husband's (who seemed to tread on eggshells when around her). She even sent him off on errands, such as fetching bottles of water. She clashed with Mary Beth Cahill, Mr. Kerry 's campaign manager, and Mr. Kerry was caught in the middle.
Kerry with his wife
Presidential candidate Sen. John Kerry hugs his wife Teresa Heinz Kerry at a victory party Jan. 19, 2004 in Des Moines, Iowa. Kerry was declared the winner of the Iowa Caucus.
Courtesy AP
At the climax of a coast-to-coast campaign tour after the Democrat convention in August, Mr. Kerry's aides had crafted a family holiday hike in the Grand Canyon, with the candidate's wife and two daughters, Alexandra and Vanessa. But shortly after the hike began, Mrs Heinz Kerry was soon complaining of migraines, telling her husband that she could not go on. The end of the hike led to one of the biggest blunders of Mr. Kerry's campaign, one of several times he fell squarely into traps set for him by Mr. Bush's re-election team. For several days, Mr. Bush had been issuing this challenge to Mr. Kerry: if he knew before the Iraq war that no weapons would be found, would he still have voted to authorise the war (Mr. Bush insisted that he, as President, would still have invaded). Asked this by a reporter at the Grand Canyon, Mr. Kerry said yes, he would still have voted to give Mr. Bush "the authority" to invade. In Bush-Cheney headquarters, they could hardly believe their luck that he handed them another flip-flop. But they had always believed that, properly baited, he could be led into a trap. Inside the Bush re-election "Strategery Room" (named after a famous Bush malapropism), a sign above the door read: IT'S THE HYPOCRISY, STUPID, a reference to Mr. Kerry's constantly shifting positions.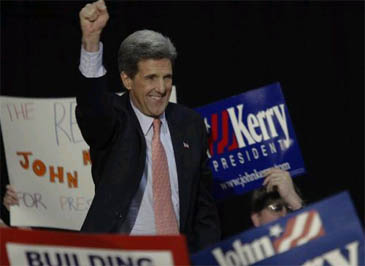 The greatest moment inside this room came when Mr. Kerry, after days of baiting by the Bush campaign over his vote for the war, but his vote against an $87 billion (£47 billion) request for funding it, told a rally: "I actually did vote for the $87 billion before I voted against it." "Oh my God," said Terry Holt, Mr. Bush's communications adviser, as he watched the blunder on television. Mark McKinnon, Mr. Bush's advertising chief, said: "The second we saw it, we knew we had a new ad. The greatest gifts in politics are the gifts the other side gives you." Mr. Kerry, now in sessions with a speech coach, grew increasingly frustrated. After a faltering press conference by Mr. Bush in April, and with Iraq in turmoil, Mr. Kerry exclaimed: "I can't believe I'm losing to this idiot." During the early summer, Mr. Kerry implored Mr. McCain, the maverick Republican who ran against Mr. Bush in the 2000 Republican primaries, to become his running-mate, meeting him seven times. He even offered to expand the vice-presidency to include running the Pentagon. "I can't say this is an offer because I've got to be able to deny it," Mr. Kerry told Mr. McCain. "But you've got to do this." Mr. McCain told him he was out of his mind, and went on to embrace Mr. Bush. "Goddammit," a furious Mr. Kerry said to an aide. "Don't you know what I offered him? Why the f*** didn't he take it?" At the time, Mr. Kerry also thought that John Edwards, his eventual choice, was overly ambitious. "What makes this guy think he can be president?" he asked staff in February. After the anti-Kerry Swift Boat veteran attacks in August that questioned his Vietnam service, Mr. Kerry's campaign was in turmoil, beset by feuds, indecision and dithering. Mr. Kerry, often generous to his staff but a constant whiner, had reverted to indecision, unable to straighten the mess out. Enter James Carville, Bill Clinton's former strategist. So appalled was he by the chaos inside the campaign, and so desperate to see Mr. Bush defeated, that in early September he decided that Miss Cahill had to be ousted, and Joe Lockhart, Mr. Clinton's former spokesman, inserted as manager. When he called a meeting with the pair, he was so worked up, he began to cry, screaming to Miss Cahill: "You've got to let him (Mr. Lockhart) do it!" Mr. Lockhart duly took over, and Mr. Clinton's former campaign team virtually moved in. When Mr. Kerry telephoned Mr. Clinton in hospital hours before his heart bypass surgery to wish him luck, he received a 90-minute lecture. Mr. Clinton, correctly sensing that "values" would play a crucial role in voters' minds, urged Mr. Kerry to back local ballot initiatives calling for a ban on gay marriage. (Mr. Kerry refused).
The above article is from The Times.