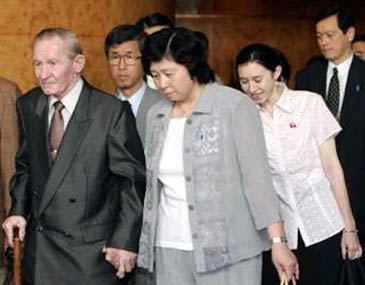 U.S. Army Sgt. Charles R. Jenkins (left) walks out of a Jakarta hotel with wife Hitomi Soga and two daughters — Mika (center) and Belinda — in Indonesia. The former US Army deserter defected to North Korea while serving as a US Army's sergeant in South Korea's DMZ area. Courtesy Reuters
CAMP ZAMA, Japan, Nov. 3 — Charles Robert Jenkins, the Army sergeant who left his soldiers and walked into North Korea in 1965 to avoid combat duty in Vietnam, received a light sentence Wednesday after pleading guilty in a court-martial here to desertion and aiding the enemy.After hearing bleak testimony about his harsh life in North Korea, an Army judge seemed to accept a defense lawyer's argument that Sergeant Jenkins, 64, had "already suffered 40 years of confinement." The judge, Col. Denise Vowell, then demoted him to private, stripped him of four decades of back pay and benefits, and gave him a dishonorable discharge and a 30-day jail sentence.The prosecutor, Capt. Seth Cohen, had called for a tougher sentence, evoking, in a veiled way, the need for military discipline while American soldiers are fighting in Iraq. Referring to noncommissioned officers like Sergeant Jenkins, he said, "We can't have soldiers going into the field fearing that their N.C.O.'s will abandon them, especially given the state of the world today."But the trial and sentencing seemed to reflect American political needs to mollify Japanese public opinion, which has been moved by the drama of the American defector from North Carolina and his Japanese wife, Hitomi Soga Jenkins, whom he met in North Korea a few years after North Korean agents had kidnapped her from a Japanese island in 1978.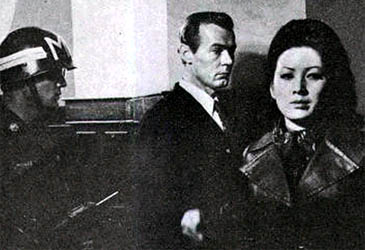 Charles R. Jenkins (center) appears in a North Korean movie. Courtesy YNA
Apparently to minimize American media attention, the one-day military trial took place as votes were being counted in the American presidential election.Massaging Japanese public opinion is important to Washington, which wants to move the Army's First Corps from the state of Washington to this base, already the headquarters of the United States Army in Japan. By receiving a 30-day sentence, Private Jenkins is now detained in Japan, avoids return to the United States for incarceration, and can receive weekly visits from his Japanese wife and their two North Korean-born daughters.To further soften Japanese opinion, military officers gave a slide show of the detention facility, which is on a United States Navy installation at Yokosuka. Drawing oohs and aahs from Japanese reporters, the slides showed rows of exercise bicycles, a living room-style visitation room, and close-ups of the food, including a large photo of a slice of pumpkin pie with whipped cream on top."It's not Club Med, but it is not hard labor either," said Capt. King H. Dietriech, commander of the Navy facility. He also stressed that "there will be no special treatment for Private Jenkins."For the American, one more month of controls should not be a big strain.
| | |
| --- | --- |
| | Charles Robert Jenkins, the husband of Hitomi Soga, one of five Japanese citizens abducted to North Korea and now back in Japan, talks to Kyodo News, beside his family photos, in this Nov. 29, 2002 photo at a Pyongyang's hospital when he was hospitalized for extreme fatigue. Courtesy AP |
Mrs. Jenkins was returned to Japan in 2002 along with four other Japanese who had been abducted. Japanese diplomats arranged with North Korea for Sergeant Jenkins and their two daughters to leave for reunification with Mrs. Jenkins this past July, and the United States Army began court-martial proceedings against him in September. In rare testimony on Wednesday about life in North Korea, Sergeant Jenkins and his wife said their lives had been controlled by omnipresent "political supervisors."Mrs. Jenkins said her supervisor prepared her for her first meeting with Sergeant Jenkins in June 1980 by suggesting that "I was to marry" him."Little by little, we started to love each other," Mrs. Jenkins said, noting that they decided to get married barely one month after meeting. "My husband did not like North Korea, nor did I."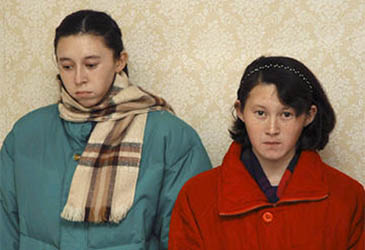 Two daughters of Charles Robert Jenkins, an accused U.S. Army deserter, Mika (left) and Belinda are seen in this Nov. 29, 2002 photo at a Pyongyang's hospital when they accompanied Jenkins, who was hospitalized for extreme fatigue. Jenkins and the two daughters living in North Korea, flew to Jakarta on July 9, 2004 to meet his wife, kidnapping victim Hitomi Soga. Courtesy YNA
One day, when Sergeant Jenkins was a bachelor, living with three other defectors, he took advantage of the rare absence of their political supervisor to search their house. In the attic, he recalled, they found tape recorders. In each room, they found a microphone.The Americans, he said, were forced for 10 hours a day to study and memorize the writings of North Korea's founder, Kim Il Sung, writings that he called "class struggle from the perspective of a crazy man."Six months ago, while he was still in North Korea, such a statement could have earned Sergeant Jenkins execution. He said here on Wednesday that if he had once criticized Mr. Kim or his son and successor, Kim Jong Il, there would have been no forgiveness. "Go dig your own hole, because you are gone," he testified. "I have seen that done."With little coaxing by the defense counsel, Capt. James D. Culp, Mrs. Jenkins painted a portrait of a broken industrial society where living standards had regressed to the 19th century.
| | |
| --- | --- |
| | Charles R. Jenkins walks with his Japaness wife in Japan in July, 2004. He deserted his post while serving as a US Army's sergeant and defected to North Korea through South Korea's DMZ in 1965. Courtesy Reuters |
With no heat or electricity in their Pyongyang house during most of the winter, she said that to sleep in the cold "we would wear everything we owned in terms of clothing when we went to bed." Warm water never flowed from faucets. Warm baths were rare luxuries.Reading at night was by candlelight. When the candle wick had burned, she said, her husband "would collect the melted wax in a can and use it for a homemade candle." With the food rationing system breaking down, she said, they grew vegetables and raised chickens in their yard, but the family often went to bed hungry.The family was forbidden to leave the house without their political supervisor. Coils of barbed wire surrounded their house, she told the court.Deprived of books, Sergeant Jenkins said he had so treasured a banned a copy of the historical novel "Shogun" that he read it 20 times. In later years, he tinkered with a state-issue, single-channel North Korean radio so that he could secretly listen to the BBC and Voice of America.
| | |
| --- | --- |
| | Hitomi Soga (center), wife of accused U.S. Army deserter Charles Robert Jenkins, walks with her two daughters, Mika (left) and Belinda at a Tokyo hospital to see their father, originally from Rich Square, N.C., who has been receiving medical treatment for the after effects of prostate surgery in North Korea, where he has lived for 40 years. Courtesy AP |
Such surreptitious acts of rebellion carried the sanction, Mrs. Jenkins said, of being "thrown out of the city, and taken to a remote mountain area to live."With anti-American hostility acute, Sergeant Jenkins recalled that one day he was taken to a hospital where orderlies held down his forearm as a doctor, without using anesthesia, cut off a piece of skin tattooed, "U.S. Army." In his closing statement, he apologized to soldiers under his command, to the Army and to the nation."After living 40 years in North Korea, there is no freedom like the freedom in the United States," he said. Referring to Kim Jong Il, he added, "People in North Korea suffer under a system that is evil and is run by a man who is evil to his bones."After one day in North Korea, he said, he realized that he had made a terrible mistake.
| | |
| --- | --- |
| | Hitomi Soga (right), wife of accused U.S. Army deserter Charles Robert Jenkins, walks with her two daughters, Mika (center) and Belinda at a Tokyo park. Courtesy Reuters |
Noting that he was forbidden to write to his family in America while in North Korea, he said, "I am deeply sorry to my family, who suffered in silence for 40 years."From North Carolina, his younger sister, Pat Harrell, said by telephone that she would tell the news to their 91-year-old mother. "This has been 40 years in coming, in believing that one day I would hear from him," Mrs. Harrell said. "I never gave up hope. Now I am just waiting to able to touch him."
Charles Jenkins at Court Martial in Japan
24-Year-Old Sergeant Deserted "Out of Fear"
A US soldier has been found guilty of deserting to North Korea in 1965 and given a 30-day prison sentence. Charles Robert Jenkins, 64, who ended up living in the North for 39 years, was given a dishonourable discharge at his court martial in Japan.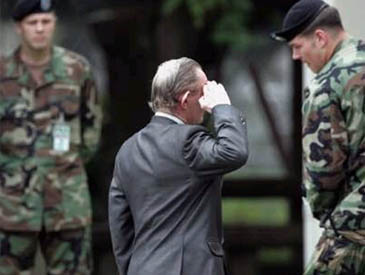 U.S. Army Sgt. Charles R. Jenkins back to US Army camp in Japan. He defected to North Korea 39 years ago thhrough South Korea's DMZ. Courtesy Reuters
He pleaded guilty to desertion, saying he wanted to avoid "hazardous" duty on the Korean peninsula and in Vietnam. He also admitted aiding the enemy by teaching English in North Korea, but denied encouraging disloyalty. "Ma'am, I am in fact guilty," Jenkins earlier told the judge, Colonel Denise Vowell, in sometimes tearful testimony at the court hearing in Camp Zama, the headquarters of the US army in Japan. He confessed to deserting to North Korea one night in January 1965 as a 24-year-old sergeant on patrol in South Korea.He explained that he had feared being transferred to daytime patrols in the dangerous Demilitarized Zone between the two Koreas, or in Vietnam, where the conflict was intensifying.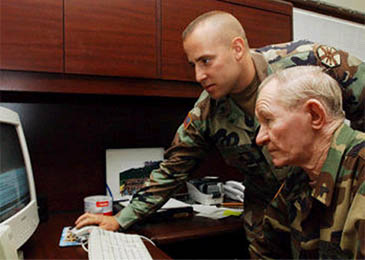 U.S. Army deserter Sgt. Charles R. Jenkins receives training on how to use a computer from Staff Sgt. Andrew Rogerson, the U.S. Army Garrison Japan training noncommissioned officer and his supervisor, at Camp Zama, south of Tokyo, Sept. 17, 2004. Courtesy AP
"I started to fear something for myself, but I started to fear even more that I might cause other soldiers to be killed. I started to drinking alcohol," he said, breaking down in tears. "I never drank so much before." He told the court how one winter night he drank 10 beers and then tied a white tee-shirt round his rifle as a surrender flag, before heading to North Korea. He said he had planned to ask the authorities to send him to the Soviet Union, where he would turn himself in to the US embassy in Moscow, and then return to the United States. "I knew 100 percent what I was doing but I did not know the consequences," said Jenkins. "I should have asked for... a discharge, but I didn't. It was a mistake."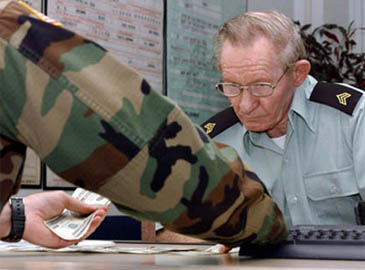 US Army Sgt. Charles R. Jenkins receives his salary in advance at Camp Zama of US Army Garrison Japan, south of Tokyo, Sept. 11, 2004. Courtesy AFP
Jenkins also admitted aiding the enemy by teaching English to North Korea soldiers at a military college near Pyongyang. "You don't say no to North Korea. You say one thing bad about Kim Il-sung and you dig your own hole, because you're gone," he told the judge in his defence. He said one time he had told the authorities he wanted to stop teaching English and "I got in trouble." "They carried me home and tied me up and beat the hell out of me," he said. "That time I didn't go back to the university for 20 days, my face was messed up so bad."
Sentencing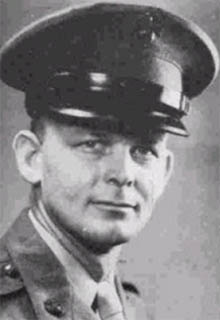 U.S. Army Sgt. Charles Robert Jenkins
But Jenkins pleaded not guilty to encouraging disloyalty and soliciting other serving US army members to desert, and Judge Vowell dropped those charges against him. The US soldier could have faced life in prison, but it had been widely expected that Jenkins would receive a lighter sentence in return for a guilty plea. Jenkins was demoted to the lowest possible army rank and forced to forfeit all pay and allowances. He was to be taken to Yokosuka Naval Base just outside Tokyo for 30 days' confinement, unless the sentence is suspended, the Associated Press reported. Jenkins gave himself up to the US in September, while in Japan for medical treatment. He left North Korea in July, when the authorities there allowed him to visit Indonesia for a supposedly brief reunion with his family, but he went on to his wife's home country.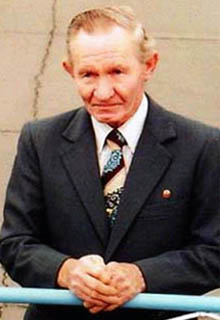 Charles Robert Jenkins
Jenkins' wife, Hitomi Soga, was one of five Japanese abducted by North Korea and freed in 2002. The couple met and married in North Korea and have two children. Ms Soga pleaded for leniency during her husband's hearing, saying that Jenkins provided for their family in North Korea despite the harsh conditions. "My only hope now is to make our small bit of happiness as a family bigger. I hope you take that into consideration," she told the judge. Jenkins told the court how marriage had brought him happiness during his traumatic stay in North Korea. "Our mutual fate brought us together in North Korea and our love for one another kept us together for 24 years," he said.
The above articles are from NYT and BBC.