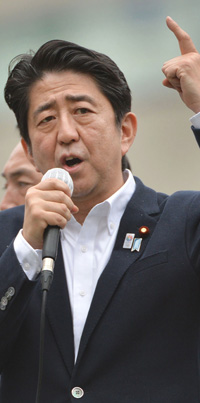 Japanese Prime Minister Shinzo Abe
We African peoples are slowly beginning to respond to events around us. We note that Japanese Prime Minister Shinzo Abe recently hosted two conferences in his capital Tokyo. The first was a demeaning tea party called the Tokyo International Conference on African Development, TICAD, between him and forty African presidents. Abe's manner was patronizing, his intentions ambiguous and his commitment to African development nil. Abe never gave, he only pledged, $14 billion aid spread over five years with the hope of making $500 billion from us within the same period. Apart from the food in their tummies our leaders left Tokyo empty handed. For good measure he reminded them to promote human rights at home. The second was the Japan-India bilateral partnership summit between him and Indian Prime Minister Manmohan Singh. His body language was matter-of-fact and his intentions genuine as he committed Japan to the rapid modernization of India. Singh left Tokyo with nuclear reactors and Japanese engineers to install them. India will have uninterrupted power supply generated by these reactors while Africa wallows in primordial darkness. Human rights and tourism never came up in their communiqué as Singh knew what he wanted. Writing on eastasiaforum.org an impressed Professor K.V. Kesavan notes: "The Joint Statement highlights Japan's deepening involvement in India's infrastructure development projects including metro rail systems in major cities like Delhi, Bengaluru, Chennai and Mumbai. In addition, Japan is involved in the implementation of two flagship projects — the Delhi–Mumbai freight corridor and Delhi–Mumbai industrial corridor. It is also deeply interested in assisting in the new Chennai–Bangaluru Industrial Corridor. Japan has also signed fresh ODA loans amounting to Y4.24 billion for various projects including the Mumbai metro. India has been the biggest recipient of Japanese aid since 2003 and it is worth noting that at a time when Japan's overall aid volume is declining, it has maintained its aid to India at a high level."We do not fault Abe for the decisions he made. It was his human right to empower whoever he pleased with his money and nuclear reactors. As a rational mind he knew on what side his bread was buttered in his commitment to India. But Abe must never weep when his Japanese firms reach our communities only to be told to go to India and get their raw materials there as he cannot sow in India and reap in Africa. He must remember to respect our human right to decide who enters our communities to do business and who is chased away. For an African to contradict self-styled experts who misrepresent us at the United Nations, UN, and World Bank is to be written off as emotional. But emotional or rational, I stand on two points. One, Abe has a wrong notion about us due mainly to the incorrect information reaching him. Has he ever read an African newspaper or sat down with African editors the way he does with Western commentators? Abe has never made attempt to hear directly from us. If he is not properly briefed he will continue to proffer the wrong solutions. African problem is not illiteracy; we have millions of idle graduates with degrees in engineering. Our problem is not hunger. Nigeria alone drinks N4.6 billion worth of imported Champaign annually. It is not poverty. We spend millions sending pilgrims to Mecca and Jerusalem. Our problem is poor leadership characterized by Bigmanism. African presidents are too remote from their people and decrepit facilities. Two, African peoples never had problem with Japanese people, emperors or military. An African child reading modern African history judges Japan favorably. The burden is on Abe to decide the type of relationship that exists between us and his people. We may not possess nuclear warheads today but our loyalty, borne out of a tortured memory, will always decide who wins in a contest between two nuclear protagonists. History is a teacher. The above realizations mean Abe must talk and act differently when matters concerning us are tabled. Having read his utterances I know an ellipsis when I stumble upon one. My response is that Africa is not a burden to any power. America, Japan, China, Britain, etc, owe us nothing. We are also at liberty to refuse to even sit down in a room with these donor nations. I write to impress on the respectable prime minister that in its present form and content TICAD is at variance with our quest for self-determination, namely:To look inward for local solutions to our developmental challenges. Our inspiration is Aluko Dangote whose heavy industries bear witness to what an African can do if given the incentives wrongly placed at the disposal of foreign profiteers. The Japanese rolled up their sleeves and built their country without waiting for anyone to do it for them. Their can-do attitude is the path for us. We acknowledge that 99.9% of our problem is perception and not technology. But if it is the latter, neither the East nor West will give it to us to be self-reliant. That explains why Abe gave his nuclear reactors to another nuclear power-India (as far back as 1964 Pakistan bitterly complained that India under Prime Minister Jawaharlal Nehru "is in a position to produce two or three atom bombs conveniently today, and there are secret plans to raise the capacity to 'a minimum of fifty bombs a year,'" West African Pilot Newspaper, Saturday, September 5, 1964, page 4) rather than Africa that desperately needed them. The hand-operated borehole pumps he installed in Katsina and Bauchi States, Nigeria, reflect his attitude to African development. Not only are these pumps of no economic value to the locals, the real beneficiaries of this N1.4 billion project are Indian, not Nigerian, manufacturers that fabricated the pumps. The same anomy could apply to the $1 billion Abe pledged for combating terrorism in the Sahel Region of West Africa. African security consultants, with the exception of white South Africans, who have our support, may never see a dim of it as Western consultants are always preferred. Nigerians have a parlance for a redundant fellow. They call such person a sidon-look. We refuse to be a sidon-look while other men make their billions in the name of babysitting us. Abe must contract our own indigenous consultants and security experts who know the African terrain and culture to fight terrorists in the Sahel. The Foundation for Ethnic Harmony in Nigeria, FEHN, an indigenous security expert, single-handedly tamed militancy in the Niger Delta. We are never in short supply of competent hands.We embrace the Transformation Agenda of our leaders aimed at modernizing the continent. Transformation means replacing one system with another. The failed system is never given a second chance, as in reformation. In this respect the Nigerian Petroleum Industry Bill, PIB, is inadequate as it is more reformatory than transformatory. Multinational oil companies still control our wealth. It is not Transformation exporting our commodities when we could process them locally to create jobs. It is not Transformation imposing prepaid meter on electricity when the challenge is resuscitating small business. Goodluck Jonathan of Nigeria and Jacob Zuma of South Africa, African leading statesmen and exponents of Transformation, must take heed. Abe and Singh have a "Look East" doctrine that excludes Africa from Asian prosperity. Anything short of "Africans-Only" counter-doctrine will place us at a great disadvantage. African presidents must borrow a leaf from transformed Botswana that recently put a halt to the sale of its diamonds in Antwerpen and Tel Aviv. If you want diamonds you come to Gaborone and buy them. Nothing short of a sweeping indigenization policy in all its ramifications to pave way for local mistakes and milestones will do.African peoples must control their natural resources by any means necessary, with prejudice to those scrambling for same. These resources are our core human rights, the Kaiama Declaration, Ikwerre Chatter of Demands and Ogoni Bill of Rights refer. Note: Distinction must be made between the human rights prescribed for us by foreign donors and our own definition of human rights. Donors equate biological functions (sex, eating, dancing, talking, walking, etc), reserved for sub-humans incapable of abstract thinking, as our human rights. This explains why tourism, dancing and homosexuality are vigorously promoted in Africa over research and manufacturing. For us land right, which defines our 21st century nationalist struggle, is the sum total of all human rights. This is a definition no donor wants to hear.
Abe must redefine his foreign policy on Africa in line with the above considerations without which Japanese firms coming to do business among restive communities risk ambush, with reason. Read my lips: African second war of liberation looms. The ethnic nationalities constituting African modern states must halt the looting of their resources by corrupt governments and their foreign collaborators, American imposed African Command (Africom) or not. White-washed democracy has robbed them more than bare-knuckled colonialism ever did. Outside the corridors of power the mood is not investment but confrontation. The angst is what becomes of our future when these resources are exhausted. How would the children of our great grand children survive in an Africa littered with man-made craters and contaminated environment after your foreign investors are through with us?
The wtiter, Chigachi Eke, is an Igbo Rights Activist. He writes from the Niger Delta, Nigeria. He can be reached at
chigachieke@yahoo.co.uk