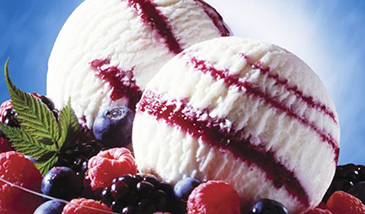 Ice cream
As the sweltering heat and humidity that greets Korea every summer continues, people search for ways to stay cool. Some wear shorts and sandals. Some remain indoors in the comfort of fans and air conditioners. Others head to the beach and swimming pool. While some even brave cold showers and ice baths. However, perhaps the most enjoyable way to escape the sizzling summer blaze is with ice cream.
While people eat ice cream all year long, summer is unquestionably the ultimate season for its indulgence, even in countries where ice cream is not a traditional dessert, like Israel. In Korea, too, more ice cream is consumed in the summer than in any other season, according to online trade data system Global Trade Atlas. Summer and ice cream are so synonymous in America that July is designated as National Ice Cream Month.
In hot, humid summer weather, the body works hard to overcome the heat. This results in increased sweating and fluid loss, especially when working or exercising outside. Therefore, the desire to consume ice cream and other chilled foods and beverages that have a cooling and hydrating effect on the body makes perfect sense. Unbeknownst to many, ice cream is more than 50 percent water by weight. If you are one of the many who pleasure their taste buds with this sweet treat in summer or any season for that matter, you are in good company. Celebrities including boxer Muhammad Ali, and actors Brad Pitt, Jessica Alba, and Jackie Chan have been reported to have a soft spot for ice cream. Apparently, when once asked in an interview about what it feels like to be in love, Jackie Chan replied "ice cream".
Ice cream is so popular that even astronauts have taken it into space. Not to mention, entire songs have been written about it. Recall the tune: "I scream, you scream, we all scream for ice cream! Tuesday, Monday, we all scream for Sundae."
Our love affair with ice cream has a history dating as far back as 200 BC, when the Chinese froze a mixture of milk and rice by packing it into snow. Thereafter, other cultures experimented with many other additives such as fruits and nuts. By the 18th century, with the development of new methods of production and refrigeration, ice cream became available on a large scale. Nowadays, unlike in Ancient Rome, where slaves were sent to fetch snow from mountains in order to make the chilled delicacy, we simply have to take a jaunt to our local grocery store or ice cream parlour where we can find ice cream available all year long in everything from cones to cups, sundaes and sandwiches to pints and gallons. Am I recommending the consumption of ice cream? Well, its nutritional value is far superior to many of the sugar-rich, calorie-dense sodas and ice coffee concoctions that have become popular treats in Korea. Whereas a typical soda provides merely lots of calories, quality ice cream provides protein, omega-3 fats, calcium, magnesium, riboflavin, and other essential vitamins and minerals. There is even evidence that eating ice cream makes people happy. For instance, when neuroscientisits at the Institute of Psychiatry in London scanned the brains of people given vanilla ice cream, they found an immediate effect on parts of the brain known to activate when people experience pleasure. As strange as it may sound, I often eat ice cream for breakfast, even in winter. And, I'm certainly not alone in this 'bizarre' behavior. Did you know, for instance, that investor-extraordinaire Warren Buffet regularly begins his day with ice cream? Häagen-Dazs, to be exact. Nancy Pelosi, the highest-ranking female politician in American history, is another individual who begins their day with this sweet treat. But, isn't ice cream fattening? The answer to that question is a big fat NO, pardon the pun.
Calcium-rich dairy foods, such as ice cream, have been found to bind to fatty acids in the digestive tract, blocking their absorption. In one study, published in the American Journal of Clinical Nutrition, participants who consumed a dairy source of calcium had blood fat levels between 15 and 19 percent lower than participants who received calcium supplements.
Moreover, research suggests that people who eat sweet treats are more likely to lose weight in the long term. For instance, in a study of 200 adults at Tel Aviv University's Edith Wolfson Medical Center in Holon, Israel, dieters were split into two groups. One group ate a low-carbohydrate breakfast. The other ate a breakfast including chocolates, doughnuts, cookies, or cake. After four months, both groups lost about 15 kilograms of weight. However, in the following four months, those who did not eat sweet treats as part of their breakfast regained, on average, two-thirds of the weight they had lost. The group whose breakfast included sweets continued to keep the weight off and lost, on average, another 7kg.How could this be? The researchers noted that the body's production of ghrelin, also known as the hunger hormone, was considerably lower among those whose breakfast contained sweets. In other words, subjects not deprived of sweets felt more full and satisfied and therefore were less inclined to overeat later in the day. Interestingly, multiple other studies conducted as far back as the 1980s reached the same conclusion. In short, restricting specific foods tends to increase the desire for those foods and actually increases the likelihood of overeating food in general.
Make no mistake about it, you can eat ice cream as well as other 'bad' or 'forbidden' foods and still lose body fat and even improve health. I myself maintain extremely low levels of body fat, as can be seen in the photo above, even though I eat ice cream and chocolate literally every day. As further evidence, consider the case of Mark Haub, a professor of nutrition at Kansas State University. A few years ago, he experimented with a diet consisting largely of foods like doughnuts, cookies, and brownies. In two months, he lost over 10 kilograms, lowered his blood pressure, and improved other indicators of health like triglyceride and glucose levels.
How is this possible, you ask? The answer is simple. Professor Haub simply ate fewer calories than his body expended each day. Haub limited himself to less than 1,800 calories a day. A man of Haub's pre-dieting size requires roughly 2,500 calories daily.Contrary to what many diet 'experts' would have you believe, the essential requirement for fat-derived weight loss is the establishment of a calorie deficit. In other words, it's not the type of food but the quantity that is the final determinant of fat loss or gain.No specific food or category of food is inherently fattening. Any food, even so-called healthy foods like fruit, can cause a person to gain weight if eaten in excess of their caloric requirement. This has been proven time and time again by strictly controlled metabolic ward studies, in which research participants are confined to a research facility for the entire duration of the study and only eat food provided by the scientists. Bottom line: if you consume fewer calories than your body requires in a given time period, you will lose fat, regardless of what diet you follow. Now, I am not suggesting you start eating ice cream or other sweets for breakfast. Rather, I am pointing out that so-called junk food can be part of a healthy, fat-reducing diet. If you consume too much, you simply have to reduce food quantity in your subsequent meals. Similarly, if you are gaining fat because you are exercising too little as well as overeating, the solution is to exercise more or eat less, or both. As Hippocrates, one of the most renowned figures in the history of medicine once said: "opposites are a cure for opposites". It's summertime. Go ahead and enjoy an ice cream if you so desire. Isn't life too short not to enjoy the 'sweetest' things? Or, as the popular saying goes: "You can't buy happiness, but you can buy ice cream. And that's kind of the same thing".
The writer is an independent researcher. His articles have been published in newspapers, magazines and academic journals worldwide. He currently teaches at Chosun University in Gwangju. His email address is: atdunne@gmail.com