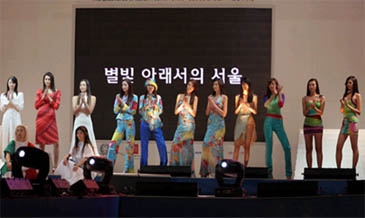 Models stand on stage set up in front of Seoul City Administration building prior to the their cat walking in a fasion event hosted by Italian Embassy in Seoul Oct. 30, 2004. Courtsy of Latitude of Mind
Seoul Plaza turned into a night of "splendor and fantasy" of Italian fashion characterized by Talento (talent), Creativita (creativity), and Eleganza (elegance)" on Oct. 30, 2004. The small plaza in front of the Seoul City Administration building became the arena of a gala fashion event perhaps comparable in its quality to the major one on "Piazza di Spagna" in Europe. Thrown by the Italian Embassy in Seoul, the show titled "the Excellence of Italian Fashion — Seoul under the Stars" was attended by such world-class fashion brands as Versace, ETRO, Laura Biagiotti, Gianfranco Ferre, Roberta di Camerino, and Enrico Coveri. Italian Amb. Francesco Rausi to Seoul hosted the fashion event in commemoration of the 120th anniversary of its establishing diplomatic relations with South Korea.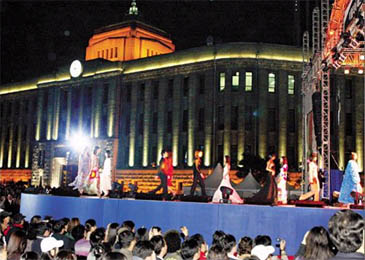 Models show works by world-famous designers on stage set up in front of Seoul City Administration building in a event held by Italian Embassy Oct. 30, 2004. Courtesy Chosun
On the stage set up by Italian staff from Rome and Milan scores of models displayed some 100 works of fashion flown directly from Italy and aimed at trends for this winter, spring and summer 2005. Against the backdrop of Seoul's night sky, the Italian fashion show's colorful lighting and huge screen blended with glittering fashion models' which lured a crowd of over a 1,000 spectators into the plaza for this rare event. Among about 100 VIPs in attendance there were a dozen ambassadors to Seoul and their wives including Amb. Carlos M.L. Frota of Portugal and Amb. Pedro Paulo Assumpcao of Brazil. President Frans Hampsink of The European Union's Chamber of Commerce in Korea, and scores of local and foreign business leaders were also present. World renowned cellist Chung Myung-Whua, and local fashion guru Andre Kim also attended the fashion show.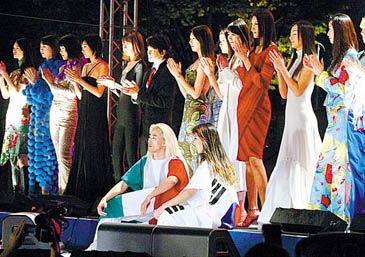 Models of Seoul display the beauty of Italian fashion in a fashion event held Oct. 30, 2004 on Seoul Plaza in front of Seoul City Administration building central Seoul. The galla fshion event titled "The Excellence of Italian Fashion — Seoul under the Stars)" was hosted by Italian Embassy in commemoration of 120th anniversary of opening diplomatic ties between Italy and South Korea. Courtesy Chosun
Nearly 100 journalists, photographers, and camera crews were busy covering the fashion event which started at 7 p.m.. Italian singer Alexandra Montan (mezzo-soprano) added flavor to the gala event. Amb. Francesco Rausi wished that this fashion event will serve as a bridge linking Italy and South Korea even closer. "I hope there will be more exchanges of fashion area between the two countries," Amb. Rauis added.
Related Photos