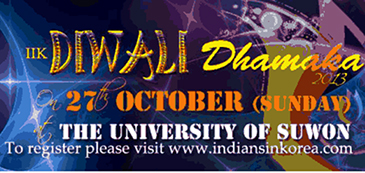 Poster of "Diwali," or Festival of Lights
"Festival of Lights" will illuminate Republic of Korea on Oct. 27 (Sunday), 2013 with a celebration featuring live Bollywood music, South Asian food and more at a local university south of Seoul. The Indian festival is expected to draw thousands throughout the day.Each year, the Indian diaspora in South Korea celebrates Diwali or Festival of Lights, which is India's best-loved festival. Indians In Korea (IIK) group will be organizing and celebrating the Diwali Dhamaka Festival on Oct. 27, 2013 at Balcanto Art Center, The University of Suwon in the city of Suwon south of Seoul. The dazzling celebrations will commence from 2:30 p.m. and will run until 7:30 p.m. Our festival features traditional and contemporary Indian dance, music and food stalls offering a variety of tasty treats from around India. Multi-cultural musical performances will regale the guests. Head to the University of Suwon and experience the charms of Indian culture at the Diwali (Festival of Light) Dhamaka 2013. The much-loved festival will fill The University of Suwon once more with diverse stalls and activities exploring the different traditions, cuisines and arts of India. While Diwali is commonly referred to as the 'festival of lights', for Hindus it is actually about celebrating inner light and the belief that good will triumph over evil. There will be an effervescent presence of delectable Indian cuisine while numerous stall will be selling various Indian merchandise. All the hustle and bustle of the event will come to a conclusion with a mouthwatering Indian cuisine from Chakra RestaurantFestival is open to all, We invite every proud citizens of the world in Korea to join us and plunge into the aura of festivities.Festival day attractions include:
•Bollywood dance and music
•Taste of India – authentic Indian Cuisine
•Indian fair
•Rangoli – floral art exhibitionDate: Sunday, 27 October 2013Time: 2:30 p.m. -7:30 p.m. Venue: Balcanto Art Center, The University of SuwonFor details & Registration visit: www.indiansinkorea.com
The above story was written by Prof. Rohidas Arote of The Seoul National University's Dental School. He serves as vice president of Indians In Korea (IIK) group. He can be reached at
latnedr@gmail.com.