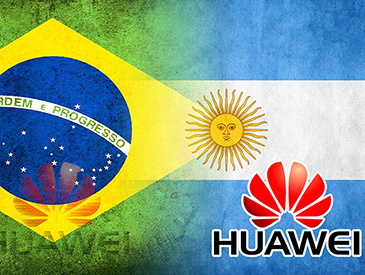 Huawei
This is an unprecedented project in the telecommunications world, and increase network capacity and will benefit more than 3.7 million people living in the region.Huawei, a leading global provider of information and communication technologies (ICT) and Vivo, the largest telecommunications company in Brazil, announced the introduction of the first lines of wavelength-division multiplexed (WDM) that cross the Amazon River and the Amazon rainforest. WDM lines connecting two state capitals of Brazil: Manaus (capital of Amazonas) and Belém (capital of Pará). They have ability to support voice and data services broadband.As one of the host cities of the FIFA World Cup 2014, Manaus will host a large number of fans and journalists from around the world and undoubtedly experience an increase in demand for mobile broadband services. In order to support the large increase in traffic in the future, Vivo decided to build the world's first WDM lines that cross the Amazon River and the Amazon to Manaus connecting with networks high-speed optical backbones of the country.WDM lines are 2100 kilometers connecting more than 20 cities of the Amazon rainforest, including five sections extremely large (200 km to 261 km).The platform WDM / OTN Huawei art is perfect for use in this large area, low population density, as it supports WDM transmission by a single length greater than 300 kilometers. Current networks support a 40G bandwidth and can evolve in large networks 100G capacity in the future.As for the work, the President of Huawei Brazil, Mr. Veni Shone, said: "The collaboration and dedication of Vivo and Huawei have changed the history of communications in Amazon forever. We are proud and is a great honor for us to cooperate with Vivo in providing even better communication services to the people of Brazil. "
Moving it's regional headquarters to Argentina
The phone manufacturer and network equipment declared to Minister of Argentina Industry, Debora Giorgi, that it's going to invest U$S 20 million to move the regional headquarters that the company owns in Brazil to Argentina.In addition, the chief operating officer of Huawei, Lu Qiang, said expanded by 1.5 million local production units of equipment, starting next year."Argentina has become a center of strong and competitive operations and Huawei confirms that we are becoming a referral center for the entire region", said Giorgi at the end of the meeting.Lu Qiang announced that the company will invest $ 20 million to move its regional headquarters from Sao Paulo, Brazil, to Buenos Aires, which will generate 200 new jobs in the country, the statement said.