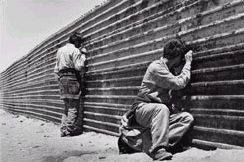 Several months ago 18 migrants died of suffocation in a trailer at a truck stop in South Texas. The trailer was insulated for refrigeration but it was either not turned on or it was not working. In all likelihood it was an accident.No one wants to cause people to die. Yet, the vandals who destroyed a water station on the Mexico-Arizona border could become responsible for people dying of dehydration. The vandalized water station is one of many set up on U.S. Bureau of Land Management, near Tucson, Arizona. They are the work of Humane Borders, a humanitarian group trying to save the lives of undocumented migrants who cross into the US in remote areas. As the American government has eliminated the "easy" entry points into the country through Operation Gatekeeper, migrants have been resorting to more difficult and deadly routes. The Arizona desert is one of them.
An analysis by the Arizona Republic found that undocumented workers are five times more likely to die crossing the border than five years ago. Seventy people have died in the desert since October of 2002, three of them during the Fourth of July weekend.To reduce and possibly eliminate these deaths, Humane Borders set up 38 water stations. The tanks are marked by 30-feet-high blue flags to be visible to someone who might have gone for several days without food or water. The group also has 60 pole-stations on the Bureau of Land Management property in Southern California.Humane Borders is a group made up of 33 members, including churches, human rights organizations, corporate sponsors, and legal advocacy groups. It aims to create a just and humane border environment and provide assistance to those who cross into the US.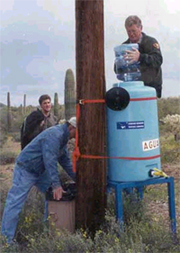 Funding for their activities comes from member organizations, churches, government, and individual donors, who contributed more than $60,000. The group has also received $25,000 from Arizona's Pima County government. However, funds from the government could disappear through a ballot initiative some politicians are planning to introduce.Although Humane Borders activities are clearly humanitarian, the group does have a political agenda. This includes the legalization of undocumented workers already in the U.S. as was done in 1986 during Ronald Reagan's presidency. In addition, the group believes in a demilitarized border and an increase in the number of visas to Mexican nationals. Mexican workers should be given guest-worker permits to work in the U.S. not tied to a single American employer. And the group believes the U.S. should aid in developing Mexico's economy. The idea of the water stations is not going to solve these complex issues. It is just a temporary measure to deal with what Humane Borders sees as an emergency.Destroying water stations in remote areas is not just an act of vandalism but also a potentially criminal one. It's not clear who has done it but the presence of horse prints at the sites suggests it was not migrants because they don't use horses. It is suspected that the vandals may be part of the American militia groups which patrol the border. Officially, leaders of the militia groups deny any responsibility with the vandalism although they have stated that they are outraged that the federal government allows the water stations to be put up.Federal officials, on the other hand, believe that the water tanks save lives and are cooperating with Humane Borders. Border Patrol officials, initially skeptical about the work done by Humane Borders, now praise the group's activities. Although the work of the Border Patrol focuses on keeping undocumented workers out of the country, it also offers humanitarian aid to migrants.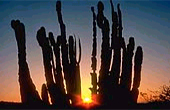 The two groups have developed a cooperative relationship. Humane Borders volunteers may provide food and water to migrants but not transportation. When transportation becomes necessary, Humane Border volunteers contact the Border Patrol, which results in the deportation of undocumented migrants.One can argue about the immigration policies of the country. However, one thing is sure. People die as they attempt to cross into the U.S. Humane Borders is trying to take death out of the complex equation by making water available in the Arizona desert. More than 19,000 gallons of water have been dispensed to migrants. I just sent them a small check to buy some more water. You can too. Their address is 740 E. Speedway Blvd., Tucson, AZ 85719.