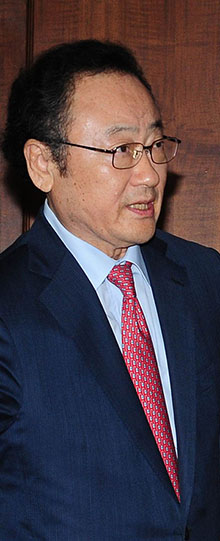 Chairman Sakong Il of the Institute for Global Economics (IGE)
Chairman Sakong Il of the Institute for Global Economics (IGE) will host global economic conference "Major Economies under New Leadership: Policy Priorities and Challenges," at Plaza Hotel in downtown Seoul on Oct. 31 (Thursday), 2013, IGE announced recently.Chairman Sakong said the conference would be organized in celebration of the 20th anniversary of IGE, a major economic think tank in the nation.He said that the global economic conference would be held in collaboration with such world renowned institutes as the Peterson Institute for International Economics (PIIE), the Bruegel. and the China Center for Economic Research (CCER).
.
The Hyundai Motor Group sponsors the conference.Distinguished speakers from home and abroad will be participating in the conference.Sakong said that the South Korean participants would include the Deputy Prime Minister and the Minister of Strategy and Finance Hyun Oh-Seok, the Minister of Trade, Industry and Energy Yoon Sang-Jick, Bank of Korea Gov. Kim Choong-Soo.Dominique Strauss-Khan, former managing director of the IMF, and Dennis Snower, president of Kiel Institute in Germany, will be among the international guest speakers at the conference.The Seoul Times will be among the local media invited to the conference. Its President Alan Timblick will attend the conference
as a participant.IGE (Institute for Global Economics) was established 20 years ago by Sakong Il with the conviction that it is especially important for Korea to know the world in setting its national agenda and choosing business strategy.
For details:
IGE (Institute for Global Economics)
Tel: +82-2-551-3334
Fax: +82-2-551-3339
Email: igenet@igenet.com