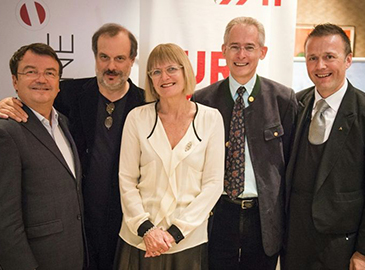 Panel: LTR Willi Klinger (AWMB), Terry Theise (Michael Skurnik Wines), Jancis Robinson MW (Financial Times), David Schildknecht (The Wine Advocate), Aldo Sohm (Le Bernardin), © AWMB/ David Plakke
An exclusive Grüner Veltliner vertical tasting, "Austrian Monuments: Four Decades of Great Grüner Veltliner", was attended by a select panel of journalists and wine experts at the renowned three star restaurant, Le Bernardin, in New York on October 23rd. Organised by the Austrian Wine Marketing Board (AWMB), the tasting panel counted Jancis Robinson MW (Financial Times), David Schildknecht (The Wine Advocate), Aldo Sohm (Le Bernardin) and Terry Theise (Michael Skurnik Wines) among the specialists whose palates were won over by the 31 Austrian top wines spanning vintages from 1971 to 2011. These wines demonstrated the unique ability of Grüner Veltliner to produce world-class wines from both cool and warm vintages - underscoring yet again that the place of Austria's showcase variety amongst the international "noble grapes" is ensured.
A First Class Tasting
A Wednesday afternoon in October at Le Bernardin in New York: The highest rated restaurant in the city provided the crème de la crème of the international wine scene with, literally, several good reasons to toast. "Austrian Monuments: Four Decades of Great Grüner Veltliner" was the motto of the vertical tasting that featured 31 Grüner Veltliners and a high-profile panel that included Jancis Robinson MW (Financial Times), David Schildknecht (The Wine Advocate), Aldo Sohm (Le Bernardin) und Terry Theise (Michael Skurnik Wines). The tasting was moderated by Willi Klinger, general manager of the AWMB.After two classic wines were introduced to kick off the tasting, there came three flights – each with three wines – comprising Reserve category Veltliners from vintages between 1971 and 1999. Their complexity, freshness and clarity demonstrated Grüner Veltliner's potential for long aging. The second group featured twelve wines with each wine representing a vintage between 2000 to 2011. These wines showed clearly that Grüner Veltliner wines from both warm and cool vintages can be outstanding, with those from warm vintages benefitting particularly from prolonged bottle ageing.Between the flights were lively panel discussions as well as question-and-answer sessions with the audience. Terry Theise, the pioneer amongst U.S. importers of Grüner Veltliner wines, pointed out that the big Grüner Veltliners are not only some of the world's great white wines, but they're also wines with an unbeatable price. "Monumental Grüner Veltliner is the greatest value in the fine wine world," he said.Aldo Sohm emphasized the versatility of Grüner Veltliner in the restaurant: "There are very few varieties that can be matched so incredibly well with such a wide range of foods and cuisines."
David Schildknecht demonstrated his deep expertise on the wines both in terms of production styles and terroir. And the doyen of the New York wine journalists, Howard Goldberg (The New York Times), gave his elegant summation: "Terry Theise's eloquence and David Schildknecht's technical savvy put the 'Four Decades of Great Grüner Veltliner' seminar on Mount Olympus." Both Terry Theise and Jancis Robinson MW, who had become familiar with Austrian wines long ago through Riesling, were again greatly impressed by the complexity and power of Grüner Veltliner shown in the vertical tasting. Jancis Robinson MW even referred to the legendary "London Tasting of 2002" and emphasised that Grüner Veltliner is already considered a "noble grape" in Great Britain. Grüner Veltliner is not a fad or trend, but is a fixed star in the firmament of the internationally recognised grape varieties.
Said Willi Klinger: "For me, it was elementary to make a statement for the wines of the Reserve category of Grüner Veltliner, and to counteract a trend that is trying to push our showcase grape variety to a lower price category."
A First Class Audience
The guest list, headed by the most widely read wine writer in the world, Hugh Johnson, reads like a Who's Who of the international wine press. Those who accepted the invitation to the tasting included: Eric Asimov (The New York Times), Tyler Colman (Dr. Vino), Mary Ewing-Mulligan MW (International Wine Center), Alice Feiring (The Feiring Line), Howard Goldberg (The New York Times), Josh Greene (Wine & Spirits Magazine), Megan Krigbaum (Food & Wine Magazine), Elin McCoy (Bloomberg News), Dave McIntyre (Washington Post), Stephen Tanzer (International Wine Cellar), Lettie Teague (The Wall Street Journal), as well as Christy Canterbury MW, Michael Madrigale (Bar Boulud), Véronique Rivest (Sommelier Vice Champion), Dustin Wilson (Eleven Madison Park) and numerous other experts in the wine sector.
Exquisite Service and Impressive Food & Wine Pairing
The team at Le Bernardin demonstrated impressively how service is implemented at the 3-Michelin-star level. The Grüner Veltliner tasting concluded with Chef Eric Ripert serving three of his special creations and Head Sommelier Aldo Sohm matching each of these with the perfect wine – all from the repertoire of what is recognised as the best fish restaurant in the United States.
"Eric Ripert conjured up dishes like no one else, and paired them perfectly with Grüner Veltliner from the 2010, 2009 and 2007 vintages," said an enthused Willi Klinger. "This is truly a great compliment for Austrian wine."Austrian Wine Marketing Board
Susanne Staggl
[t] +43(1)5039267 [f]: +43(1)5039268
Prinz-Eugen-Straße 34 / 1040 VIENNA / AUSTRIA
Austrian Wine on facebook, twitter and youtube
FN 78 209p / Handelsgericht Wien
http://twitter.com/oesterreichwein