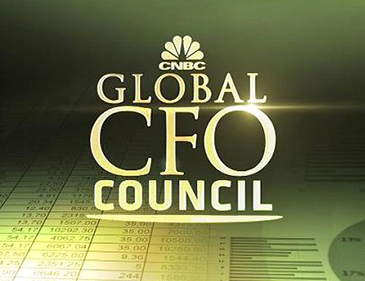 CNBC Global CFO Council
London & Singapore, Oct. 28, 2013 — A new survey of the CNBC Global CFO Council released today, shows that chief financial officers from major international corporations think that global economic growth is improving and are looking to expand their companies' workforce.The survey, which was conducted amongst Council members across Europe and Asia Pacific, shows that 65 percent of respondents see 'modest improvements' in global economic growth in the next six months, with four percent seeing the economy 'strongly improving' over the same time period;
22 percent said economic growth would be 'stable' and nine percent see it 'modestly declining' over the next six months.The survey also shows that employment figures could be about to get a boost, with 56 percent of the CFOs surveyed saying they plan on expanding hiring over the next six months. Four percent said they are planning to lay off staff and 40 percent predicting no change.
When asked to rank the health of various business conditions based on the current economic climate, CFOs said stock market valuations and credit availability were modestly high.More than 80 percent of respondents also expressed concerns of slowing growth in emerging markets, with just nine percent indicating that they were unconcerned.When asked about which macroeconomic issues the CFOs were most worried about cyber attacks ranked as a major concern, followed by China's slowing growth, the Federal Reserve's tapering of stimulus, currency volatility and terrorism.The CNBC Global CFO Council was recently expanded to include members from Europe and Asia Pacific. The CFOs represent companies with a total market capitalization of $800 billion for Europe and Asia Pacific.The elite group, which represents public and private companies from a wide array of different industries, are able to present a global and regional picture of the state of the economy and market sentiment. Council members share their frontline insights and unique views on the key issues and challenges facing today's corporations and the broader business community.Following the successful launch of Council in the Unites States, the new members will make on-air contributions throughout the year to CNBC's flagship morning programme Squawk Box on its regional TV networks in EMEA and Asia-Pacific and online at cfocouncil.cnbc.com.A full list of the CNBC Global CFO Council members can be found here.For more information please contact:
Hugo Foulds, Director of Communications, EMEA
hugo.foulds@cnbc.com
D: +44 (0)20 7653 9398
Valerie Martinez, Manager of Communications, Asia Pacific
valerie.martinez@cnbcasia.com
D: +65 6326 1123The survey of CNBC Global CFO Council was conducted between 21st-23rd October 2013 amongst its 33 members in Europe and Asia Pacific, who collectively manage around $800 billion in market capitalisation.
About CNBC
CNBC is the leading global broadcaster of live business and financial news and information, reporting directly from the major financial markets around the globe with three regional networks including CNBC in Asia, CNBC in EMEA and CNBC in the US. CNBC.com is the preeminent financial news source on the web, featuring an unprecedented amount of video, real-time market analysis, web-exclusive live video and analytical financial tools. CNBC is dedicated to CEOs, senior corporate executives; the financial services industry and private investors. The channel is
available in more than 395 million homes worldwide. CNBC is a division of NBCUniversal. www.cnbc.com