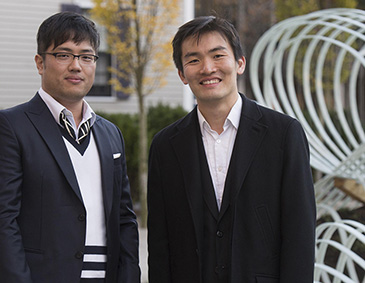 Harvard Graduate Design Students Lee Ju-Hun (left) and Jin Keo-Jin Jin (right) unveil their dramatic public art installation, Saturate the Moment. Their design won a university-wide public art competition sponsored by Harvard's Radcliffe Institute.
Photo by Tony Rinaldo
South Korean Harvard Graduate School of Design students Jin Keo-Jin and Lee Ju-Hun Lee won a Harvard University-wide public art competition and their dramatic piece, Saturate the Moment, was installed at Harvard's Radcliffe Institute and unveiled in November.
About Saturate the Moment
Jin and Lee's design was inspired by the shell of the desert beetle, which collects condensation to survive. The surface of Saturate the Moment is designed to collect condensation, which will nourish plants below it and perpetuate a dynamic cycle.Jin described the work as an opportunity to "think more deeply about our environment and how a physical, low-tech object can interact with the energy and vibrant atmosphere around it."The landscape sculpture consists of a resin composite framework whose parallel lines resemble a schematic of rippling radio waves that fold in on themselves. The structure is set atop a large swatch of lawn.The ambitious project required the use of innovative materials. The undulating ribs of the piece were made at a boatyard, using marine construction products.Read the complete story as it appeared in today's Harvard Gazette: http://news.harvard.edu/gazette/story/2013/11/radcliffe-looks-ahead/ A video of their public art installation is online: http://www.radcliffe.harvard.edu/video/saturate-the-moment.
Karla Strobel
Communications Officer
Radcliffe Institute for Advanced Study
Harvard University
617.495.8608 | karla_strobel@radcliffe.harvard.eduwww.radcliffe.harvard.edu