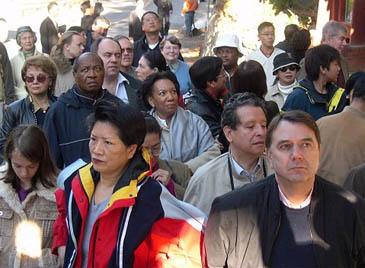 Bulgarian Amb. Alexander Savov and other honored guests look around at the wonders of Chong-amsa Temple in Gangwon Province.
One of the most successful promotional events this year was by far the Kangwon Land tour which was packed with travel, gambling, golf and delicious food.The Foreign diplomatic corps to Seoul and their families visited not only Kangwon Land resort but also other tourist attractions including Buddhist temples, a folk village, and a coal mine museum in Gangwon Province on Nov. 5-7, 2004.It was also a perfect setting for the 36 ambassadors to Seoul, their wives, and families to discover the beauty and splendor of the breathtaking mountainous terrains of Gangwon Province.Among the participating ambassadors were Amb. Amr M.K. Helmy of Egypt, Amb. Istvan Torzsa of Hungary, Amb. Sydney Bafana Kubheka of South Africa, Amb. Tomas Smetanka of Czech, Amb. Valeriu Arteni of Romania, Amb. Volodymyr Furkalo Ph.D of Ukraine, Amb. Rene Francisco Umana of Honduras, Amb. Aladin Gonzales Villacorte of Philippines, and Amb. Tadeusz Chomicki of Poland.There were also scores of other Korean dignitaries who joined the diplomatic corps's weekend trip to Kangwon Land Resort and other tourist spots in Gangwon Province. A dozen of top politicians comprising of ruling Uri Party lawmakers also attended the event. They included Lee Kwang Jae, Kim Jong-Yull, Noh Young-Min, Oh Jae-Sae, and Lee Sang-Min.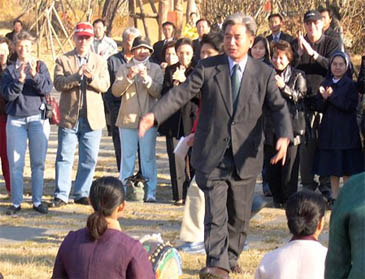 Mayor Kim Weon-Chang of Jeongseon County congratulates the local folk band that played for the honored guests.
Four city and county mayors of Gangwon Province including Mayor Kim Weon-Chang of Jeongseon County took part in the event. President Samuel Koo of Arirang TV was also present.On the first day, Nov. 5, 2004, on the way to Kangwon Land, nearly 100 foreign guests and media people were treated to a visit to the Woljeong-sa or Woljeong Temple, the fourth head temple of South Korea's largest Jogye Order.Nestled in the tree filled lush valley east of Mt. Odaeson in Pyeongchang County, Woljeong Temple is comprised of 60 small temples and eight hermitages. Magnificent pine trees surround the temple, filling the air with a freshness that can only be explained as Christmas in a North American living room.Woljeong Temple offers its visitors a true sense of tranquility. "It is a great place to learn how to discover oneself and how to live in harmony with all things great and small in this world, including the flies that are found in abundance around the temple," said Buddhist monk Jung Nyem.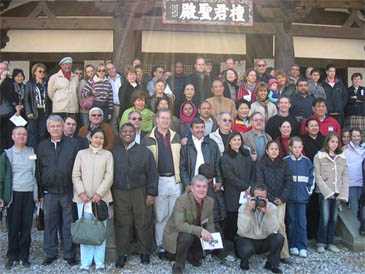 Ambassadors in attendance pose for a picture at the front door of the temple.
While at Mt. Odaeson, a visit to the Seongbo Museum educated its visitors about Wolgeong-sa's history. But the real treat of the day was an invitation to experience the elegant steps of the crane dance in the museum's main hall called Daebupryunjeon.This crane dance performance, which originated from the Woljeong Temple was choreographed to mimic the detailed movements of a crane. For the foreign visitors it was an eye opening experience to watch the dancers transform themselves into elegant cranes preparing to take flight into the open sky.After a fantastic visit to the Woljeong Temple, the guests headed off to Kangwon Land Resort. All the foreign envoys were quickly escorted off the bus and were immediately welcomed by Kangwon Land's extremely bright and attentive staff.On the second day, Nov. 6, 2004, after an exquisite breakfast at the hotel's World Fusion restaurant, the guests toured Jeongam-sa or Jeongam Temple. This temple is distinct in that it does not contain an image of Buddha. During the visit, the ambassadors and their families were also able to observe a Buddhist religious service in progress.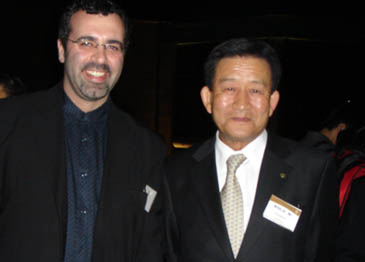 Kangwon Land CEO & President Kim Jin-Mo (right) poses with Yoav Cerralbo, editor of The Seoul Times.
Next, the guests were faced with a physical but rewarding challenge: stair climbing. It was a small price to pay to reach the top to see the carefully constructed pagoda "Sumano Top." This nine-meter pagoda was strategically placed on top of the mountain in line with the Korean mountain range."One of the most amazing thing about this Pagoda is that it is made out of stones carved to look like bricks. The Chinese had taught Korean how to build a Pagoda out of bricks, but back than Korea did not have materials to manufacture bricks, so Korean monks carved stones to mimic blocks for their building materials," explained Mr. David Mason, consultant to the diplomatic corps.The second stop of the day was at Taebaek Park to visit Dangun Temple. Dangun Temple is a shrine for Dangun whom Korean worship as the originator of Korea. In the temple, Dangun's spirit is admired and his portrait is used as a symbol of the Korean nation. Here the foreign guests were told how Dangun came to be half man and half bear, helping the honored guests understand and admire Dangun — the originator whom transcends both religion and ideology.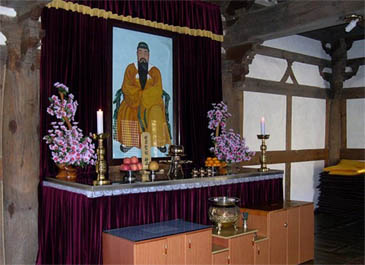 A rare picture of the inside of Dangun Temple where a portrait of the Father of Korea hangs.
After a short drive, the foreign guests were taken to Taebaek Coal Museum. The Taebaek Coal Museum is made up of eight exhibition rooms. They are set up to inform visitors of Gangwon Province's development of its once thriving coal mining industry. Within the museum there was a stunning exhibition hall filled with numerous exquisite crystals. Many of the top envoys expressed great pleasure in this opportunity to examine pieces of remarkable beauty. At this point, the group was split into two; the smaller group was transported back to Kangwon Land's newly constructed but not yet finished 18-hole golf course. Nine holes are in place with the remainder to be completed by next year. "It was a great golf course," exclaimed Amb. Sydney Bafana Kubheka of South Africa. "There were some difficult holes in the course," explained Amb. Tadeusz Chomicki of Poland. The larger group left behind were treated to a delicious Bulgogi lunch and than went on to visit the Jeongseon Art Gallery. Bulgogi is a Korean marinated beef popular with Westerners.The art gallery was born through the closing of an elementary school. The gallery owner Mr. Cho Tae-Eok explained that the reason for opening the art gallery was so that citizens around the area can come and experience the art of pottery making and farming life. The art gallery offers classes in pottery making, Chinese writing classes and various clay sculptures.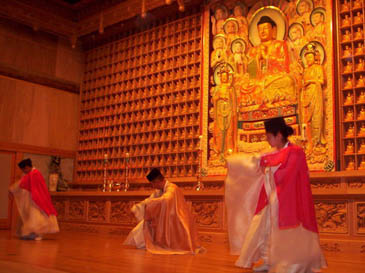 Amb. Aladin Gonzales Villacorte of Philippines had a first-hand experience in a shamanic worship ceremony as he helped the gallery owner bless the fire for successful pottery baking.The last stop of the day was at The Arari Village Theme Park where the honorable Mayor Kim Weon-Chang graciously acted as the foreign groups guide. The Arari Village was designed after traditional housings of the Chosun (Jeoseon) period (1392-1909). In the park, visitors were able to observe authentic living styles of the ancient Korean folks.At the end of the village tour, the diplomatic families were treated to a traditional Jeongseon style musical performance, a performance comparable to the modern day percussion performance. After the performance, Mayor Kim Weon-Chang treated the guests to an afternoon snack of traditional Korean food and rice wine. After the meal, the foreign guests headed back to the hotel where a large reception was awaiting them that night. The galla reception was held in the Grand ballroom of Kangwon Land Resort. The reception was exceptional, from the mouth-watering entrees to the flawless service. It was truly a first class experience — not only was the food scrumptious but in combination of each entree's playful presentation, the evening's dinner was a heavenly experience.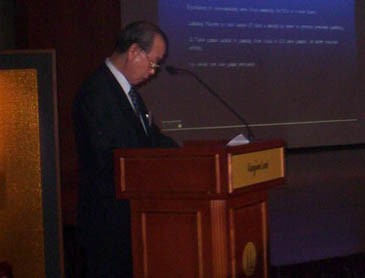 Kangwon Land's Executive Managing Director Kim Jong-Hoo
During the reception, Kangwon Land's Executive Managing Director Kim Jong-Hoo, expressed Kangwon Land's plan to transform their casino and hotel into the world's best family resort through the construction of a four-season comprehensive leisure and tourism complex.Presently, Kangwon Land's facilities consist of a hotel equipped with 676 rooms, a casino with 132 game tables and 960 slot machines, and a theme park that has 26 rides and three theatres. Two major projects are now under construction to enhance the resort.An 18-holes golf course set to officially open in July 2005. It will be the highest-altitude golf course in Korea and was designed to meet international championship games standards.
An 18-slope ski resort set to open in December 2006. This ski resort will contain the longest slope (21 km ) with the highest altitude difference (650 m) in South Korea. Kangwon Land also plans to develop an amusement theme park, a museum complex, a multi purpose hall, and an eco-botanical land.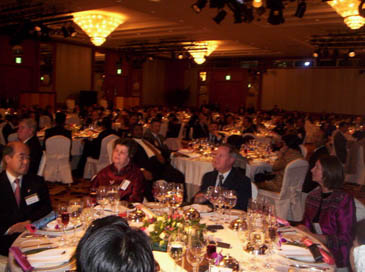 The weekend's trip marked the beginning of an aggressive campaign by Gangwon Province to revitalize this magnificent area of such deep cultural heritages into the "cultural hub" of South Korea.Around the end of the reception, many ambassadors took their time to express their feelings about the weekend trip and their impression of Gangwon Province, as well as their gratitude to its host Kwangwon Land.Amb. Leif Donde of Denmark said during his speech, "You don't have to convince me very hard of the beauty of Gangwon-do. One of the first visits that my wife and I did out of Seoul in Korea was to Gangwon-do province. You can be sure that we will be visiting again and again. There is great potential for Gangwon Province to be a grand international tourist area."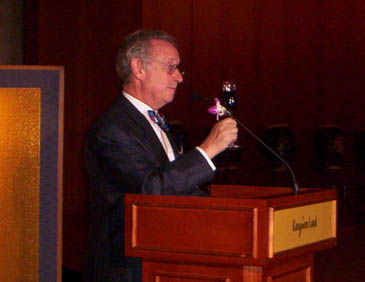 Amb. Leif Donde of Denmark speaks to a crowd at the reception.
Amb. Helmut Bock of Austria expressed his gratitude by saying, "I was deeply moved by the visit to Woljeong-sa. The Seongbo Museum and crane dance in Daebuploonjeon was very good. I hope that in the future more programs are developed for foreigners to visit temples." Amb. Bock also expressed his interest in supporting the citizens of Gangwon Province to win the bid for the 2014 Winter Olympic Games. "The clear city and beautiful scenery of Gangwon Province proves that this province has the qualifications to hold the 2014 Winter Olympic Games. I was impressed throughout this visit and I will assist other foreign visitors to come and visit this great province," lamented Amb. Amr M.K. Helmy of Egypt.To finish off the evening, President Kim Jin-Mo of Kangwon Land presented the ambassadors and their family a spectacular and brilliant firework show. It was the perfect ending to a magical evening. On Sunday morning Nov. 7, 2004, guests visited Mindung-san or Mt. Mindung for a mountain hiking experience. Mindung-san is popular for its lack of trees caused by farmers burning all the trees down to extract farming land. The scenic beauty and calmness of Mindung-san is beyond words. "I'm glad to have been able to climb this mountain, it is so quite and peaceful here," said Austrian Amb. Helmut Bock.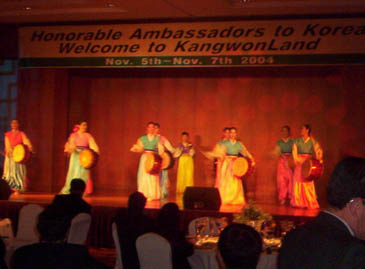 There was a general feeling of gratefulness among the top foreign envoys to Seoul and their wives by the end of the weekend. The Australian ambassador's wife expressed her interest in visiting Kangwon Land again when the ski resort opens.The hotel's casino lived up to its five-star standards. It is truly the Las Vegas of Korea. From the moment the guests arrived they were pampered like royalty. Kangwon Land left nothing to chance, every detail of a guest's stay was carefully calculated and every need and want was satisfied. It was truly a first-class experience. "I had to lose some money at the casino to help pay for this wonderful weekend," joked Susan Kim, wife of Polish Amb. Tadeusz Chomicki.At this point Kangwon Land resort is only half completed — one can only imagine the attractive power Kangwon Land will have as a world-class family resort after the completion of their exciting expansion.
The above photos were taken by Kim Sun-Young