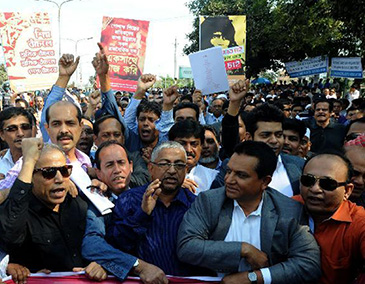 DHAKA, Jan 3, 2014 The countrywide nonstop blockade,enforced by the BNP-led 18-party alliance, on Jan. 3, 2014 entered the third-day with the reports of stray vandalism, explosions of bombs and sudden arson attacks, killing of two people in Dinajpur and injuring some others in the capital and Rajshahi.Meanwhile, the opposition BNP alliance called for 48 hours non-stop countrywide hartal alongside the blockade from 6am tomorrow to resist the 10 parliamentary polls set for January 5.The blockade, however, affected little the normal life as many vehicles including some private ones, were out on the city streets visibly defying the blockade. Some long-route buses,especially those of Bangladesh Road Transport Corporation (BRTC),were seen to leave Dhaka for Comilla, Brahmanbaria, Manikganj,Chittagong and Mymensingh. However, the operation of train and launch services are as usual.Our Dinajpur Correspondent reports: Two people were killed and one injured as a truck fell into a ditch after Jamaat- Shibir blockaders hurled three petrol bombs on onion-loaded truck near Mohespur Bridge at Itaibauna area under Hakimpur police station here in the early hours of today.Officer-in-Charge (OC) of Hakimpur Police Station said the deceased were identified as businessman Shawnewaz Ahmed, 30, son of Wahed Ali alias Chhela Mondol of Dharanda village here and truck driver Anisur Rahman, 41, son of Rajob Ali of Ganespur village under Sadullahpur police station of Gaibandha district.The helper of truck (Khulna, Metro Ta: 11-0820), Jafor Mia, 25, received injuries while he jumped from the onion-carrying truck sensing the attack on the vehicle which was bound for Sadullahpur of Gaibandha district."Seriously injured Shawnewaz and Anisur were rushed to Hakimpur Upazila Health Complex where doctors declared them dead early morning," the OC said adding the bodies were sent to Dinajpur Medical College Hospital morgue.Our Rajshahi Correspondent adds: Three persons suffered burn
injuries, two of them seriously, early this morning as blockaders torched a truck at Kansat under Shibganj upazila of the district on the third-day of nationwide blockade enforced by BNP-led 18-party alliance.The injured were identified as Jamatul Islam (truck driver),
40, son of Altaf Hossain of Rajarampur under Chapainawabganj municipality, Azizul Islam, 50, and helper Arif, 20, son of Mainul Islam of Sarkarer More area under Shibganj upazila.Officer in-charge (OC) of Shibganj thana SM Mizanur Rahman said, the plum laden truck from Sonamasjid land port turned turtle around 3 am in the area as the blockaders set fire to the truck.The locals rescued them and sent to Shibganj upazila health complex.Later, Jamatul and Azizul were shifted to Rajshahi Medical College Hospital (RMCH) in a critical condition. In the capital, five people, including a bus driver, sustained burn injuries as miscreants hurled three petrol bombs on a Gulistan-bound passengers bus from Abdullahpur at Paribagh just opposite the Ruposhi Bangla Hotel at about 6:30am.Hospital sources said, the victims —- Farid Bepari, 50, with 48 percent burn injury on his body, Shahina Akter, 40, with 64 percent injury and bus driver Babul Miah, 41, with eight percent burn injury — - were undergoing treatment at Dhaka Medical College Hospital while the two unidentified others took first aid here.Blockaders torched a passenger bus in front of Golap Shah Shrine at Gulishtan around 4.45pm today, police and witnesses said. None was, however hurt in the fire.According to reports reached here, miscreants early today threw petrol bombs at five polling centres under Dagonbhuiyan upazila in Feni-3 constituency.Witnesses said a group of miscreants stormed Sultana Memorial Girls' High School at Jailaskar in the upazila and hurled two petrol bombs inside after breaking the glasses of a window around 1:30 am.Country's main opposition BNP and its right-wing partner Jamaat- e-Islami of the 18-party alliance called for the nonstop road-rail- waterway blockade from 6am on January 1 to resist the 10th parliamentary polls slated for January 5 and demanding the restoration of a nonparty polls-time caretaker government.Meanwhile, since declaration of the election schedule on November 25, the BNP alliance had observed countrywide road-rail-waterway blockade for 22 days in five spells —- 71-hour, 131-hour, 144-hour and 72-hour and 83-hour ones, over 110 people were killed and several thousand others injured in the blockade violence.However, the authorities concerned are maintaining strict security vigils with deployment of members of the Bangladesh Army and Border Guard the Bangladesh (BGB) as a helping forces along with other regular forces to ensure the necessary security for the people and properties centering the dispute over Sunday's JS polls throughout the country.