| | |
| --- | --- |
| | Dr. Syngman Rhee with Francesca Donner —Dr. Syngman Rhee (×Ýã¯Ø¹: 1875-1965) poses with his wife Francesca (Maria Barbara) Donner at their official residence of Donamjang in Seoul in spring of 1947, a year before he was inaugurated as the first and founding president of South Korea. Then 58-year-old Dr. Rhee first met the 33-year-old Austrian lady in Geneva in 1933. She followed the Korean independence leader to New York where they married in October of 1934. Soon they moved to Hawaii and lived there until 1945 when Korean was liberated from Japanese colonial rule. It was in 1948 that Dr. Rhee was inaugurated as the founding president of South Korea and she became inaugural first lady of the nation. |
Dr. Lee Ki-Su, the president of "Dr. Syngman Rhee Memorial Society," hosted a seminar on ¡°Peace Line¡± at Jungdong Church behind Doksoo Palace near Seoul City Hall on Jan. 17, 2014 on the occasion of the 62nd anniversary of its declaration made by then South Korean President Syngman Rhee.For the seminar two lectures on ¡°Peace Line¡± were made by two prominent personalities on 2:30 p.m. on the day. The lecturers are the former Minister Kim Joong-Wee(ÑÑñìêÕ) of the Environment Ministry and Dr. Park Shil, former secretary general of National Assembly. Kim also served as lawmaker twice.The seminar was held at times when two of the South Korea¡¯s gigantic neighbors are locked in the territorial disputes over high seas in South China Sea.On Jan. 18, 1952, Dr. Syngman Rhee, the legendary independence leader during Japan¡¯s colonial rule over Korean Peninsula (1910-45), declared South Korean sovereignty over the waters around the Korean Peninsula, today¡¯s version of exclusive economic zones, calling the zones ¡°Peace Line.¡±The maritime demarcation line by then President Rhee shocked Japan and the world over because the line included Dokdo (Ô¼Óö) islets and Tsushima Island. Japan still claims Dokdo as its territory by calling it Takeshima.The neutral name of the islets is Liancourt Rocks, named after the name of a French whaling ship which came close to being wrecked on the rocks in 1849.Dr. Syngman Rhee (×Ýã¯Ø¹: 1875-1965) was arguably one of the most prominent South Korean leaders in its struggle for independence against Japanese colonialists who ruled the Korean Peninsula from 1910 to 1945.Dr. Rhee is not only revered by a number of South Koreans for his patriotic struggles against Japanese colonial ruler but also he is derided by some for his dictatorial role as the founding president of the newly-born Republic of Korea or South Korea."Dr. Syngman Rhee Memorial Society" was formed years ago by a group of patriotic-minded South Koreans to study the South Korea's first holder of doctor's degree in politics from the United States.The group, chaired by Dr. Lee Ki-Su, former Korea University president, regularly and frequently hosts various seminars meetings to study and promote Dr. Rhee¡¯s activities and causes.
Who Is Dr. Lee Ki-Su?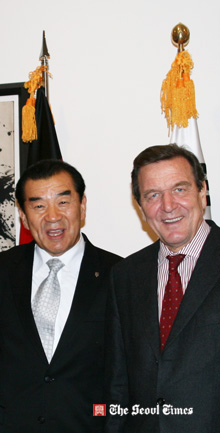 Dr. Lee Ki-Su posing with former German Chancellor Gerhard Schroeder
Dr. Lee is currently the president of "Dr. Syngman Rhee Memorial Society." Dr. Syngman Rhee (×Ýã¯Ø¹: 1875-1965) was a prominent leader of independence movement against Japan during Japanese colonial rule over Korean Peninsula (1910-1945) and was the founding president of the Republic of Korea or South Korea.The noted scholar of the Constitutional law served as president of Supreme Court's Sentencing Commission of Korea in recent years.Dr. Lee was the president of Korea University for three years until the end of February of 2011.Dr. Lee served as a visiting chair professor at the Goerge Washington University for a year.In addition to his success in the field of education, President Lee has been very active with social activities. Dr. Lee Ki-Su served as the president of a German Alumni Association in South Korea "ADeKo" since its inception in May, 2008.Dr. Lee has also served as chairman of the Association of the Korean Law Professors.Recently, Dr. Lee was elected as the 4th chairman of the Korea-Japan Law Association in its board of directors meeting.On the world stage the Constitutional scholar has been quite well-known. Dr. Lee was widely recognized for his contributions to enhancing the bilateral relations between South Korea and the countries including Germany and Russia.On Sept. 24, 2010 the German-educated scholar was conferred the highest order from the German government.On behalf of the German government then German ambassador to Seoul, Dr. Hans-Ulrich Seidt awarded Lee "Grosses Verdienstkreuz des Verdienstordens: The Commander¡¯s Cross of the Order of Merit of the Federal Republic of Germany" in a ceremony held at German envoy's residence in Seoul's Seongbuk-dong.Dr. Lee was also recognized by another European power: Russia.On Jan. 31, 2011 Dr. Lee was awarded the "Pushkin Medal," a Russian state medal named after the great Russian poet, for his contribution to the development of the bilateral ties between Moscow and Seoul.On Sept. 27, 2010, Dr. Lee was awarded the honorary doctor's degree in law from Saint-Petersburg State University for his contribution to the academic exchanges between Korea University and the Russian university.Early in 2011 Dr. Lee was appointed as professor emeritus, which stands for "long and distinguished service," of the Moscow State University by its President (Rector) Viktor Sadovnichiy at the university's anniversary ceremony.Dr. Lee Ki-Su was born in Hadong, South Gyeongsang Province in 1945. After graduating from DongAh High School in Busan, he went to Korea University (KU) where he majored in law.Upon graduation, Dr. Lee went on to pursue his graduate degree in law at Eberhard Karls Universität Tübingen (University of Tuebingen) in Germany.In 1983, he earned his doctor's degree in commercial law from the German university.Dr. Lee became a faculty member at Law Department of his alma mater in 1987. In 1998 he became the dean of the Korea University's Law College.For more info about Dr. Syngman Rhee visit http://www.syngmanrhee.or.kr