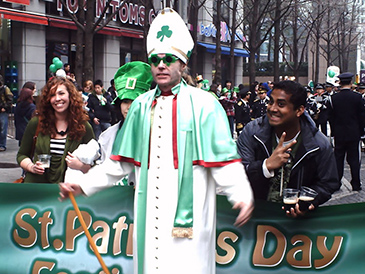 Celebration of St. Patrick's Day in Seoul
At the Embassy of Ireland we are delighted that the Minister of Children and Youth Affairs of Ireland, Frances Fitzgerald T.D. will be joining us in Korea for a St Patrick's Day programme on March 13-14, 2014.St. Patrick's Day is one of the few country national days which is recognised and celebrated globally. The visits that our Ministers make to coincide with St. Patrick's Day increase connections with Ireland and develop awareness of Ireland in countries and markets where we are less known as well as those where we have longstanding and deeply rooted friendships. There will be two events during Minister Fitzgerald's visit which we would be delighted to see interested people attend:
Wreath laying at the Irish memorial at the War Memorial of Korea
Last year we unveiled and dedicated a memorial to those of Irish birth and heritage who died in the Korean War at the War Memorial of Korea. Minister Fitzgerald will be the first Irish Minister to visit since that time and she will lay a wreath at the memorial. We would like this small ceremony to be as inclusive as possible and would welcome any of you who can attend to come to the memorial at 10: 15 a.m. on March 14 (Friday).
The ceremony will start at 10:30 a.m. and last 15-20 minutes. It will be standing only. The memorial is located in the sunken dell on the right as you enter the museum grounds from the main road, below the obelisk monument which marks the anniversary of 50 years since the war.
Speech at Ewha University 'Getting the Balance Right – Irish perspectives on policies for women in work and child wellbeing'
Minister Fitzgerald's visit comes at a time when Korea is discussing issues around increasing the female employment participation rate and how the state responds to changing family needs to support women who work and their children. Throughout her career Minister Fitzgerald has been at the forefront of the debate in Ireland on these issues and during her time as Minister she has put the needs of children at the heart of the debate. On Friday afternoon, 14 March at 14.30 she will speak on Irish perspectives on polices for women in work and child wellbeing. The talk will be followed by an opportunity for questions and answers. If you are interested in attending please contact seoulembassy@dfa.ie for details.
St. Patrick's Day Festival
After the Minister's visit St. Patrick's Day will not be over. On Saturday 15 the Irish Association have planned a fantastic day for all the family, free to attend in D-Cube Plaza in Sindorim. The Irish Association has being doing an amazing job promoting this celebration of Ireland in Korea and we are really looking forward to seeing lots of people there. If you don't already have all the details take a look at the IAK website and plan your day. We highly recommend sharing their blog on St. Patricks Day in Korea! https://www.facebook.com/irishassociationofkoreahttp://iak.co.kr/news/st-patricks-day-festival-2014/Embassy of Ireland