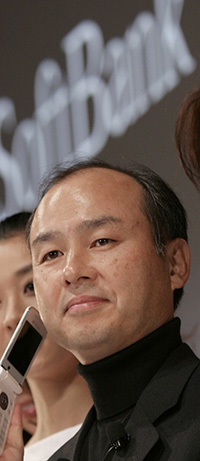 Masayoshi Son (áÝïáëù)
Sprint Chairman Masayoshi Son (áÝïáëù), the man behind Japan's leading internet venture Softbank, is Japan¡¯s wealthiest person with a net worth of 19 billion US dollars in the year 2014, Forbes announced on April 3 (Thursday), 2014.The record growth in the wealth of 56-year-old Japanese man of Korean origin was made possible on the strengths of the outstanding gains in Japanese stocks a year earlier triggered by Prime Minister Shinzo Abe¡¯s radical economic policy, the American business magazine reported.The founder and former chairman of Softbank came in third place on the list of Japan¡¯s 50 wealthiest individuals, according to Forbes. His fortune was 9.1 billion US dollars.Son¡¯s stocks saw the biggest gains in both percentage and dollar terms due to a buying spree by Softbank.After picking up stakes in Finland's Supercell and US phone distributor Brightstar, Softbank bought a 70 percent stake in US-based Sprint Nextel last year. The company's shares have surged 90 percent in the past year to trade around 8,144 yen ($78).
Who Is Masayoshi Son (áÝïáëù)?
Masayoshi Son (áÝïáëù) is a highly successful Japanese businessman of Korean origin. He is the founder and current CEO of SoftBank, the CEO of SoftBank Mobile, and the current chairman of Sprint Corporation. He is also a philanthropist.In the year 2014 he is Japan¡¯s wealthiest man with a net worth of 19 billion US dollars, according to Forbes.Often times dubbed the Japanese Bill Gates, Son was the richest man in Asia and the eighth richest man in the world in 2000.A businessman who jumped on the computer chip bandwagon early, Masayoshi Son patented and sold his first microchip while still in college for $1 million dollars.He is the founder and CEO of SoftBank Capitol and the CEO of SoftBank Mobile, which recently became Vodafone KK.Son is also the founder and current CEO of SoftBank, the CEO of SoftBank Mobile, as well as the current chairman of Sprint Corporation.He was born Son Jeong-Ui (áÝïáëù) on Aug. 11, 1957, in Tosu, Saga Prefecture, Japan into poor Korean immigrants family as the third generation Korean resident.His grandfather, Son Jong-Gyeong moved to Japan from Daegu, South Korea, and fathered Son Sam-Heon, who ran fish shop and pig farm. In Japan his grandfather worked as a coal miner.In Japan Son's family adopted the Japanese surname in daily life to avoid discrimination. But Son insisted on using his Korean family name rather than Yasumoto, the Japanese name his parents had taken.In childhood Son had to fight against poverty and discrimination as the son of Korean immigrants.Son was not considered a Japanese citizen because of his Korean ancestry. He eventually was granted citizenship after his Japanese wife Masami Ohno changed her name to Son. If one Japanese person has the last name of Son then it must be a Japanese last name.Son as a boy used to dream of becoming a school teacher, artist, or politician but he had to give up his dream due to severe discrimination against Korean immigrants in Japan. So, he decided to become a businessman, since business is the area where relatively discrimination is not so strong.At an early age Son developed his interests in business. As a boy he met with Japan McDonald's President Den Fujita, sought his advice for success. At his advice Son began studying English and computer science.At the age of 16 Son went to California and finished his high school within one year. Son obtained US citizenship and studied economics and computer science at UC-Berkeley, which in the late 1970s was abuzz with the silicon revolution.He graduated from the university with a BA in economics in 1980. Only one year after his graduation, he established SoftBank, the leading Japanese telecommunications and internet venture. He started his SoftBank Corporation at a garage with only two employees.The Tokyo-based company includes various other enterprises: Japanese broadband company SoftBank BB, data center company IDC Frontier, gaming company GungHo Online Entertainment, and the publishing company SoftBank Creative.SoftBank also holds such various partnerships in Japanese subsidiaries of foreign companies as Yahoo!, E-Trade, Ustream.tv, EF Education First, and Morningstar.SoftBank Mobile is a mobile phone operator subsidiary of the telecommunications company SoftBank whereas Sprint Corporation is a US telecommunications holding company.As Japan¡¯s richest man, Son is also known as an avid philanthropist. In 2011 Son pledged to donate 10 billion yen or 120 million US dollars and his remaining salary until retirement to help support victims of Japan's earthquake disaster.While he was student at UC-Berkeley, Son married Masami Ohno, a student of the university. A daughter of a prominent Japanese doctor Ohno was two years older than Son. They have two daughters.