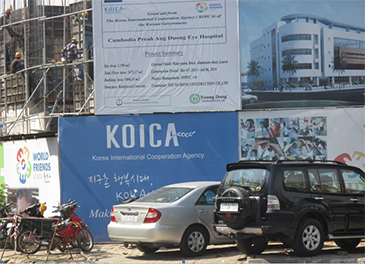 When think about Cambodia, the magnificent ancient Angkor Wat (early 12th Century temple) UNESCO world heritage in Siem Reap immediately comes to our mind. Cambodia is a very interesting country, a mixture of Khmer hospitality, Asian exotica, and Indochinese charm. Recently, I had an opportunity to visit Cambodia where I took an educational and history tour.Cambodia is situated in Southeast Asia, shares borders with Vietnam, Laos and Thailand. Land area: 181 035 sq. km Population: 15 million (about 78.4% lives in rural areas). Cambodia was under the French rule from 1863-1953, briefly occupied by Japanese during from 1941 to 1945, flourished in the late 1950 through the 60s, was besieged by the Khmer Rouge in the mid and late 70s, and again revitalized in the 90s and now undergoing rapid change and development. An adventure destination in the 1990s, the country is now a center of diverse economic activities, including tourism. The post-war era in Cambodia has seen some significant changes in the institutional environment. Another characteristic of the post-war era has been the arrival of international donor aid, including both bilateral aid projects and aid from the multilateral institutions from the World Bank, and many international organizations. Cambodia's economy is projected to grow only seven percent in 2014, slightly down from 2013 (7.2 percent). According to a new report from the Asian Development Bank (ADB), the prospect for economic growth in Cambodia looks brighter for 2015.Cambodia is a post-conflict country with many development needs, weak infrastructure, limited finances, and an agriculture-based economy that depends on the weather. Royal Government of Cambodia set a "road map" or guide for strengthening infrastructure such as
* Agricultural sector (sustainable agriculture & forestry management),
* Higher education sector (strengthening the quality of education, focusing on improving the quality of professors, establishment of schools teaching subjects such as science and engineering),
* Institutional and organizational capacity development,
* Investment in strengthening human resources and skills - and competitiveness,
* Efficient transport & logistics,
* Recycling & waste management,
* Healthcare, education and gender equality.
Significant business potentials and scope for participation in the development of these sectors exist.
The Korea International Cooperation Agency (KOICA), the Korean government's overseas aid agency was established on 1st April 1991 to help the least developed countries to carry out projects for social development and strengthening administrative capacities. KOICA Cambodia Office was opened in 2003. KOICA is contributing to the economic and social development of Cambodia. To achieve inclusive development, KOICA is also extending assistance in rural areas, and helping to the enhancement of healthcare services and human resources development in the education sector. KOICA is also helping strengthen the nation's economic foundation and enhance governance as the backbone for social development. The project aid programs to Cambodia support the construction of schools, hospitals, roads, and other indispensable facilities. Since its establishment until February 2012, KOICA has provided 38 projects in Cambodia. Some of its flagship projects are as follows:
• Establishment of Cambodia's Information and Communication Technology(ICT)
Master Plan
• The Project for the Establishment of Master Plan to Install Coordination Agency Specializing in Agriculture Investment Promotion
• Project for Cambodia's National Science and Technology (S&T) Master Plan (2014- 2020)
• Project for Road Safety Equipment & Materials and Safety Measures for NR No. 3 and NR No. 48
• Project for the Master Plan for Railway Network Development in Cambodia
• Project for the Establishment of Preah Angduong Eye Hospital in Phnom Penh, Cambodia
• Project for Strengthening Capacity of Batheay Referral Hospital
• The production of the National Base Map and the Establishment of the Master Plan for the National Spatial Data Infrastructure in Cambodia
• Strengthening CLMV Capacity for Establishing ASEAN Cyber University
• Integrated Rural Development Project, Krouch Chhmar District, Kampong Cham Province
• The Project of Strengthening of the Siem Reap Provincial Hospital Services in Cambodia
• Feasibility study on the Construction of a Sanitation Waste Landfill in Siem Reap
• The project for the Construction of a Human Resource Development Center in Cambodia
• Integrated Rural Development Project in Kroch Chhmar District, Kampong Cham Province
• The extension of Siem Reap Bypass Road (Korean Ring Road), Phase 2
• Project for Irrigation Construction in Batheay Region (Phase II)
• The JICA/KOICA Joint Program for the Rehabilitation of Irrigation System and Rural Community Development in the Kingdom of Cambodia
• Project for the Establishment of a Solar Hybrid Power (Micro-Air Turbine) System in the Kingdom of Cambodia.
The writer, Prof. Ramchandra Pode of Kyung Hee University's Department of Physics, contributed this above article to The Seoul Times. She can be reached at rbpode@khu.ac.kr