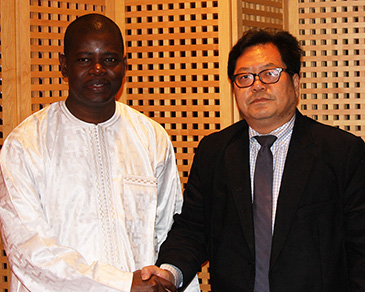 Senegalese Ambassador Mamadou Ndiaye (left) shakes hands with Managing Editor Joseph Joh of The Seoul Times at the reception held in Seoul on April 4, 2014 on the occasion of its national day.
Senegalese Ambassador to South Korea Mamadou Ndiaye hosted a dinner reception at Millennium Hilton Hotel in Seoul on April 4 (Friday), 2014 on the occasion of its Independence Day.Senegalese Independence Day, which falls on April 4, celebrates the day Senegal was granted its independence from France in 1960.A number of both international and local guests were invited to the reception. They included scores of foreign ambassadors serving in Seoul, local politicians and businesspeople.Senegal established the diplomatic relationships in October of 1962, and opened diplomatic missions in each other's capital in May of 1973.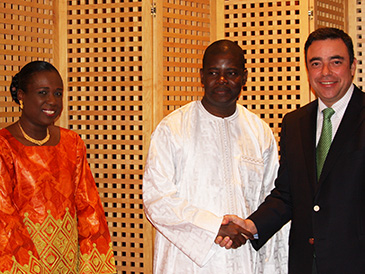 Senegalese Ambassador Mamadou Ndiaye (center) greets his geusts at the reception held in Seoul on April 4, 2014 on the occasion of its national day.
Senegal opened the diplomatic ties with North Korea in September of 1972.In 1982 then-South Korean President Chun Doo-Hwan visited Senegal. Two years later Senegal Abdou Diouf visited South Korea, boosting the bilateral ties closer in many ways.In the past years South Korean invited Senegal agricultural trainees, providing the African nation with grants on many occasions. South Korea offered technological and economic assistance to Senegal.Some 300 South Koreans are staying in Senegal.As of 1991 Senegal exports to South Korea reached 1.57 million US dollars. Senegal imported 7.76 million US dollars' worth of mainly fiber products and cement.In 2011 Senegal's imports jumped to 62.73 million US dollars. Its exports also increased to 20.98 US dollars. Its main export items include fish and manufactured fish and meat. Senegal imports from South Korea such products as vehicle, plastics, machinery, electronic goods, synthetic fiber, rubber, and chemical products.South Korea's major companies including Samsung, LG, Hyundai, and Daewoo are operating their business in the African country.
For details or inquiries call the Senegal Embassy in Seoul at 745-5554.