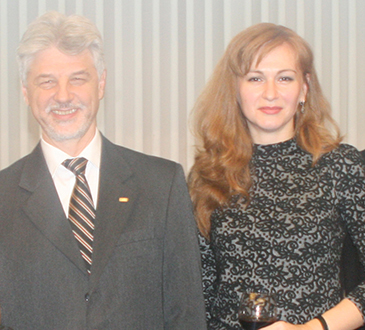 Prof. Oana Cogeanu (right) poses with Romanian Ambassador to Seoul Calin Fabian at the National Day ceremony held at Capital Hotel in Seoul's Itaewon area on Dec. 3, 2013.
"Korea is gaining popularity with Romanians, but I feel Romania is still little known to Koreans," said a Romanian professor in a recent interview with The Seoul Times.Prof. Oana Cogeanu of the Romanian Studies Department of Hankuk University of Foreign Studies (HUFS) said that Romania needs to be introduced more to the local Koreans.She added that HUFS's Romanian Studies Department is "actually the largest foreign department of Romanian abroad."The following is the full text of her interview story.
Q1: To begin with, we would like to thank you very much for this interview opportunity. Could you tell us about your department and your students? What is your role in the Romanian language department? How do you like teaching your students?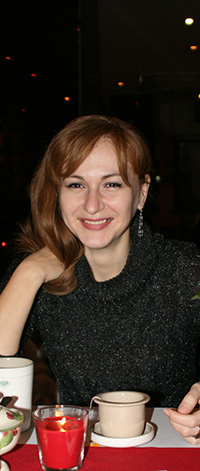 Prof. Oana Cogeanu of the Romanian Studies Department of Hankuk University of Foreign Studies (HUFS)
A1:
Thank you very much! I teach at the Romanian Studies Department of Hankuk University of Foreign Studies. This institution is amazing; I don't know of any other university that brings together professors from all over the world to teach foreign languages, economy, politics and culture to its students. My department is actually the largest foreign department of Romanian abroad. It was very surprising to meet professors here who speak my language perfectly and are specialists in Romanian studies, but the students were even more of a surprise! They are interested in everything about Romania, they learn the language, but they also study about Romanian literature, culture, civilisation, politics and economy, Europe and the European Union... Their enthusiasm is what motivates me to teach and by teaching them I learn more about Romania myself.
Q2: As far as you know, what areas do the graduates from our department advance when they graduate? How many of your students go or want to go to your country for advanced degree?
A2:
Many of my students have already been in Romania and those who haven't are looking forward to. Students from the Romanian Studies Department usually spend a semester or a year in Romania and after graduation they have the possibility to enroll there for a master degree or a doctorate. The department has student mobility arrangements with several universities and scholarships are available from the Romanian government. The students who visited Romania say they truly enjoyed their time there; one former student told me that, aside from the food, the cafes, the courses and the landscapes, what she remembers most fondly is an elderly lady in her apartment building who would invite her over for great home-made food every single day. Indeed, people are usually friendly and welcoming and this makes it easy for our graduates to study and do business in Romania.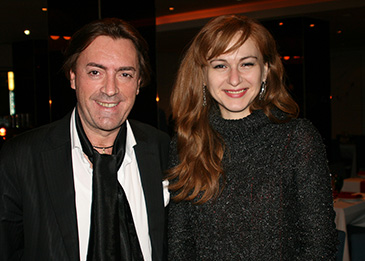 Prof. Oana Cogeanu (right) poses with Mr. Antonio Patella, Italian pianist and CEO of casAntonio at his Italian restaurant in Seoul.
Q3: On what occasion you came to Seoul and started teaching at your university? What, do you suppose, are the strengths and weaknesses of Korean culture? Have you committed any cultural faux pas in Korean or in any other foreign countries?
A3:
An email brought me here. It was an elegant invitation addressed to my home university by Professor Kim Jeong-Hwan, the head of the Romanian Studies Department here, offering a one-year appointment, on a competitive basis, to a Romanian academic. I knew little about Korea at that time, except that I was driving a Korean car, using a Korean telephone and watching Korean drama... so I applied! After months in Korea, I don't think it is for me to assess the strong or weak points of Korean culture, but I can appreciate its beauty and its strength. I think Korea will grow even more as long as it builds its future on its traditions and balances societal solidarity with individual creativity.
Q4: How different is the Korean culture from your own Romanian culture? Can you compare the culture of two countries? Or, how similar are the two cultures? What do you think of Korean people? Is there any similarity in the two peoples or in two cultures?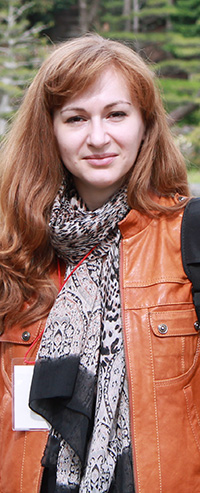 Prof. Oana Cogeanu of the Romanian Studies Department of Hankuk University of Foreign Studies (HUFS)
A4:
I've traveled through Europe and taught in countries ranging from Bulgaria to the UK, but this is my first time in Asia. In Korea I expected more radical differences than I found. This might be due to globalization, but I think it's also due to what Romanians and Koreans have in common, that is, our history and values. We have long, eventful histories and we treasure our traditions. We value family, friendship and love, that is, authentic human relations. We aim for professional recognition and social and financial success. As for differences, in Romania women are more likely to continue their career after marriage; in Korea, collective interest takes precedence and I think that is a key to a country's success.
Q5: How many Romanians are there in South Korea? What are they doing? What needs to be done to introduce to Korea more of your culture?
A5:
There are very few Romanians in Korea! It's mostly exchange students, teachers and other professionals working in IT or engineering. Korea is gaining popularity with Romanians, but I feel Romania is still little known to Koreans. This is where the Romanian Studies Department plays a part, through its professors and students: we introduce Romania to Koreans through translations, events such as language contests, books for the general public and academic articles, TV documentaries. As Romania is a developing country and an EU member only since 2007, large investors on both sides might still be reluctant; but culturally, there is so much the two countries can exchange: we both have award-winning films, globally successful music, internationally-acclaimed art. Romania is a land full of creative opportunities.
Q6: If possible, will you introduce your academic career? Did you have any professions before you became university professor? Or did you do your own business? We would like to know about your professional career?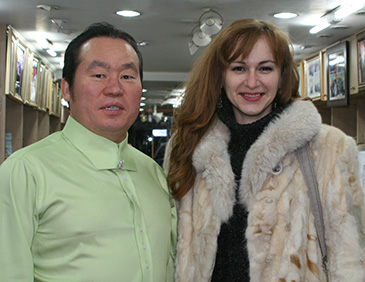 Prof. Oana Cogeanu (right) poses Chairman Lee Duk-No of Hilton Lee Corp. at his shop in Seoul's Itaewon area.
A6:
I have a BA in English and Romanian studies, an MA in Cultural Studies and a PhD with a dissertation on travel literature. I began teaching when I was still a master student and I became a tenured assistant professor in 2007, at Alexandru Ioan Cuza University of Iasi. While a student, I started a translations agency called AVOB Srl, which is presently a first-ranked contractor providing translations to the European Commission. It is a lot of work sometimes, but teaching, research and business complement each other.
Q7: Could you tell us about your future plan? Do you want to continue your professorial work and where in that case?
A7:
Of course I will continue my activities as long as they offer professional and personal satisfaction. I enjoy teaching and doing research, at home or abroad, I take pride in my translation business and I like to travel, so my future plan is simply to preserve my mobility and enjoy the opportunities life can offer – such as the email that brought me here.
Q8: Would you tell us about your family, both parents? What do you family members do for a living? Will you introduce your childhood experience?
A8:
I am an only child and my parents are both retired. In Iasi we live in a house with a garden where my father grows the best tomatoes. These days we are sharing impressions about blooming cherry trees: I have sent pictures of the cherry season in Osaka, Japan, where I attended a conference, and they tell me how the cherry trees in our yard are progressing. I'm looking forward to the tulips!
Q9: People go through ups and downs in their life time. What was the happiest moment of your life? What was your occasion in which you felt very sad?
A9:
I always feel very sad upon arrival and departure; that's probably because I think of what I leave behind. However, between those points, the journey makes me happy and gives me a sense a fulfillment – so now I am happy on my Korean journey.
Q10: We are sure that our readers are curious about your personal life. How do you maintain your health? Do you do any physical exercise? What are your hobbies? Do you like traveling?
A10:
Traveling is my study and my passion. I particularly like wandering around a foreign city without a specific destination, sometimes to discover amazing places; that is how I came about the Jogyesa Temple, for instance. I try to go to the gym regularly. I love food, especially barbecues, whether Korean or Romanian, and I generally aim for balance and hope for the good.