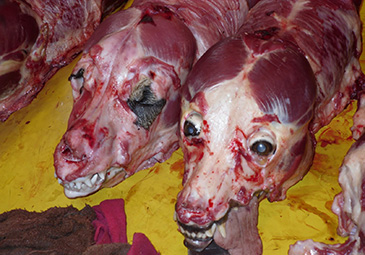 "Dog Meat Festival," planned to be held at Moran Market on July 1, 2011, was cancelled under the increasing pressure of animal rights activists in South Korea.
Dear President Park Geun-hye,
Dear Mrs. Dear Sirs,
Mayor Jae-Myung Lee
To whom it concerns:Whilst consumption of dog and cat meat is acceptable to some South Korean citizens because of their superstition being a "cultural medicinal food," the torture and obscene animal abuse seen on such a grand scale at the horrendous Traditional Moran Meat Market is totally unacceptable in today's modern world.Since the beginning of 2000, people have watched in horror and shock the heinous acts of animal abuse, canine and feline torture to increase taste of meat, have witnessed smugglers delivering many cages of dogs to the Moran Meat Market traders and even seen the appalling state in which dogs and cats at the Moran Meat Market are kept.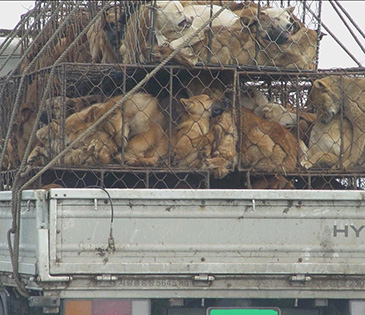 A total of 1.4 million dogs are butchered for meat or soup yearly in South Korea, the largest consumer of man's best friends.
Confined to rusty, metal cages, seven to sixty dogs kept in filthy, crowded death cages, the pain these animals are going through can be seen vividly. Their fragile bodies shaking, cold and riddled with disease.I am fully aware of the fact that there are no real laws applied against animal abuse or any welfare laws within South Korea.However, we have to act now Mayor Jae-Myung Lee, sooner rather than later, to combat the risk of viruses spreading into the public domain from the consumption of both cat and dog meat and cease the animal cruelty, bringing South Korea in line with other countries that do have professional humane animal welfare laws!Viruses are mutating and building more powerful resistance to the humans immune systems' antibodies.Severe Acute Respiratory Syndrome and the highly contagious H1N1 virus are becoming more viral, mutations from these two killer viruses will soon emerge, placing human and animal life in danger even more.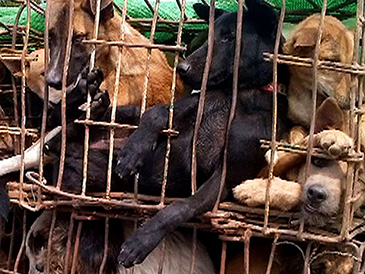 Intestines of the dogs butchered become food for the waiting dogs in cages at Moran Market in Seongnam City east of Seoul.
Are we prepared to take this risk, continuing a trade that is not only torturously cruel and barbaric but a public health hazard to locals and international citizens as well?There is no trade control, Mayor Jae-Myung, of dog and cat meat in South Korea.Food hygiene laws are violated everyday placing yet again the public at increasing risk of pathogenic food bacteria being passed on from spoiled and/or diseased dog and cat meat.Dog and cat meat is no different to that of lamb, beef, pork, duck, or chicken.Market stalls on Moran Meat Market display butchered dog and cat meat products in wholly inadequate and unhygienic environments, which places the purchasing consumer and their immediate families and friends at risk of food borne bacterial disease.Salmonella and Campylobacter better known as the barbecue bug kills many people every year worldwide and is responsible for headaches, dizziness and fever followed by severe stomach pains and diarrhea, which may be bloody. Although vomiting is rare, occasionally pains are so severe that sufferers are misdiagnosed as having appendicitis.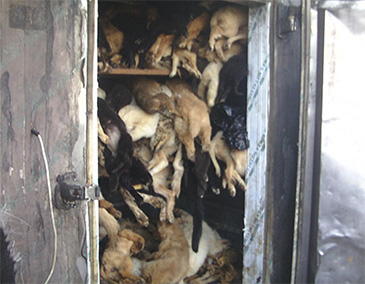 In the middle of "Dog Days," hot summer days, Koreans used to eat dog meat to invigorate their emaciated body. The old habit of dog meat eating has been increasingly opposed by the lovers of pet dog, which numbers around 10 million in South Korea.
Children and the elderly that suffer from Immunosuppression are more at risk from contracting such food pathogens from consuming diseased and infested dog and cat meat. Both Salmonella and Campylobacter as well as Noroviruses (NoV) that derived from the highly contagious Norwalk virus can be transmitted to humans too, from unsanitary food and slaughter preparation areas and contaminated food and water. Noroviruses (NoV) affects some 260 million people a year and is responsible for the deaths of some 200,000 people a year.E coli, and Listeria are two of the most common food pathogens associated with food poisonings that can occur from preparing dog and cat meat in unsanitary conditions thus spreading onto humans leading to a range of unwanted gastrointestinal symptoms. Some of these symptoms and secondary disorders can range from projectile vomiting and kidney and liver disease.In rare cases death can occur, even in those that have strong immune systems. The most worrying aspect of the dog and cat meat trade is the pathogen E coli 0157 that produces a powerful poison called verocytotoxin which can cause kidney failure and death.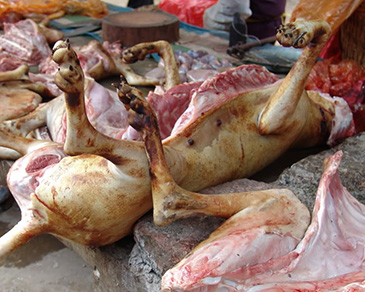 Situated in Seonnam City just east of Seoul Moran Market is notorious for butchering dogs and selling dog meat.
E coli 0157 is usually passed on from raw and undercooked meats, or cooked meats that have been left at ambient room temperature above 5 degrees Celsius, from which in one hour over one million bacteria can multiply. Just think in five hours how many bacteria can multiply just on one cooked or undercooked dog or cat carcass.We, Say No To Dog Meat.Net and its supporters are petitioning the South Korean government President Geun-Hye Park, asking to take dog and cat meat of the menu. Since the beginning of November 2013 our petition has gathered worldwide support and media attention, attracting some 21,200 signatures out of the 100,000 we are calling for. The petition is amassing some 1,100 signatures a day and we will not stop lobbying until change is seen.Mayor Jae-Myung, we as a collective organisation and concerned citizens, politely ask you to lobby President Geun-Hye Park to take dog and cat meat off the menu, thus wiping out this heinous animal torture culture and protect South Koreas citizens and international tourists from food virus's and biological virus mutations, which are increasing and worrying many scientists from around the world.We do not expect a reply, however we will continue to lobby, email, call in media and press and will be taking the final petition to all South Korean Mayors, President Geun-Hye Park and her Deputy.We say no to torturous dog and cat meat. Do you?https://www.youtube.com/watch?v=nDLC_f-uArMhttps://www.youtube.com/watch?v=aiWE4brZWe0http://youtu.be/3uR8R8Mu70Qhttps://www.youtube.com/watch?v=ynq4M2LZ0sY https://www.youtube.com/watch?v=3uR8R8Mu70Q&feature=youtu.behttps://www.youtube.com/watch?v=2zXXXlWMdCEAre you only conscious of the fact that these animals if close men undergo ? ! No living being, none! deserve a death so atrocious !Respectful greetings : Pierrette Ducreux
Paris
France
pierrette.ducreux@gmail.com