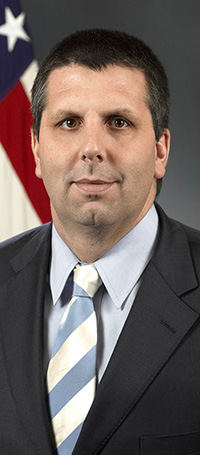 US Ambassador-Designate Mark William Lippert
The White House announced on May 2, 2014 that US President Barrack Obama designated his confidant, 41-year-old Mark William Lippert, to the post of US Ambassador to South Korea.If confirmed at the US Senate the Stanford-educated Lippert will succeed Mr. Sung Kim, the first Korean-American US envoy, as the new US ambassador to South Korea.Lippert has long been considered as the closest aide and the longest-serving senior foreign policy advisor for Obama. Their relations go back to Obama's Senate years.Obama's appointment of his confidant as the new US ambassador to South Korea reflects the increasing importance of Obama's "Pivot to Asia" policy.Experts interpret that Obama wants to use Lippert not only as its ambassador to Seoul but also as its "ambassador to Northeast Asia."Washington pundits say that Obama's long-time foreign policy advisor is on a constant phone relationship with the US president. Lippert is viewed as an expert on Asia.In a seminar held on April 30, 2014, Lippert stressed the importance of cooperation among US, South Korea, and Japan to respond to the provocation and threat of North Korea.Lippert was also Obama's point man for Defense Trilateral Talks (DTT) recently held in The Hague between the U.S., South Korea, and Japan.It is predicted that Lippert will play an active role as "US ambassador to Northeast region" and to bolster the trilateral ties between US, Japan, and South Korea.When Lippert was nominated by Obama to become the Pentagon's top Asia official, his appointment was delayed for several months by Sen. John McCain (R-AZ) due to Lippert's internal feud with Gen. Jim Jones. Lippert and then-senior Jones were both working at the National Security Council (NSC).A Washington diplomatic source said that Lippert's appointment will take time before it gets cleared at the US Senate hearings because of the mid-term elections slated for November. Forty other ambassadorial appointments are going through the Senate confirmation.
Who Is Mark William Lippert?
Mark W. Lippert, the assistant secretary of defense for Asian and Pacific Security Affairs (APSA), a top Asia post, was recently designated by US President Barack Obama as the next US ambassador to South Korea, it was announced on April 30, 2014.US Ambassador-Designate Lippert, a Stanford-educated Asia expert, has been with Obama as his close aide and confidant since 2005 when he was appointed by Obama as his foreign policy advisor.But he started his career in the foreign service area at the age of 27. He worked at Senate's foreign relations sub-committee.He is the principal advisor to the Under Secretary of Defense for Policy and the Secretary of Defense on international security strategy and policy related to the nations and international organizations of Asia and the Pacific, their governments and defense establishments, and for oversight of security cooperation programs, including foreign military sales, in the region.Prior to being confirmed in April 2012, he completed a two-year mobilization to active duty in the United States Navy. During that time, which included a deployment to Afghanistan, he served as an intelligence officer for Naval Special Operations Forces. Mr. Lippert served as Deputy Assistant to the President and Chief of Staff for the National Security Council in 2009. In 2008, he was Deputy Director for Foreign Policy on the Obama-Biden Transition Team and Senior Foreign Policy Adviser on the Obama for America campaign.From 2007 to 2008, Mr. Lippert served as an intelligence officer with Naval Special Operations Forces in Iraq. Previously, he worked as foreign policy adviser for then-Sen. Obama from 2005 to 2008, where he managed the senator's work on the Senate Foreign Relations Committee.From 2000 to 2005, he was a professional staff member on the Senate Appropriations Committee, State-Foreign Operations Subcommittee, advising Sen. Patrick Leahy on a range of foreign aid and security assistance issues.From 1999 to 2000 he was a foreign and defense policy adviser to Senator Tom Daschle and the Senate Democratic Policy Committee. Mr. Lippert's military awards and decorations include the Bronze Star Medal for his service in Iraq.He graduated Phi Beta Kappa from Stanford University with a B.A. in Political Science and holds an M.A. in International Policy Studies from the same institution. He also studied Mandarin Chinese at Beijing University.