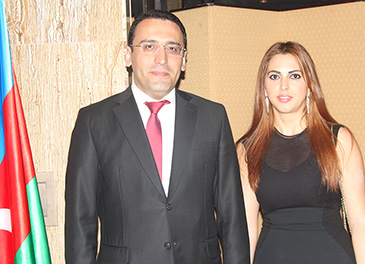 Charge d'affairs Ramzi Teymurov of Embassy of Azerbaijan poses with his spouse Mrs. Teymurov at the reception held at Millennium Hilton Hotel in Seoul on May 27 (Tuesday), 2014 on the occasion of its 96th anniversary of its national day "Republic Day."
Mr. Ramzi Teymurov, charge d'affairs of Embassy of Azerbaijan in Seoul, hosted a reception at Millennium Hilton Hotel in Seoul on May 27 (Tuesday), 2014 on the occasion of its 96th anniversary of its national day "Republic Day."On this day in 1918 Azerbaijan became the first democratic and secular republic in the Muslim world with the proclamation of Azerbaijan Democratic Republic (ADR).The dinner reception attracted hundreds both local and international guests including scores of top foreign envoys serving in Seoul.Another official reception for celebrating "Republic Day" was also held in Baku, the capital and largest city of Azerbaijan, according to APA report.Azerbaijan President Ilham Aliyev and his spouse Mehriban Aliyeva hosted the reception at the Buta Palace in Baku on the occasion of Azerbaijan's national holiday.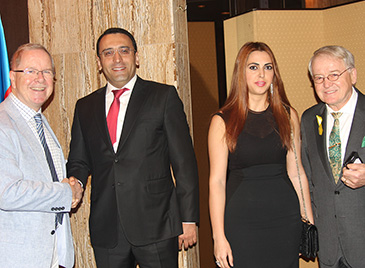 Charge d'affairs Ramzi Teymurov of Embassy of Azerbaijan (2nd from left) shakes hands with President Alan Timblick of The Seoul Times. At right is Mr. Bernhard Brender, general manager of the Grand Hilton Seoul.
Earlier on May 22, 2014 US President Barack Obama sent a letter of congratulation to his Azerbaijani counterpart Ilham Aliyev in advance on its "Republic Day."The oil-rich Central Asian republic maintains its diplomatic relations with both South and North Korea.It established diplomatic ties with South Korea on March 23, 1992 one year after it gained independence from the former Soviet Union. A little earlier on Jan. 30, 1992 it opened official relations with North Korea.Since the diplomatic establishment Azerbaijan's relations with South Korea have been developing steadily. A series of agreement were signed in 2006.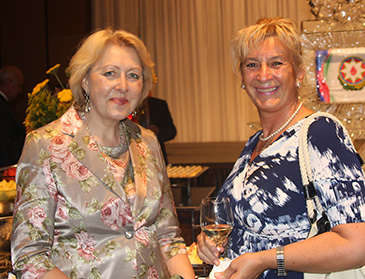 Mrs. Yulia Vnukova (left), spouse of Russian Ambassador to Seoul Konstantin Vnukov, poses with Mrs. Bozena Giacchini, president of Korean-Polish Chamber of Commerece & Industry.
In 2006 an agreement on cultural exchange and an agreement on cooperation in aviation area were inked between the two governments. And in 2007 an investment guarantee agreement was also signed.Behind the development in the bilateral relations is KOICA (Korea International Cooperation Agency), which offers a variety of assistance to the Central Asian nation.KOICA opened its local office in Azerbaijan on Feb. 16, 2009 in its effort for helping Azerbaijan's socio-economic development in the effective sustainable way. KOICA's seven development projects in Azerbaijan include land development, development of water resources, foreign direct investment, and establishment of special economic zone.It also invited some 40 Azerbaijani government officials to South Korea for short-term training in the field of construction, railroads, tax, electronic transaction, energy, and economic development strategy.KOICA's free monetary donation to Azerbaijan amounts to 4 million US dollars in 2013 alone.But, it was in 2006 when South Korea's then-President Roh Moo-Hyun made an official visit to Azerbaijan that the bilateral ties began to develop substantively and substantially."Day of South Korea" was declared in its capital Baku and department of Korean language was established at Baku State University in recent years.Azerbaijani President Ilham Aliyev shows keen interest in the IT technology of South Korea, according to the local Azerbajani media.Hugely popular in the nation are such South Korean products as Samsung's cellular phones, LG's electronic goods, and Hyudai's cars.Currently, some 150 South Koreans are residing in the oil-rich country.
What Is Republic of Azerbaijan?
Azerbaijan, officially the Republic of Azerbaijan, is the largest country in the Caucasus region located at the crossroads of Western Asia and Eastern Europe.Surrounded by the oil-rich Caspian Sea to the east, Azerbaijan is bounded by Russia to the north, Georgia to the northwest, Armenia to the west and Iran to the south.Azerbaijan's cosmopolitan capital Baku is a dynamic boomtown with flashy limousines on the street and with mushrooming skyscrapers. Azerbaijan is the 12the largest oil producing nation in the world.With rich and abundant ancient and historic cultural heritage Azerbaijan is the first Muslim-majority country to have operas, theater and plays.Although people of Azerbaijan are predominantly Azerbaijan this multi-ethnic nation has many races including Lezgins, Armenians, Russians, Turks, Tatars, and Ukrainians. Out of its population of nearly 9.5 million over 62 percent are Azerbaijani.The Azerbaijan Democratic Republic was established in 1918, but was incorporated into the Soviet Union in 1920. Azerbaijan regained independence in 1991.Azerbaijan has diplomatic relations with 158 countries and holds membership in 38 international organizations. Its diplomatic relations with South Korea were established on March 23, 1992. Earlier on Jan. 30, 1992 it formed the diplomatic ties with North Korea.Azerbaijan is one of the founding members of the Commonwealth of Independent States (CIS) and a member of the United Nations since 1992.
For details or inquiries call the Embassy of Republic of Azerbaijan in Seoul at 797-1765.