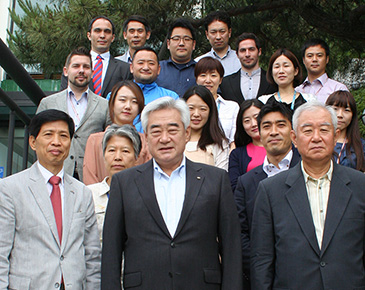 WTF President Chungwon Choue (center) poses with WTF Deputy Sec. Gen. Kang Seok-Jae, and with others.
The World Taekwondo Federation (WTF) has announced that a total of 121 athletes from a record 40 countries across all the five IPC regions have registered to compete in the 5th WTF World Para-Taekwondo Championships in Moscow, Russia, as the sport gathers further momentum in its bid for inclusion on the 2020 Paralympic programme.The record attendance at the Championships, which are scheduled for 21-22 June, 2014, reflects a steady rise in participation over the last five years following a number of innovative measures introduced by the WTF to encourage more of its 206 member nations to engage in the sport.This year's Championships will showcase the success of these reforms and highlight the global accessibility of para-taekwondo with many participating athletes coming from countries that are traditionally underrepresented at the Paralympic Games such as Lesotho, Niger, Uzbekistan and Kazakhstan. Speaking following the announcement, WTF President Chungwon Choue said:
"This is a very proud moment for the WTF. With athletes from all five of the IPC regions set to travel to Moscow, it is clear that para-taekwondo is a truly global sport. Working in close collaboration with the IPC,we have made excellent progress, but we know that there is still a lot of room for further development and we remain committed to making the sport as fair and accessible as possible."If we are granted the honour of being included on the Tokyo 2020 Paralympic programme it would act as a catalyst for a dramatic rise in participation and provide a platform to promote the shared values of the IPC and the WTF."WTF Secretary General Jean-Marie Ayer, added:
"This month's Championships are set to be the most exciting and competitive we have ever seen. There will be a real depth of field with over 120 male and female athletes, across three weight categories, competing in four classification classes during two days of intense competition."We have introduced new competition rules and scoring systems which will be implemented in Moscow to make the matches more dynamic and exciting for fans whilst continuing to ensure athletes' safety. We believe that if we have the privilege of being included on the Paralympic programme we will bring something special and distinctive to the Paralympic Games."
The following is the message of WTF President Chungwon Choue on the occasion of the 10th anniversary of his presidency.
WTF President Chungwon Choue's Message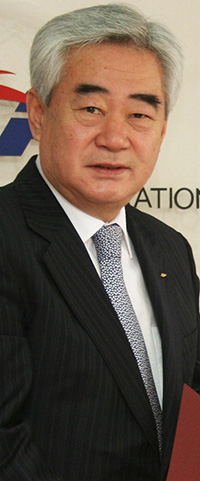 WTF President Chungwon Choue
Dearest global taekwondo family,
It is my great pleasure to announce that June 11 marks the 10th anniversary of my election as President of the World Taekwondo Federation.
I cannot believe that 10 years have already passed.
Over the past decade, together we achieved many accomplishments. Today, taekwondo is considered the martial art that has most successfully transformed itself into a modern sport known for dynamic, viewer-friendly, and transparent competitions.
Taekwondo has secured its firm position in the Olympic program through the year 2020. Taekwondo is included in almost all multi-sport games. Taekwondo has reached out to more people than ever thanks to our introduction of the World Poomsae Taekwondo Championships and World Para-Taekwondo Championships.
All of this has been possible thanks to your vigorous support and dedication.
One of the greatest assets of taekwondo has been its universality. That is the same philosophy that the IOC aspires to through the Olympic Movement.
In recent years, we have focused on effecting positive changes for taekwondo, to become a more globalized sport. At the same time, we have also focused on retaining our status as a core Olympic sport.
Now, I would like to pay more attention to our contributions. I would like the WTF to become a role model for other international federations. The initiation of the WTF's Sport Peace Corps is one of the ways we're doing this.
The WTF is also doing its best to place taekwondo on the official program of the 2020 Tokyo Paralympic Games.
Achieving "A Better World Through Taekwondo" will be one of our top goals for the next 10 years. We must again work hard, together, to fulfill this mission.
I would like to thank each of you for your continued support. I would like to thank you for your friendship. And I would like to thank you for being a member of the global taekwondo family. Thank you.