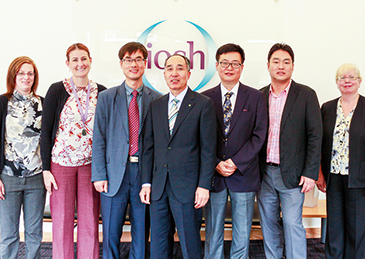 Pictured (left to right): Joanne Carter, Information Services Officer at IOSH, Jane White, Research and Information Services Manager at IOSH, KOSHA representatives Kim Hyung Seok, Koo Kwon Ho, Kim Dong Chan and Lee Dong Hun, and Jill Joyce, Senior Policy and Research Advisor at IOSH
The UK's leading professional body in health and safety has shared its expertise with occupational health professionals from South Korea.Members of the Korea Occupational Safety and Health Agency (KOSHA) paid a visit to the Institution of Occupational Safety and Health's (IOSH) offices in Wigston, Leicestershire, hoping to learn new ideas to take back to the Far East.The visiting professionals learned the highlights of IOSH's business strategy, gained advice on what they can do to cater for vulnerable workers and an aging workforce, and gathered tips on reducing accidents in the workplace.The visit, which took place on Thursday 3 July, emphasised IOSH's position as a globally renowned leader in health and safety.Gisela Derrick, international officer at IOSH, said: "This kind of visit showcases the position IOSH has as a world leading health and safety body."We are happy to host organisations from across the glove to share knowledge and discuss the research we have been working on, and it is encouraging to see that they were keen to take a few ideas home."It was also a good opportunity for us to learn about the issues that safety and health professionals have to deal with in East Asia, as well as new initiatives implemented by KOSHA."Jane White, research and information services manager at IOSH, was also part of the team that addressed the delegation.She said: "They recognise IOSH as the leading body in health and safety. I hope they take away information that they might want to try out in the workplace to improve their health and safety record."Among the visiting group were senior figures in KOSHA's Management and Planning Department and its International Cooperation Centre.Kim Dong Chan, senior manager of KOSHA's International Cooperation Centre, said: "We want to learn from the experience of IOSH.
"It's a very important thing that we increase the safety culture in South Korea. We try to disseminate it nationwide but it is not law."Representatives from KOSHA have visited IOSH on a number of occasions since 2002, last visiting in 2012 to learn more about health and safety in the construction sector.The latest visit comes ahead of KOSHA's hosting of the 31st International Congress on Occupational Health, which is set to be held in Seoul between 31 May and June 5 2015.
IOSH is the Chartered body for health and safety professionals. With more than 44,000 members in 120 countries, we're the world's biggest professional health and safety organisation. We set standards, and support, develop and connect our members with resources, guidance, events and training. We're the voice of the profession, and campaign on issues that affect millions of working people. IOSH was founded in 1945 and is a registered charity with international NGO status.
Media enquiries
Tim Walsh, Media Manager, +44 (0)116 257 3252 or +44 (0)797 660 4715
Bryan Henesey, Media Officer, +44 (0)116 257 3141 or +44 (0)798 000 4494
Tim Barnes-Clay, Media Officer, +44 (0)116 257 3139 or +44 (0)798 000 4474.