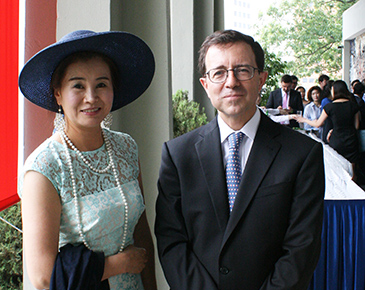 French Ambassador to S. Korea Jérôme Pasquier (right) poses with Director Min Jee-Young of Ari Arts Company.
French Ambassador to South Korea Jérôme Pasquier hosted a reception at the French Embassy in Seoul on July 14, 2014 on the occasion of "Bastille Day," the French National Day.Hundreds of both international and local Korean guests including scores of top foreign envoys serving in Seoul were invited to the celebration of the France's biggest national day.Called "La Fête Nationale" in French "Bastille Day" commemorates July 14 of 1789 when crowds stormed the Bastille, a fortress used as a prison in Paris. The event marks the beginning of the French Revolution.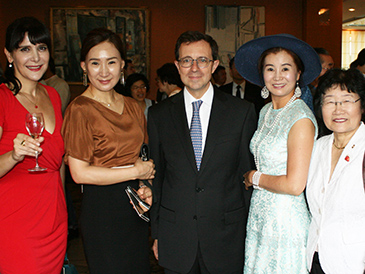 French Ambassador to S. Korea Jérôme Pasquier (center) poses with guests. At left is Ms. Ida Daussy of France, who is a very popular TV celebrity in South Korea and to her right is Ms. Park Yun-Ju of Rang Cosmetics Co.
"Bastille Day" was celebrated on the day in many parts of the world as well as Paris and Seoul.French people celebrated Bastille Day with a huge military parade down the Avenue des Champs-Elysees in its capital.French soldiers carrying the flags of 76 countries paraded through the Champs-Elysees in Paris with the participation of scores of aircraft and hundreds of mounted horsemen.At night on the day there was a fireworks show fired from Eiffel Tower. The celebration stretched beyond French border with special events held in major cities around the world.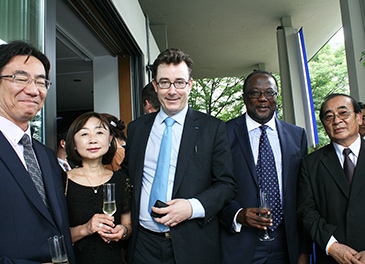 First Counsellor Etienne Rolland-Piegue (center) of French Embassy in Seoul poses with Ambassador Omrie Golley (2dn from right) of Sierra Leone Embassy, and with Ambassador Khamla Xayachack of Laos Embassy, and with other guests. The counsellor serves as the deputy head of mission of the French Embassy.
France has enjoyed long and amicable relations with South Korea in various sectors since the two nations inked its ties in 1886 for trade agreement.But it was in 2004 that the bilateral ties were promoted to the level of "comprehensive partners." The ties cover the entire sectors – politics, economics, science, and culture.In 2008 the two nations bolstered the cooperative ties even more within the framework of G20 summit.France became chair state for G20 summit held in Seoul on Nov. 12, 2010.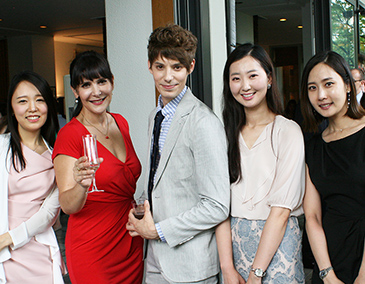 Ms. Ida Daussy of France (2nd from left), who is a very popular TV celebrity in S. Korea, poses with a Mr. Fabien (center), with Ms. Yu Mi-Hee (2nd from left) of Incheon Airport Protocol Team, and Ms. Jang Hye-Won (left) of Incheon Airport Protocol Team, and with Director Kim So-Young of F2 Entertainment.
Former French President Nicolas Sarkozy visited Seoul holding a summit talks with then South Korean President Lee Myung-Bak on Nov. 12, 2010.The current South Korean President Park Geun-Hye studied at University of Grenoble in France in 1974. Last year she made a trip to Paris for a state visit.
In particular South Korea maintains a close cooperation with France, one of five permanent members of US Security Council when it comes to North Korea's nuclear issue.Cooperation in business field is also impressive between Seoul and Paris.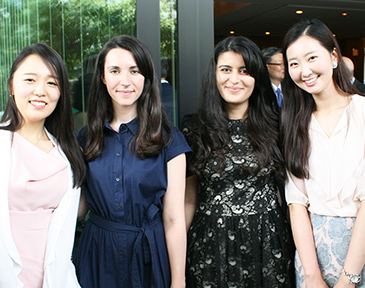 Ms. Laetitia Favro (2nd fro left) of Institut Francais in Seoul poses with Ms. Azougagh Saida (2nd from right) of Institut Francais, with Ms. Yu Mi-Hee (right) of Incheon Airport Protocol Team, and with Ms. Jang Hye-Won (left) of Incheon Airport Protocol Team.
France is South Korea's 15 major trade partners in the world.Although the bilateral hovers over 7.5 billion US dollars the overall outlook for the economic cooperation remains quite impressive in areas bullet trains, military helicopters, subways, and IT.The signing of FTA between South Korea and EU is expected to bolster the bilateral trade relations even further.
For details or inquiries contact the French Embassy in Seoul at 02- 3149-4333