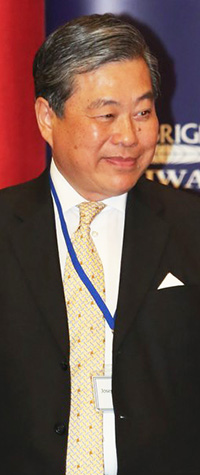 Taiwanese Representative to
S. Korea Joseph Shih (石定)
Newly appointed Taiwanese Representative to South Korea Joseph Shih (石定) expressed his gratitude to the top South Korean actress Lee Young-Ae for her donation to the medial bill of a Taiwanese couple whose baby was born premature while they were in Seoul in early this year, the Taipei Times reported on July 15, 2014.Lee donated about 100,000 US dollars to help the couple who were not able to foot the medical bill for their newborn baby.The new Taiwanese envoy said that he would like to meet with 43-year-old top actress personally on his arrival in Seoul.The Taipei Times said that the 61-year-old envoy already left Taiwan for his new position in Seoul.When in Seoul the envoy would seek actively a series of economic cooperation with South Korea and other Asian countries, according to the report of the Taipei Times.The economic cooperation with South Korea is aimed at facilitating Taiwan's integration into global market."We would like to negotiate an economic pact with South Korea and seek Seoul's cooperation to facilitate the two nations' bids to join the TPP and the RCEP," Shih was quoted by Taipei Times as saying at his inauguration ceremony.TPP refers to the Trans-Pacific Partnership and RCEP stands for the Regional Comprehensive Economic Partnership."That would be the core of my work," Shih said.He added that Taipei-Seoul economic cooperation could be used as a springboard into the Chinese market.But he stopped short of specifying his plans for the cooperation with Seoul.Shih served as deputy minister of foreign affairs before he was appointed new Taiwanese representative to South Korea. Deputy minister for foreign affairs is the second highest position right below foreign minister with Taiwanese Foreign Ministry.This is the second time that he has been assigned to the Taipei Mission in South Korea. Shih served as first secretary at the Taipei Mission in South Korea from 1991 to 1994.In Seoul he watched the whole process of diplomatic ties being severed in 1992 and took care of the aftermaths the severance of the ties left behind.The official diplomatic ties between Taipei and Seoul were severed in 1992 because of South Korea's diplomatic establishment with China.Shih is the highest Taiwanese official to take up the position since the severance of official diplomatic ties.Since then Taiwanese representatives in Seoul have been filled mainly by officials at director general level of the Taiwanese government.
Joseph Shih majored in diplomacy at National Chengchi University, a descendant of a school for producing ruling elites of Kuomintang (KMT).He received a master's degree in international relations from Georgetown University in Washington DC.When entering Taiwanese Foreign Ministry he began to work at the section of Central America. He also served as director general of Asia Pacific section.After that he was appointed as ambassador to New Zealand and Belize in Central America.In February of 2013 he was promoted to the position of deputy minister of foreign affairs.Diplomatic sources said that the appointment of Joseph Shih as new Taiwanese representative to Seoul is to express the island government's strong will to bolster its ties with South Korea.The sources added that Shih's appointment will also act as a mute pressure on Beijing government to appoint as its envoy officials higher than the past.