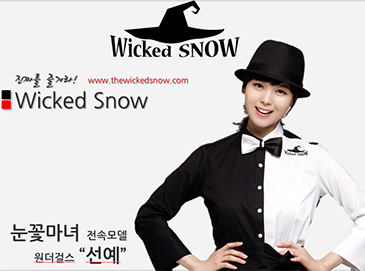 Sunye, main vocalist in the famous girl group "Wonder Girls," serves as PR ambassador for "Wicked Snow."
One of South Korea's traditional summer confectionaries called "patbingsu," a snow-like ice dessert with red bean paste or a sherbet with red bean paste, is hitting hard the streets of Seoul scorched by the burning sun.Developed by a local marketer "BARS International," the "Wicked Snow," a red bean paste sherbet with red bean pastes or also with fruit cocktails, is gaining a huge popularity in the South Korea's summer confectionary market."With the addition of milk and coffee the "Wicked Snow" patbingsu has a special flavor," said President Min Byung-Don of "BARS International," a manufacturer of "Wicked Snow" as well as an importer of food materials.
| | |
| --- | --- |
| | CEO Min Byung-Don— President Min Byung-Don of "BARS International," a manufacturer of "Wicked Snow," is so dedicated to developing ice desserts that he had to develop related equipments incuding pulverized ice makers. His recent launching of "WickedSnow" is such a big success that he has expanded his business into a number of nations around the world. CEO Min always trys to recall the German philosopher Friedrich Nietzsche's famous aphorism "What is done out of love always takes place beyond good and evil."Photo Courtesy BARS International |
"We urgently freeze best milk and make snow-like ice out of it to produce top-quality patbingsu as smooth as ever," President Min revealed the secret of his successful products. "We also use carefully chosen red bean and other materials."Recently opened near the main gate of Hongik University in Seoul "Wicked Snow" café is spacious enough to attract young men and women particularly from nearby universities including Hongik and Yonsei.The interior walls are painted white with large transparent windows and its Nordic-style furniture add foreign flavor to the "Wicked Snow" desert café.Among the scores of menu are "Wicked Milk," "Wicked Mango," "Wicked Burry," and "Wicked Choco," all made of snow-like milk ice.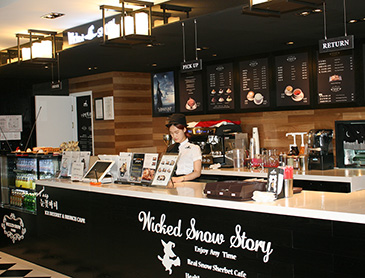 "Wicked Snow" near Hongik University in Seoul
In particular, the "Wicked Snow" café offers various tasty coffees including Americano, Cafe Latte, Cafe Mocha, and Caramel Macchiato, all produced from coffee beans directly imported from Colombia.For the hungry guests in wait are a variety of sandwiches and toasts.A crowd of young folks are seen quenching their thirst or cooling their heated body inside the neatly designed café.
"We wanted to create interior atmosphere and our menu is quite different from other casual cafes," said President Min. "That is why we launched 'Wicked Snow' café"President Min added that he underwent a thorough market research and meticulous customer analysis prior to the launching of "Wicked Snow."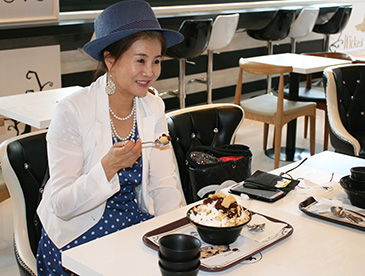 "Wicked Snow" near Hongik University in Seoul
President Min operates "Wicked Snow" café also near Sungkyunkwan University and one in Seolleung Subway Station in Gangnam area of Seoul. He has opened three in Busan, the second largest city in the nation.President Min plans to open soon more in nation's major cities including Daejeon, Daegu, Gwangju, and Yeosu. Franchise business opportunities will soon be available for "Wicked Snow," according to President Min.President Min's business knows no national boundary.He signed an exclusive business deals with Thailand for their equipment and ice products in April 2009. Two years later he began exporting his pulverized ice makers to Malaysia.
| | |
| --- | --- |
| | "Wicked Snow" Rounge – quite different from others "Wicked Snow" interior design is simple and neat with the combination of black and while color. Also luxury furniture makes the café stand out among others. |
In year 2013 he started exporting his equipment and ice dessert products to as many as 20 countries around the world including the US, Malaysia, Australia, and Thailand.For maintaining his already successful business President Min spares no efforts in developing new ice dessert products and its related equipment. He holds a number of patent rights for developing the related pulverized ice makers.For further details or inquiries readers can visit its websitewww.thewickedsnow.com
"Wicked Snow" History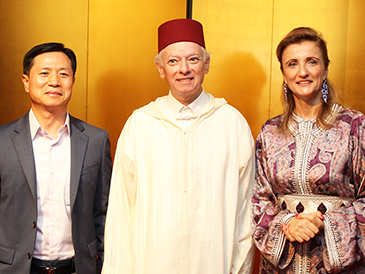 President Min Byung-Don (left) of "Wicked Snow" poses with Moroccan Ambassador to S. Korea Mohammed Chraibi (center) and his wife, Madam Amal Lahlou, poses with at 2014 "Throne Day" reception held at Lotte Hotel in Seoul on July 30, 2014.
1997 August: BarsKorea Established
1999 January: Set Up Business Office in Bucheon
2000 April: Started Selling 1st Generation Pulverized Ice Makers
2004 February: Developed 2nd Generation Pulverized Ice Makers – "SU-321" and "SU-421"
2006 November: 650 Overseas Branch Shops in the Philippines
2007 May: Developed 3rd Generation Pulverized Ice Makers
2008 February: Provided "SU-421" Models to Overseas: US$1 Mil. Sales
2008 April: Developed Roof-Top Style Pulverized Ice Makers
2008 May: Registered Patent for 3rd Generation Pulverized Ice Makers
2008 June: Developed 4th Generation Pulverized Ice Makers "SUF-380N" and Registered 2 Patents
2009 April: Exclusive Business Rights for Thailand
2010 January: Secured ISO & Developed 5th Generation "SUF-180N" Models
2010 April: Secured CE Certification
2011 February: Exclusive Deal with Malaysia for Export
2011 November: Developed Pulverized Ice Maker to Use Milk, Beer, Syrup, Fruit Juice
2012 February: Registered Patent for Drum-Style Pulverized Ice Maker
2012 February: Registered Product Design Patent for Snow-like Pulverized Ice Maker
2013 August: Set Up BARS International, Franchise Corporation
2013 November: Started Exporting to 20 Nations including US, Malaysia, Australia, and Thailand
Regional branch office in South Gyeongsang Province, North Gyeongsang Province, and both Jeolla Provinces
Opining of the Wicked Snow shops
First Shop: Sungkyunkwan University shop
Second Shop: Cheongseon shop in Busan
Third Shop: JungAn shop in Jinju City in South Gyeongsang Province
4th Shop: Uncheong shop in Yoesu City in South Jeolla Province
5th Shop: Seolleung shop in Seoul