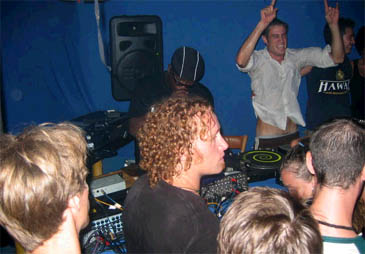 Mad Professor @ J Bar
Traditionally, Itaewon was seen as the major nightlife area in Seoul. However, stricter curfews on the US military and the emergence of Hongdae have resulted in far fewer people remaining in Itaewon after midnight on weekends. With many people prefering to party in Hongdae, Apgujeong and Gangnam, after starting the night in Itaewon.
The popularity of Itaewon clubs such as Spy (formerly Hollywoods) and Limelight have waned over the past few years. A close minded attitude to outside promoters by club bosses, poor marketing and out dated music policies have contributed to their demise. The introduction of an even tougher curfew of midnight for G.I.s this summer has compounded these problems. Itaewon clubs have been extremely slow to change and move with the times, but there are signs this is changing.
J Bar is a large bar/club that has built a reputation on showcasing DJs and live bands that play up front cutting edge music. The eclectic club hosted one of the best nights in Seoul this year when they brought legendary dub/reggae producer Mad Professor to DJ there in August. A booming sound system, quality DJing, a live trumpeter and bongo players resulted in an amazing atmosphere well into the small hours.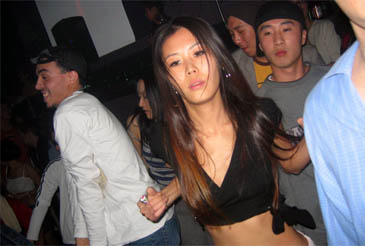 Mad Professor @ J Bar
This coming Saturday J Bar will be hosting a party with 10 of the best foreign and Korean DJs in Seoul. There will be two rooms, the main room will be pumping out Funky House, Breaks and Progressive, with the smaller room playing 70s Funk, Breaks, and Drum & Bass.
urbanEVENTS, deFUNKed proMOTIONS and dmX productions are teaming together to launch promotion new boys deFUNKed. deFUNKed Events Manager, Craig Alderson, is optimistic about the future 'During my time here the dance party scene's really started shaping up for the better. Production kings 02 pro are showing the way, and there are plenty of other good parties being laid on by the likes of M2, Cargo, Spin and MWG, but it could be even better. I hope to see my contribution through deFUNKed proMOTIONS, to help expand and improve the scene, giving Seoul's clubbers the choice and quality they deserve. As a clubber I want to hear music played by passionate DJ's who really know what the crowd wants. As a promoter I will give those DJ's to the clubbers.' The stricter curfews introduced this summer have hit Limelight hardest, with numbers way down on the previous year. The club had earned the unenviable nickname 'Slimelight' because of the cheezy music its DJs played and the 'meat market' feel in the club. Over the last few months the club has employed a more dance orientated music policy. They have been bringing in more specialized DJs and the odd international DJ. The changes appear to be working with the club beginning to fill up again.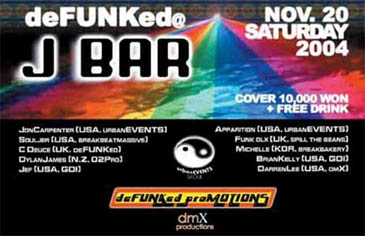 deFUNKed @ J Bar this Saturday
Spy Club, who have also been suffering, brought in promotion companies 3 or 4 times this summer. These parties proved very successful and showed that there is a market if these clubs employed better DJs and had a more pro-active attitude to promoting themselves.The lack of good nightclubs south of the river mean that many people have to trek across town to Hongdae to go clubbing. There are some good clubs in Apgujeong, however, they can be expensive and empty after 2pm. Club bosses in Itaewon need to learn from the way Hongdae clubs promote themselves and the good times will return. Whether this will happen in the near future remains to be seen.
Check out deFUNKed @ J Bar this Saturday the 20th November. 9pm-6am. Itaewon Station exit 1, up the alley next to KFC. Happy Hour 9-midnight.