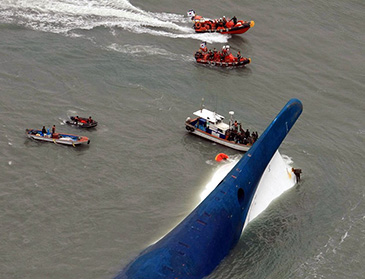 The "Sewol" ferry ship is seen capsized on seas off the coast of Jindo Island in South Korea on April 16, 2014. It was carrying a total of 475 passengers and crew.
Korea's Sewol ferry disaster will go down in history as more than just an awful tragedy. Tragically, it also serves to demonstrate what happens when we fail to mitigate risk and respond to crises appropriately. The company that operated the Sewol, Cheonghaejin Marine, has fallen to pieces. Its very being, including its staff and founder, are now virtually Public Enemy #1. The lessons for companies are both manifold and painfully obvious, yet they must be explored. Corporate survival depends on having the capacity to, first, foresee and prevent crises from ever happening and, second, to respond rapidly and with efficacy when something bad happens. Foreign multinationals operating in Korea should carefully consider what has transpired in this incident and incorporate their learnings into their crisis management planning. We need not have sympathy for Cheonghaejin Marine, but we can surely recognize that the next company caught in the crosshairs of such tremendous public vehemence, and which is incapable of effectively coping such a crisis, will surely face even harsher punishment. And it does not have to be a tragedy that brings down a giant. Survival in the world of business is hard enough. Nokia was formerly the world's top cell phone manufacturer until its strategic missteps over the last few years. Now it is owned by Microsoft and its future in making handsets is uncertain. BlackBerry's failure to respond adequately to the threat of Apple and Samsung has nearly decimated the company. Survival even for the largest of companies depends, first and foremost, on ensuring that all employees adhere to the principles of crisis management. Consider this virtual reality scenario by U.S.-based crisis management expert Beverley Silverberg, as the implications are significant:A group of five high-profile passengers, including the Pope, the U.S. president, evangelist Billy Graham, a New York Times reporter, and a plane captain were flying on a special private jet to join a project for world peace. The plane was cruising along when, all of a sudden, the captain announced urgently that the plane had an engine failure and would crash.Unfortunately, the plane was equipped with only four parachutes. The U.S. President was the first to ask the Pope to make an emergency exit, saying, "You should definitely survive for the good of all the religious people around the world." The Pope replied to the President, "As the U.S. President and the leader of the Western World, you too should definitely survive. Let's jump out together." The two quickly bailed out.The New York Times reporter immediately followed, excusing himself by saying that he was obliged to let the whole world know about the incident. Billy Graham, on the other hand, said to the captain, "I have lived a satisfactory life by glorifying God and I can die without regret. Please take the last parachute." Then the captain answered, "You don't have to. The reporter was so keen to get the scoop that he mistook my bag for a parachute. We still have two left."As Silverberg warns, disaster is always just around the corner and preparation is almost never perfect. But without preparation, we will fail. Risk mitigation stands as one of the most important strategies for crisis management. For flood mitigation, we build dams and dikes. For earthquake mitigation in areas of high seismic activity, we build low-rise buildings.Crisis preparedness and risk mitigation aims to have at least five parachutes when five are on board. For companies operating here in Korea, a solid crisis management plan can give wings to your business while also securing a stronger future. Yes, it costs money to have five parachutes but there are so many companies which are equipped with four or less. The costs of not having the right number when you need them will be much higher. Put this way, it is easy to spot the sure-fire investment.
Who Is CK CEO Kim Kyong-Hae?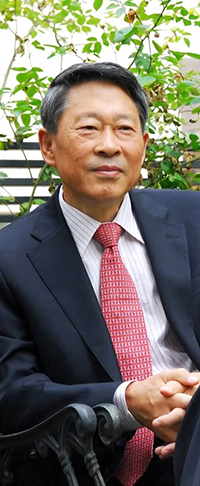 CK CEO Kim Kyong-Hae
CK (Communications Korea) CEO Kim Kyong-Hae is often called "the pioneer of the Korea's PR industry" or the "father of Public Relations in Korea."Nearly three decades of total dedication to the development of the nation's PR industry has earned the former journalist those honorific titles.Since founding CK, the nation's first public relations agency, in 1987, he has produced hundreds of PR experts through his successful company or through his lectures at universities. They started calling Kim "PR guru of Korea."Mr. Kim is also the key founding member of the Korea Public Relations Association (KPRA), serving as its president in 1991. He was awarded "PR Man of the Year" three years later.Mr. Kim has devoted himself to media publicity, MPR, crisis management, media training, and consulting services. His customers include both multi-national companies and local Korean companies, and Korean and foreign governments.He obtained APR (Accredited in Public Relations) from the Public Relations Society of America (PRSA)Having obtained his BA degree in English Literature from Sogang University in 1973, he earned his MA degree in the same field at Sogang's Graduate School of Mass Communications in 1999. Later he served as president of Sogang Alumni Association.Prior to his journey as a PR expert, Mr. Kim Kyong-Hae worked himself as a journalist for a number of years. His journalistic stints include staff reporter and economic editor of The Korea Herald, Seoul correspondent of the Reuters. Kim visited North Korea many times as a correspondent.But his zeal for journalism started way earlier. He worked as managing editor of a student English-language newspaper "The Sogang Herald" on the campus of Sogang University, the alma mater of the current South Korean President Park Geun-Hye.Mr. Kim also founded nation's first and only English-language business monthly, "Business Korea" in 1983.Mr. Kim has so far authored four books on PR, including "Big Think PR," his most recent book covering theoretical and practical knowledge of PR.Earlier, he published "Companies Overcoming Crises, Corporations Collapsing Due To Crises," which is a collection of case studies of selected companies in 2001.
His 1999 book — "Live Stories on The PR Scenes" — deals with crisis management in Korean settings.Mrs. also received a presidential citation in 1999 for his contribution to publicizing governmental policies.The above writer, Kim Kyong-Hae, president of the Korea Institute of Crisis Management and Strategy affiliated with the PR consulting group Communication Korea, focuses on the lessons multinational corporations in Korea can learn from the Sewol ferry tragedy. This is the first of three series on crisis preparedness. He can be reached at kyonghae@commkorea.com