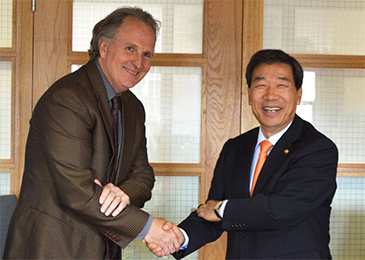 President Roger Brown (left) of Berklee College of Music shakes hands with President Kim Young-Shik of S. Korea's Baekseok Arts University (BAU) during the MOU signing ceremony.
Boston, MA, USA — Berklee College of Music, the world's leading college of contemporary music, has recently signed a Memorandum of Understanding (MOU) with Seoul, South Korea's Baekseok Arts University (BAU) to create mutual educational opportunities for students at both schools.The collaborative agreement will comprise internships for Berklee students at BAU, opportunities for BAU students to attend Berklee programs in the U.S. and Spain, and teaching residencies by Berklee faculty at the university's campus in Seoul. President Roger Brown and Baekseok Arts University President Dr. Young-shik Kim signed the agreement at Berklee."Berklee is proud of the achievements of our Korean alumni who have excelled as performers, producers, engineers, songwriters, film composers, and teachers in all niches of the vibrant Korean music scene," said President Brown. "Our relationship with BAU will only deepen our connection to Korean music and culture, and create more opportunities for aspiring Korean musicians.""We are extremely happy about BAU and Berklee signing the MOU. With this opportunity, we can develop contemporary music education in Korea, which can only push the influence of K-pop, further around the world," said President Kim. "Furthermore, we would like to stretch our reach into Asia with Berklee, and to accomplish this goal, we are going to establish the Berklee Baekseok Music Committee at our school."As part of the agreement, BAU – which has more than 50 faculty members who are Berklee alumni - will host internships for Berklee undergraduate and graduate students from its Boston and Valencia campuses as part of the academic and career development experiences offered to them. Students from BAU will also have the opportunity to participate in Berklee's study abroad programs, spending a semester at one of Berklee's campuses while earning credit towards their degrees. In addition, invited Berklee faculty will visit BAU throughout the academic year to conduct, assist, and participate in clinics and programs for students.More than 230 South Korean students are currently studying at Berklee's Boston campus – representing the second largest international community at Berklee – and more than 680 students from South Korea have graduated from Berklee. Additionally, Seoul Jazz Academy has been a member of the Berklee International Network, Berklee's partnership with contemporary music educational schools, colleges and universities around the world, since 1998. For further information, please contact:
Sophie Maricq
Berklee College of Music
Assistant Director of Communications - Global Initiatives
M (U.S.): +1 617 943 9098, E: smaricq@berklee.eduOr
Corinne Norris
M: +34 697 917 415
E: corinne@blinkcreative.biz
About Baekseok Arts University:
BAU was established with the Christian spirit. BAU is located downtown in Seoul's upscale Gangnam area. Our school campus is increasing in size and the Contemporary Music Department of BAU is the biggest one in Korea; every year this program has the highest number of applicants, the application ratio is very strong in Korea. We are very pleased to have over 50 Berklee alumni who are teaching at BAU. Also in the Baekseok School Foundation, there are two more universities located south of Seoul in Cheonan city, and one seminary in Seoul. In addition, the Foundation has one newspaper company in Seoul, The United Christian Newspaper. The total number of students in the four schools is around 26,000, 3,000 of which are music major students.
About Berklee College of Music:
Berklee College of Music was founded on the revolutionary principle that the best way to prepare students for careers in music is through the study and practice of contemporary music. For more than 65 years, the college has evolved to reflect the current state of the music industry, leading the way with baccalaureate studies in performance, music business/management, songwriting, music therapy, film scoring, and more. With a focus on global learning, Berklee in Valencia, a new campus in Spain, is hosting the college's first graduate programs, while Berklee Online serves distance learners worldwide with extension classes and degree-granting programs. The Berklee City Music Network provides after-school programming for underserved teens in 45 locations throughout the U.S. and Canada. With a student body representing nearly 100 countries and alumni and faculty that have won more than 310 Grammy and Latin Grammy Awards, Berklee is the world's premier learning lab for the music of today—and tomorrow. Contact: Margot Edwards | 617-747-2004 | medwards@berklee.edu