A unique opportunity has presented itself in Seoul: the same play being staged both in Korean and in English. Originally written in French, "Art" was recently produced in Korean by Cho Hang-Duk and organized by AGA Entertainment. Now, BH Productions is producing and staging the English translation. Opening in November and running through December, BH Productions is staging Art in two distinct venues and locations in Seoul. The November dates will take place in the Guinness Bar Theatre. Located at Yaksu Station near Itaewon, this venue allows audience members to enjoy a beer or glass of wine while watching the play. In December, the play will transfer to Theatre Choo in Hongdae. A five-minute walk from Hongik University Station, Art seems an appropriate piece to stage in this area known for its innovative artistic and cultural scene.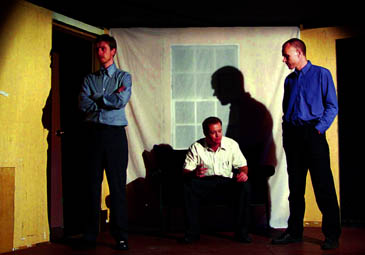 Actors from left : Ashley Pugh, Daami Cagney, Bernard Hughes
BH Productions is a non-profit theatrical production company based in Seoul. Recently heralded by Playbill magazine has a rising face of theatre in Korea. BH Productions was formed in January of 2003, and its first production was Cathleen Ni Houlihan by W.B. Yeats. This play was performed in March of that year at various venues throughout Seoul, including the Hilton Hotel, the Westin Chosun Hotel, and the Seoul Club. In November of 2003, BH Productions staged three one-act comedies: Naomi in the Living Room, by Christopher Durang, The Battle of Bull Run Always Makes Me Cry, by Carole Real, and the first act of The Last Yankee, by Arthur Miller.The company's most recent production, Bedtime Story by Sean O'Casey, was staged in March of 2004 at the Guinness Bar Theatre.
| | |
| --- | --- |
| | |
| Ms. Kirstie Bromenshenk, director of "Art" | Mr. Bernard Hughes as an actor in this play "Art" |
This play written by Yasmina Reza, directed by Kirstie Bromenshenk, and opening this Friday 19th November is a dark comedy which calls into question the nature of friendships: who our friends are, why we are friends, what keeps us together, and what can drive us apart. "Not only brings to the stage a topical debate, it makes it invigorating, touching and finally disturbing. This comedy, translated from the French, in sparkling form, explores its themes through a rift between friends." — Financial Times
Marc (Bernard Hughes), Yvan (Daami Cagney), and Serge (Ashley Pugh) have been best friends for over 15 years. Serge has just bought a modern art painting for an outrageous amount of money. Marc cannot understand how Serge could have possibly spent so much money on this painting. As the ties that bind them together begin to unravel, Yvan, in trying to mediate, actually makes the situation worse.
"A remarkably wise, witty and intelligent comedy…has touched a universal nerve." —The TimesThe show runs for thirteen nights with special musical performances following some of the shows. Check below for details.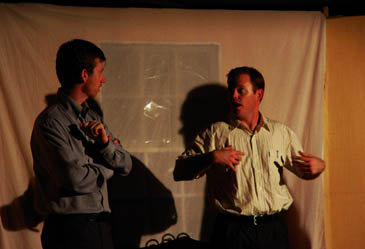 ART in rehearsals
NOVEMBER:
The Guinness Bar Theatre, Yaksu Station
Fri. 19th and 26th 10:00pm
*The 19th performance to be followed by live acoustic music.
Sat. 20th and 27th 8:30pm
*The 20th performance to be followed by live music by The Jam Factory.
Sun. 21st and 28th 8:30pm
*The 28th performance to be followed by live music by The Jam Factory.
DECEMBER: Theatre Choo, Hongdae
Thurs. 2nd and 9th 8:30pm
*Reception to follow the performance on the 2nd.
Fri. 3rd and 10th 8:30pm
Sat. 4th and 11th 4:00 & 8:30pm
*Reception to follow the performance on the 4th. Closing night party, featuring live music from DJ Free, to be held at the Ziller Zone Cafe next to Theatre Choo after the performance on the 11th.
Sun. 5th 8:30pm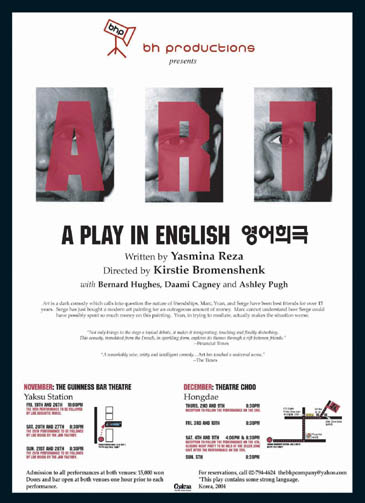 Directions:
The Guinness Bar Theatre is located at Yaksu Station (about 5 minutes from Itaewon), lines 3 & 6, exit 1. Walk out of the exit, and you will see the sign for the venue just ahead on your right.
Theatre Choo is located at Hongik University Station, line 2, exit 6. Walk straight, turn left at Pizza Hut, right at the FDI Digital Photo Shop sign (on yellow wall), then left at HO Bar (total 5 minutes from station). Theatre Choo is on your right.
Admission to all performances at both venues is 15,000 won. Doors and bar open at both venues one hour prior to each performance. For reservations, please call 02-794-4624 or write to thebhpcompany@yahoo.com. Reservations must be made 24 hours prior to performance