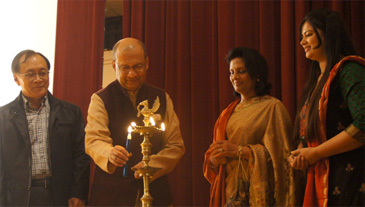 Indian Ambassador Vishnu Prakash (2nd from left), as a chief guest for IIK Diwali, lights the lamp with Korea's former Health Minister Song Jae-Seong Song.

The Indians In Korea (IIK) celebrated Diwali with the Indian Ambassador Vishnu Prakash noting how the festival has become part of Indians In Korea's presence and profile in Republic of Korea. Deepavali is the most important festival in the Hindu almanac which is also known as a major event in IIK's event calendar. Popularly known as the Festival of Lights, Indian community in Korea comes together as one to celebrate the triumph of good over evil and of light over darkness. This year's celebrations witnessed the presence and wonderful performances of Bollywood celebrity Jr. Devanand. Over the past seven years, Diwali celebrations by IIK in Korea have been part of the cultural landscape and an overt symbol of IIK's commitment to feeling "home away home" for its members. The Indian festival is marked by five days of celebration.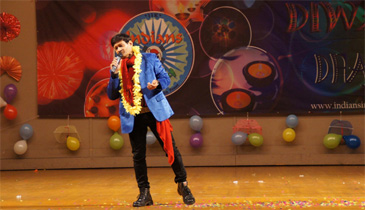 Jr. Devanand, a Bollywood Celebrity performing during IIK Diwali 2014
Each of the five days is separated by a different tradition, but what remains consistent is the celebration of life's enjoyment and goodness. "The festival symbolizes the victory of good over evil, and lamps are lit as a sign of celebration and hope for mankind. Diwali creates a feeling of togetherness, joy and hope, since all family members and friends come together to celebrate it," said H E Mr. Vishnu Prakash, ambassador of India to Korea. Mr. Kishore Bhanushali, popularly known as Jr. Devanand marked his presence as a first Bollywood celebrity in IIK's Diwali celebration from last 7 years. More than 500 people from around Seoul joined this beautiful event at Sejong University Auditorium to take part in the festival, which gave attendees a cultural and literal taste of India.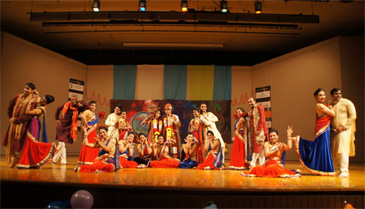 Spectacular performance by Ms. Jyoshna Nair and Group
IIK Diwali Festival 2014 depicted Indian culture through painting, rangoli and mainly spectacular cultural performances viz Kids Fancy dress, Bollywood signing, dancing, magic show, belly dance and Indian wedding Festa by Indian and local entertainers as well as Bollywood celebrity Jr. Devanand. IIK Diwali Festa was sponsored by Indian Overseas Bank (IOB), Indian Chamber of Commerce in Korea (ICCK), Air India, Asia Pacific Business Tech Forum and Ganga Indian Restaurant. Otsal Indian Restaurant served mouthwatering Indian cuisine for this grand festival.However and wherever it is celebrated, Diwali is an occasion of joy and renewal. As the Bengali poet and novelist, Rabindranath Tagore, put it: "The night is black/ Kindle the lamp of love/ With thy life and devotion."