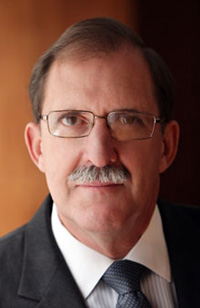 President David D. Arnold of the Asia Foundation
On the occasion of its 60th anniversary the Asia Foundation will host a major roundtable to examine implications of America's rebalancing policy to Asia in Seoul on Nov. 6, 2014."The Roundtable on America's Role in Asia: Implications of America's Rebalancing Policy to Asia" will be held at Maple Hall on the fourth floor of Plaza Hotel in downtown Seoul at noon on Nov. 6 (Thursday), 2014.A total of five world-famous scholars will participate in the panel discussion. They are Prof. Aileen Baviera of University of the Philippines' Asian Center, President Ichiro Fujisaki of America-Japan Society in Japan, Prof. Ren Xiao of Fudan University's Institute of International Studies (IIS), Prof. David I. Steinberg of Georgetown University, and Prof. Kim Sung-Ha of Korea University.The scholars will discuss the following issues.— What is your view of the purpose of the US rebalance?
— What assessments can you make about the effectiveness of the US rebalancing effort?
— How does your country evaluate US actions and relationships in the region?
— What are the most important challenges you believe the US faces in the region?
— How can the US effectively address these challenges?
— How can Asia's rising regionalism through various regional architecture (EAS, APEC, ARF, ASEAN, etc.) and America's forward presence co-exist and contribute to maintaining stability in the region?
— What recommendations would you like to make regarding the US's rebalancing effort?At 4:30 on the day panel discussion by Asia Foundation's five former Korea representatives — David Steinberg (1963-1968 & 1995-1998), Ben Kremenak (1976-1981 & 1984-1991), Tam Ormiston (1991-1994), Edward Reed (2004-2011), and Peter Beck (2012-2014) — will begin at the hotel's Maple Room.Currently, the Asia Foundation Korea Office is headed by Lee Kyung-Sook, its acting country representative.After the roundtable discussion a celebration dinner will follow at the hotel's grand ballroom. A number of noted US and Korean scholars and other celebrities will be invited to the dinner reception.Among the dignitary participants will be Chairman Han Sung-Joo of the Korean-American Association, Chairman Hong Seok-Hyun of JoongAng Media Network, and Chairman Kim Jin-Hyun of the World Peace Forum.Australian Ambassador to Seoul William Paterson and UK Ambassador to Seoul Scott Wightman will also attend the dinner reception.The former US Ambassador to Japan Michael H. Armacost will deliver a speech at the dinner gathering.
About the Asia Foundation
The Asia Foundation improves lives and helps societies flourish. Guided by a vision of a peaceful, just, and thriving Asia, the foundation is making its 60 years by initiating a year-long, global conversation on the critical issues facing Asia today.Headquartered in San Francisco, the Asia Foundation works through a network of offices scattered in 18 Asian countries including South Korea and in Washington DC.For details or inquiries about this roundtable discussion please contact Ms. Lee Chae-Ryung at 02-732-2046.
Speakers BiosWelcoming Remarks by David D. Arnold
David D. Arnold is the sixth president of The Asia Foundation. A highly respected international development veteran with years of experience across the Asia-Pacific and the Middle East, he leads all aspects of The Asia Foundation, including its headquarters in San Francisco, an office in Washington D.C., and 18 different country offices in Asia.Before joining The Asia Foundation, Arnold served as president of the American University in Cairo (AUC) for seven years. Previously, Arnold served for six years as executive vice president of the Institute of International Education, the world's largest educational exchange organization. From 1984 to 1997, he worked for the Ford Foundation, serving as its first program officer in the field of governance and then for six years as the organization's representative in India, Nepal, and Sri Lanka.David Arnold began his public service career in 1975 in his home state of Michigan as a program budget analyst with the Michigan Department of Labor. He later served as executive director of the Coalition of Northeastern Governors, a regional think tank and policy institute. Arnold serves on the board of the World Affairs Council of Northern California.He is also a frequent public speaker on issues of governance and development in Asia-Pacific. Arnold holds a master's degree in Public Administration from Michigan State University. He received an honorary doctorate of humanities from Michigan State University in 2011.
Keynote Speech by David M. Lampton
David M. Lampton is Hyman Professor and Director of SAIS-China and China Studies at the Johns Hopkins School of Advanced International Studies, having also served as Dean of Faculty from 2004-2012. Dr. Lampton headed the China Studies programs at the American Enterprise Institute and at The Nixon Center (now The Center for National Interest), having previously worked at the National Academy of Sciences and having started his teaching career at Ohio State University.He has an honorary doctorate from the Russian Academy of Sciences' Institute of Far Eastern Studies, is an Honorary Senior Fellow of the American Studies Institute of the Chinese Academy of Social Sciences, was the inaugural winner of the Scalapino Prize in July 2010 awarded by the National Bureau of Asian Research and the Woodrow Wilson International Center for Scholars, and is a Gilman Scholar at Johns Hopkins.His newest book, Following the Leader: Ruling China, from Deng Xiaoping to Xi Jinping, will be published by University of California Press in January 2014. He consults with government, business, foundations, and is on the board of several non-governmental and educational organizations, including the Executive Committee of the National Committee on U.S.-China Relations and Colorado College's Board of Trustees. He received his B.A., M.A., and Ph.D. degrees from Stanford University.
Moderator by Park Jin
Park Jin is a Wilson Center Global Fellow, Chair Professor at Hankook University of Foreign Studies, and executive President of Asia Future Institute. Dr. Park served in the Korean National Assembly for 10 years, from 2002 to 2012, representing the Jong-ro district in central Seoul. Dr. Park served as Chairman of the Foreign Affairs, Trade & Unification Committee.Prior to being elected to the National Assembly, Dr. Park held many positions in the government, including Political Affairs Secretary to the President from 1996 to 1998 and Press Secretary to the President from 1993 to 1996. He received his bachelor's degree in Law from Seoul National University, his MPA from Harvard University Kennedy School of Government, and his D.Phil. in Political Science from Oxford University
in 1994. He also earned an LL.M. from the New York University School of Law in 2000.
Panel Speakers
Aileen Baviera
Aileen Baviera is a Professor at the Asian Center, University of the Philippines, where she also served as Dean from 2003-2009. She also has a visiting professor appointment at the University of Malaya, where she teaches at the Asia-Europe Institute. Since 2011, she has been the editor-in-chief of Asian Politics & Policy (Wiley-Blackwell). Having trained in both area studies and international relations, her specializations include contemporary China, Southeast Asia-China relations, Asia Pacific security, and regional integration.Over the years, Dr. Baviera has held visiting fellowships or lectured at various institutions in Australia, China, Japan, India, Malaysia, Singapore, Taiwan, and the United States. Among recent engagements was time spent as a Visiting Senior Fellow at the S. Rajaratnam School of International Studies in Singapore and Visiting Scholar of the Australian National University and Griffith University.As a former member of the East Asia Vision Group, she participated in processes leading to the strengthening of ASEAN Plus Three cooperation. Prior to joining academe, she had been head of the Center for International Relations and Strategic Studies of the Philippine Foreign Service Institute, and Executive-Director of a nonprofit group promoting development cooperation between the Philippines and China. She is also founding president of Asia Pacific Pathways to Progress Foundation.
Amb. Ichiro Fujisaki
Amb. Ichiro Fujisaki is the President of America-Japan Society in Japan. He is also a distinguished professor of Sophia University and Keio University, both in Tokyo. Additionally, he is advisor to the metropolitan city of Tokyo. Formerly, Fujisaki served as the Ambassador of Japan to the United States between 2008 and 2012. During this period, there were frequent changes in Japanese leadership, but he stayed on as a point person between Japan and the United States. Fujisaki was instrumental in bridging Japan and the US following the devastating earthquake and tsunami that occurred in March 2011. He was engaged in all of Japan's negotiations with the US on security and trade issues, including Trans Pacific Partnership (TPP) consultations. As the Deputy Foreign Minister, he served as Prime Minister Koizumi's personal representative to the G8 Summit as Sherpa. He was Japan's chief trade negotiator and headed the teams for Free Trade Area agreement negotiations with the Republic of Korea, Malaysia, the Philippines, and Thailand. He has initiated and headed Deputy Ministerial dialogue with China. He also frequently traveled to India to lay the groundwork for large scale infrastructure projects which are currently underway. Fujisaki's diplomatic career extends 40 years as he joined the Foreign Ministry of Japan in 1969 after passing the High Level Diplomatic Examination. He earned his BA degree in Economics from Keio University in Tokyo.
Kim Sung-han
Kim Sung-han is Professor at the Graduate School of International Studies (GSIS) and Director of the Ilmin International Relations Institute at Korea University. He has served as the Vice Minister of Foreign Affairs and Trade in the Ministry of Foreign Affairs and Trade between 2012 and 2013. Before joining GSIS in September 2007, Dr. Kim was a professor from 1994 to 2007 at the Institute of Foreign Affairs and National Security (IFANS) in the
Ministry of Foreign Affairs & Trade. Prior to that, he worked as a Research Fellow at the Institute of Social Sciences and as expert advisor to the Prime Minister's Committee for Globalization (1992-1994). Dr. Kim has also served as Vice President of the Korean Association of International Studies; President of Korean Association of American Politics (KAAP); Secretary General of the Korean National Committee of Council for Security Cooperation in the Asia Pacific (CSCAP-Korea); and Chairman of the Vision Council for the ROK-U.S. Security Policy Initiative.Currently, he is advising the Foreign Relations Committee of the National Assembly, the Ministry of Unification, and the National Intelligence Service. He also serves as member of the Presidential Advisory Council for National Security, which consists of nine security experts. Dr. Kim specializes in U.S. foreign policy and international security. He earned a BA and MA from Korea University and Ph.D. from the University of Texas at Austin.
Ren Xiao
Ren Xiao is currently a professor of International Politics at the Institute of International Studies (IIS), Fudan University, Shanghai, China, and the Director of the Center for the Study of Chinese Foreign Policy at IIS. In that capacity, in partnership with China's Ministry of Foreign Affairs, he founded the Diplomat-in-Residence Program at Fudan, the first of its kind in Chinese institutions of higher learning. Previously he served as a First Secretary at the Chinese Embassy in Japan between 2010 and 2012.Also, he was Senior Fellow and Director of the Asia Pacific Studies Department, Shanghai Institute for International Studies (SIIS). Dr. Ren studied in the University of Essex in England (1990-91) and held research or teaching positions at the University of Turku, Finland, Nagoya University, Japan, and The George Washington University in Washington, DC, U.S.A. His recent publications are, among others, New Frontiers of Chinese Foreign Policy (co-editor with Allen Carlson) (Lanham, MD: Lexington Books, 2011) and "Between Adapting and Shaping: China's Role in Asian Regional Cooperation." Dr. Ren serves on the editorial boards of some major international academic journals including Globalizations, East Asia: An International Quarterly, and East Asian Policy.He is a member of the China National Committee of Council for Security Cooperation in the Asia Pacific (CSCAP). He received his Ph.D. in political science from Fudan University in 1992.
David I. Steinberg
David I. Steinberg is Distinguished Professor of Asian Studies Emeritus at Georgetown University, and Visiting Scholar at SAIS, Johns Hopkins University, and author of 14 books and monographs. He served as the Director of Asian Studies, Georgetown University, and Senior Consultant to The Asia Foundation, and as The Asia Foundation's Representative in Korea on two occasions, from March 1963 until January 1968, and again from August 1994 until July 1998.He was previously Distinguished Professor of Korea Studies, Georgetown University; and formerly President of the Mansfield Center for Pacific Affairs. Earlier, he was a member of the Senior Foreign Service, Agency for International Development (AID), Department of State, Director for Technical Assistance in Asia and the Middle East, and Director for Philippines, Thailand, and Burma Affairs. He spent three years in Thailand with the Regional Development Office. Steinberg was educated at Dartmouth College, Lingnan University (Canton, China), Harvard University, and the School of Oriental and African Studies, University of London. His latest volumes are (with Fan Hongwei Modern China-Myanmar Relations: Dilemmas of Mutual Dependence (2012), and Burma/Myanmar: What Everyone Needs to Know (2013).
Closing Remarks by Amb. Han Sung-joo
Han Sung-Joo is Chairman of International Policy Studies Institute of Korea. He is a professor emeritus of political science at Korea University. He served in prominent government posts, including Minister of Foreign Affairs and most recently Ambassador to the United States. He was also president of Korea University and chairman of the East Asian Vision Group, established by the Summit Meeting of 13 East Asian Countries (ASEAN plus China, Japan and Korea) with the task of providing a vision for East Asian regional cooperation.He also served as the UN Secretary-General's Special Representative for Cyprus and a member of the U.N. Inquiry Commission on the 1994 Rwanda Genocide. His English publications include Korean Diplomacy in an Era of Globalization (1995), Korea in a Changing World (1995), and Changing Values in Asia (1999). He has many publications in Korean, including Nam Gwa Puk, Kurigo Sekye (The Two Koreas and the World) (2000). Amb. Han is a graduate of Seoul National University (1962) and received a Ph.D. in Political Science from the University of California, Berkeley (1970). Previously, he taught at City University of New York (1970-78) and was a visiting Professor at Columbia University (1986-87) and Stanford University (1992, 1995). He was also a Distinguished Fellow at the Rockefeller Brothers Fund (1986-87).