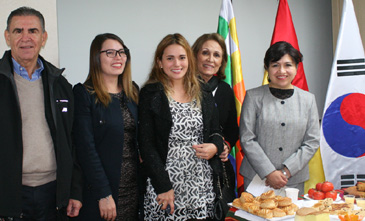 Bolivian Ambassador to S. Korea Guadalupe Palomeque de Taboada (right) poses with Bolivian residents at the "All Saints Day" celebration held at her embassy in downtown Seoul on Nov. 2, 2014.
Bolivian Ambassador to South Korea Guadalupe Palomeque de Taboada hosted the annual traditional "All Saints Day" festival at her embassy in downtown Seoul on Nov. 2 (Sunday), 2014.The event was attended by Bolivian families from Seoul where they paid tribute to Catholic saints, martyrs and deceased loved ones at the embassy on the eighth floor of the JIE building across from City Hall.
Along with many other Latin American countries, the rituals involved in the Catholic celebration have been mixed with those from Bolivian indigenous peoples. Some families spend all day at the graves of loved ones, with their favourite music and food.
But on the 2nd November at the Bolivian embassy in Seoul, a table was spread with traditional baked goods, fruits, flowers, lit candles and a photo of the Bolivian Ambassador's late father. A priest led the congregation in prayer and blessing before the food and drinks were shared.
The baked items were prepared by the ambassador and included "Tanta Wawas", baby-shaped cookies representing the bodies of the deceased.
She has been the Bolivian ambassador in South Korea since May 2013 since the embassy reopened after being closed for 15 years.
The envoy stressed the importance of events like "All Saints Day" in bringing the Bolivian population together. She said: "There are around 100 Bolivians in South Korea and 40 in Seoul. Even if the Bolivian community here is not big, it is a family."
Bolivia
The Plurinational State of Bolivia is a landlocked country in western-central South America, sharing borders with Brazil to the north and east, Paraguay and Argentina to the south, Chile to the southwest and Peru to the west.
Prior to its colonization in the 16th Century, the Andean region of Bolivia was a part of the Inca Empire, while the lowlands to the north and east were populated by indigenous tribes.
During the Spanish colonial period, Bolivia was named Upper Peru. Independence was called for in 1809, and then finally granted after a 16-year war. The newly independent republic was named after Simón Bolívar, the Venezuelan military and political leader who played a key role in Latin America's struggle for independence from the Spanish Empire.
Modern Bolivia is a democratic republic situated within the Amazon Basin. Its main economic activities include agriculture, forestry, fishing, mining, and manufacturing goods such as textiles, refined metals and petroleum. Bolivia is country rich in minerals, especially tin.
With a population of around 10 million, Bolivia is a multi-ethnic country with Amerindians, Mestizos, Europeans, Asians and Africans. The official language is Spanish along with Guarani, Aymara, Quechua as well as 34 other indigenous languages.