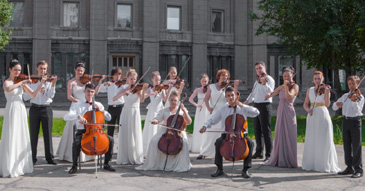 Russia's Siberian chamber orchestra "Bright Bows"
Russia's Siberian chamber orchestra "Bright Bows" will be touring major venues in South Korea between Nov. 12 and Nov. 22, 2014.
The tour program includes a number of performances at different venues in Busan, Ginmhae, Jeju, and Seoul. The Russian ensemble will also perform at the Russian Embassy in downtown Seoul and at Onnuri Church in Seoul's Dongbinggo-dong.
"Bright Bows" is a unique youth chamber orchestra consisting of young musicians, all winners of international and Russian music contests and the best representatives from the Novosibirsk classical music schools.
The youngest orchestra soloist is 13-year-old cellist Anastasia Ushakova, a multi-award winning student at the Novosibirsk Glinka State Conservatory.
"Bright Bows" Artistic Director Marina Kuzina stated that the performances will not only feature classics such as Bach's Brandenburg Concertos and well known works by Tchaikovsky. She is an honored artist of the Russian Federation and a professor of Novosibirsk Glinka State Conservatory."We've got a wide-ranging repertoire from classical pieces to adaptations of folk songs, famous modern melodiesm, and to jazz compositions," she said. "Our performance may gratify the tastes of the very sophisticated audience"The orchestra was founded in 1993 with the aim of popularizing classical music, particularly with young people. Their players are renowned for their technical skill and their fresh performances of masterpieces. Their musical tours have already had great success in the USA, Spain, and Finland.
The general partner of the "Bright Bows" chamber orchestra is the Interstate Corporation of Development, whose objectives are to develop scientific, industrial, and high-tech cooperation between the former Commonwealth of Independent States (CIS) countries of Russia, Armenia, Kazakhstan, Kyrgyzstan, Tajikistan, and Uzbekistan.
The information partners are the Siberian News Agency and Siberia Radio.