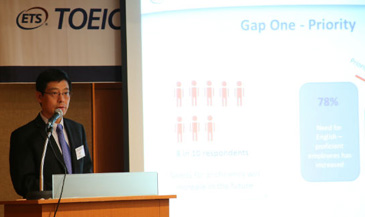 Director Feng Yu of the TOEIC program, presents findings from global survey on "2014 ETS Media Roundtable" on Nov. 18, 2014.
Seoul, Korea — Educational Testing Service (ETS), creator of the TOEIC ® Program, hosted an event about the role of English in the workplace at the Grand Ambassador Hotel in Jung-gu, Seoul on Nov. 18, 2014.As part of its "Why English Matters" initiative, ETS partnered with IPSOS Public Affairs to conduct a global survey of multinational companies in 13 countries to assess their perspective on business challenges to global expansion. Responses from the 749 senior human relations professionals shed light on specific areas where gaps related to English-language skills in the workplace exist.Feng Yu, director of the TOEIC Program, presented findings from the global survey, including significant gaps in three key areas: priority, proficiency and assessment."Addressing these shortfalls today will enable companies to truly use English language skills among its employees as an enabler of global communications," said Yu. "The ability to communicate on a global scale will position businesses to compete and thrive in the global economy over the long term."Paul Lee, country manager of ETS Global Korea office, focused on the specific survey data for Korean business. "As Korea has long prioritized English proficiency in the workplace, it is interesting that the Korean results suggest an assessment gap in the training process," said Lee. Reporters, HR managers and a past ETS TOEIC scholarship winner were in attendance to learn more about the global study. For more information about the "Why English Matters" initiative, visit www.whyenglishmatters.com.
About the TOEIC Test
For more than 30 years, the TOEIC ® test has been the global standard for measuring workplace English-language communication skills. The TOEIC assessment family, including the TOEIC® Listening and Reading test, the TOEIC® Speaking and Writing tests and the TOEIC Bridge ™ test are used by nearly 14,000 businesses, organizations, and government agencies in 150 countries.In 2012, almost seven million TOEIC tests were administered worldwide, solidifying the TOEIC Program as the largest and most widely used English-language assessment for the workplace. For more information on the TOEIC tests and other services provided by the TOEIC Program, visit www.ets.org/toeic.
About ETS
At ETS, we advance quality and equity in education for people worldwide by creating assessments based on rigorous research. ETS serves individuals, educational institutions and government agencies by providing customized solutions for teacher certification, English language learning, and elementary, secondary and postsecondary education, and by conducting education research, analysis and policy studies. Founded as a nonprofit in 1947, ETS develops, administers and scores more than 50 million tests annually — including the TOEFL® and TOEIC ® tests, the GRE ® tests and The Praxis Series ® assessments — in more than 180 countries, at over 9,000 locations worldwide. www.ets.org