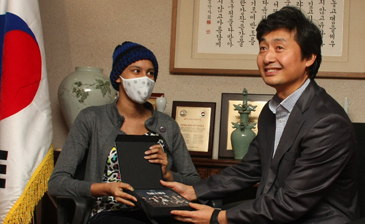 Rahily Ramos (left) receives a BTS album from Mr. Oh Jin-Kwan at ceremony held at the South Korean Embassy in Caracas in Venezuela on Dec. 10, 2014.
A 15-year-old Venezuelan girl hit by a cancer and her mother visited the South Korean Embassy in Cararas, capital of Venezuela on Dec. 10, 2014.The skinny girl was wearing a mask and winter hat in spite of the tropical weather in the South American country. Her name was Rahily Ramos and she is fighting a cancer desperately.Ramos is the ardent fan of the seven-member music group of South Korea.On the day the South Korean Embassy delivered to Ramos a special present, an music album of BTS, sent from BTS members in Seoul. The gift was bearing their signatures and the message wishing for the good health of the Venezuelan girl.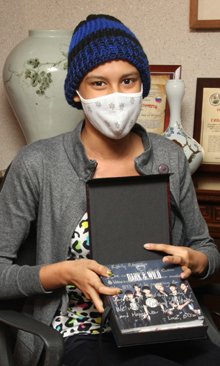 Rahily Ramos
It was three weeks ago that Ramos' older sister Digmar contacted the Korean Embassy in hope that Ramos could get the get-well message from the music group.The embassy immediately contacted Big Hit Entertainment, a management company of BTS, and the company sent the get-well message, their album to the embassy for Ramos by way of South Korea's Foreign Ministry.At the small ceremony held at the embassy on the day the embassy presented Ramos with T-shirt, a BTS album, as well as the message from BTS.Exhilarated Ramos burst into tears. So did her mother and sister."My dream has been achieved at last," Ramos said. "Among BTS members my favorite one is Jin.""This is the best gift for my daughter this year," he tearful mother added.Curently Ramos lives in Punto Fijo 10 hour drive from Caracas and visits the capital city for her cancer treatment twice per month.Ramos and her family has survived three times of major operations removing cancer cells on her back.By next week the test result would come to find out whether her cancer cells was spread to her spine on her back."I am really proud that K-pop culture could be such an encouragement for the youths in the Central American nations like Venezuela," said Mr. Oh Jin-Kwan, a diplomat in charge of culture section of the South Korean Embassy.
BTS:
BTS or Bangtan Boys, or Bulletproof Boy Scouts (BTS), is a South Korean seven-member hip-hop boy group formed by Big Hit Entertainment, a company who also manages the artists GLAM and 2AM. They debuted on June 13, 2013 with their first title song "No More Dream" followed by "We Are Bulletproof Pt.2."They have won the title of "New Artist of the Year" at several music award functions including the 2013 MelOn Music Awards and Golden Disk Awards, 2014 Seoul Music Awards and Gaon Chart K-Pop Awards with multiple other nominations at other award ceremonies.They have also had their own variety show called Rookie King: Channel Bangtan (신인왕: 채널 방탄), which aired on the SBS MTV channel for a total of eight episodes.
For details or inquiries please leave an Email to Mr. Oh Jin-Kwan at the Korean Embassy in Caracas at jkoh99@mofat.go.kr