National
Boxing Beautifully on Jeju Island
By Prof. Andrew Dunne
Chosun University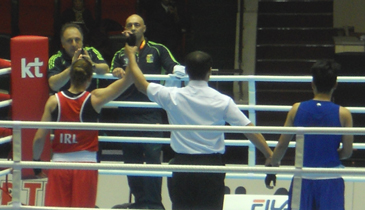 Ireland's legendary Katie Taylor gets her arm raised following her semi-final victory at 2014 AIBA Women's World Boxing Championships held on S. Korea's Jeju Island on Nov. 13-14, 2014.
With it's beautiful white and black sandy beaches, botanical gardens, waterfalls, scenic walking trails, and temperate climate, it's easy to understand why Jeju Island is a vacation and honeymoon haven for Koreans residing on the mainland.The allure of the wonderful volcanic island has also been enticing increasingly larger numbers of holidaymakers from South East Asia and further afield in recent years. Between November 13th and 25th, 2014 an international presence was perhaps even more obvious, at least in Jeju City, which played host to the 2014 AIBA Women's World Boxing Championships.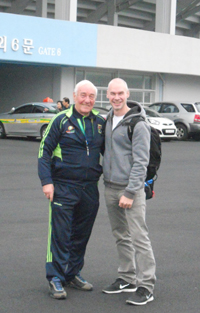 Prof. Andrew Dunne (right) poses for camera with famed Irish coach Gerry Storey outside the Halla Gymnasium on Jeju Island. The professor of Chosun University in Gwangju serves as the contributing writer for The Seoul Times.

Over 300 boxers from over 70 nations took part in the event at the Halla Gymnasium, the highest number of participating countries for the competition which first took place in the USA in 2001. Although I had just returned from a scooter adventure around Jeju Island with a friend a few weeks earlier, the chance to watch top-level women's boxing on the 'Hawaii of Korea' was too appealing to forgo. So, I booked a hotel room, backed my bags, and boarded a plane at Gwangju Airport. I arrived in Jeju in time to catch the remaining few days of the competition. And, boy, am I glad I did. Spectators were treated to great displays of boxing skill and athleticism, not to mention the event was well organized.One of the first fights I watched shortly after arriving at the gymnasium involved Korea's own Oh Yeonji. The 57kg boxer engaged in many grueling rounds of continuous toe-to-toe action, trading hard punches with her opponent. The excitement was so electrifying that Korean spectators couldn't remain in their seats.And, while there were only a dozen or so Koreans in the section where I was sitting, they were cheering so passionately that one might have assumed the gymnnasium was near capacity. It was a joy to be amongst their roars and foot stomping stampede. Oh Yeonji eventually won the fight and I can only surmise that her screaming fans played a key role in helping her dig deep to find the grit and detertimation needed to win. A few days later, she delivered an equally brave and hard fought performance but it was not enough to see her through to the semi-finals. Spectators applauded her effort as she exited the competition.Other fan favorites included 19 year old American Olympic gold medalist Claressa Shields, the crafty Nesthy Petecio of The Phillipines, and the slick, foot shuffling, hand gesturing Russian Zinaida Dobrynina. During one of her fights, the Russian even pointed to the canvas, causing her opponent to look downwards, at which point the Russian made her pay the price for being gullible with a few punches to the head. There was also plenty of crowd support, including myself, for Ireland's Katie Taylor who went onto to win her fifth consecutive world championship title. The Irish boxer has now ammassed a remarkable 17 gold medals including an Olympic gold from the London 2012 Games. Not only were spectators treated to some masterful performances, but spectators also had the opportunity to mingle with fellow boxing fans from around the world as well as some of the athletes and their trainers. Among others, I was fortunate to chat with the Irish team physio and Irish boxer Joanne Lambe who always seemed to be wearing such a big, warm smile. One of the highlights for me was meeting famed Irish coach Gerry Storey, who was the first Irish sportsperson to win the prestigious Laureus World Sports Award.Shortly after Katie Taylor's semi-final victory, he came up to the stands and sat down next to the Irish team, where I was sitting. We got to talking and he shared some incredibly interesting stories about the period in Ireland known as 'The Troubles' and from his earlier coaching days during that time. Despite his busy schedule and celebrity status, he was a pure gentleman and more than generous with his time. So much so that he even stayed behind to continue storytelling after the other members of the Irish team had left the stands. We would later meet again outside the gymnasium and he was kind enough to take a photo together. Growing up in Canada, boxing wasn't the most popular of sports. But I always had an interest in it. Of course, Mike Tyson was huge at the time, so that helped fuel my interest. On top of that, when I visited my grandparent's house in Ireland as a kid, I would see photos of my grandfather from his boxing days hanging on the walls. Those always interested me. My interest in boxing piqued shortly after moving to Ireland as a teenager.I remember, my brothers and my friends and I would gather at Kevin's house, and each person would chip-in some money so that we could watch the pay-per-view fights. When I moved to Dublin to attend university, I lived across from Ireland's National Boxing Stadium so I regularly went there on Friday nights to watch matches. However, this competition in Jeju was the first women's one I've watched in person. But, it won't be the last. I've already started searching for future competitions to attend. Together with my photographs and souvenir T-shirt, I am left with many positive memories from my boxing trip to Jeju.The writer teaches at Chosun University in Gwangju. He can be reached by email: a_dunne@ymail.com

Related Articles
Is Floyd Mayweather a "Bad Role Model" and ...
Korea's Unknown Sports Star
Highest-paid Athlete Floyd Mayweather Seeks ...
Floyd Mayweather: Highest-paid, Arguably Best ...
As Heat Wave Continues, Could Ice Cream Help ...
S. Korea Is the King of Cosmetic Surgery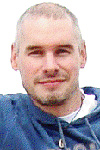 Prof. Andrew Dunne, who serves as a contributing writer for The Seoul Times, has been teaching at Chosun University in Gwangju for several years. While as a university student he carried out studies on body modification practices and published papers on the subject in academic journals. He attended university in Dublin, Ireland, but grew up on the west coast of Canada in Vancouver, B.C. He can be reached at the following email address: atdunne@gmail.com